All the backstage action at Federation's NZFW show
New Zealand Fashion Week is well underway and we can't wait to see our fave designers showcase their latest offerings on the runway. While watching the calm and collected models walk, it is easy to forget that backstage a team of creatives is frantically working to deliver the designer's vision. New Zealand Fashion Week is the perfect space for all types of creative industries to put forward their best. Collaboration is key at Fashion Week, even if you can't always see this from the seats of the show. We sat down with Lisa Matson, Makeup Director for L'Oréal Paris NZ, and Mana Dave, Artistic Director at Redken NZ, in preparation for Federation's NZFW show. We an inside look at life behind the chaos, and the upcoming trends we're likely to see in the following months.
Lisa Matson – Makeup Director, L'Oréal Paris NZ
Talk us through the look you created for Federation?
Federation is well known for their street appeal and campaigns that evoke carefree style, often with a grunge and/or rock vibe. So, I have stayed true to their aesthetic, but have added a few extra visual elements that pay homage to their fab hand-crafted print work.
How do you come up with a makeup look for NZFW? Does it call for a lot of collaboration?
Makeup looks for NZFW are always a collaborative process, most designers have an overall concept for their shows and my job is to sift through their ideas and/or mood board and come up with a look that uniquely captures the mood and story of their collection.
What makeup trends are we likely to see at this year's shows?
Minimal, ethereal, gothic and tribal inspired makeup looks, glowing complexions, graphic eye or face designs, vivid coloured eye looks, smokey eyes, looks based on previous eras, statement lashes, brows and/or lips and looks with a nod to the avant-garde.
Talk us through how to take our daytime makeup look through to night?
It all depends on the intensity of your daytime look; but simple things like adding black liner to the water rim of your eyes and/or applying a statement lip shade will do the trick. Adding a shimmer powder to the highlight areas of your face and/or a little sparkle to the lids and/or inner eye corners are other great 'night time' options.
What new release L'Oréal products should we get on our radar early?
The L'Oréal Paris Infallible Lip and Eye Paints, plus their Mega Volume Miss Baby Roll and False Lash X Fibre mascaras and their Brow Artist Xpert brow pencils.
[rev_slider alias="NZFW1"]
Mana Dave - Artistic Director, Redken NZ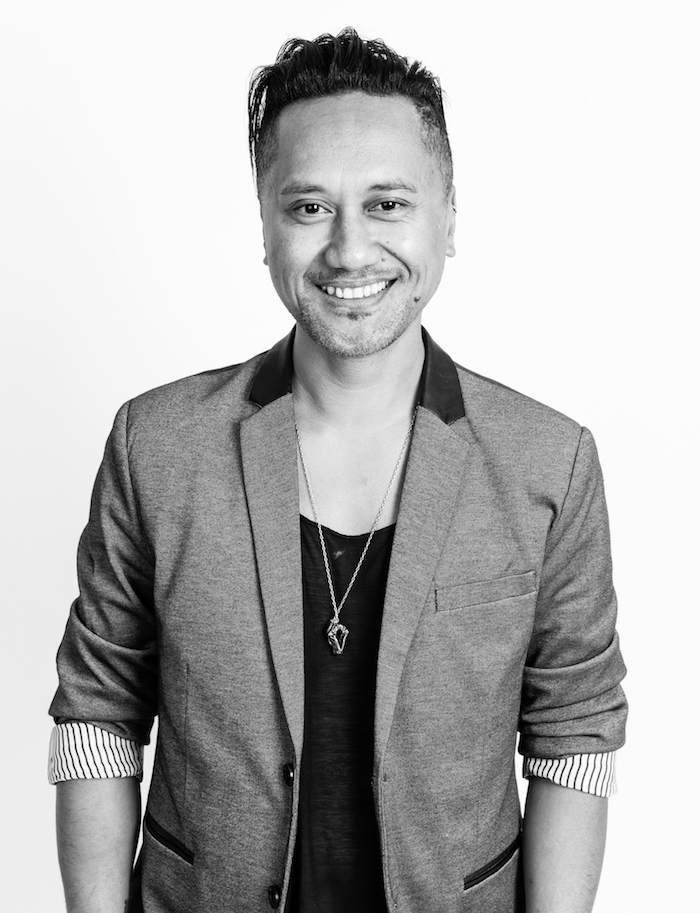 Talk us through the look you created for Federation?
We've been working closely with Ben to tap into a vibe that fits their unique Federation aesthetic. Our NZ Redken artist, Kelly Manu, has created a style that plays up the contrast of shine and matte, smooth versus texture. It's young and sexy.
What hairstyle predictions do you have for the upcoming season?
My favourite shape for the upcoming season is the momu, the modern mullet. Think of it like a 2017 take on the shag haircut. It works especially well with hair that has natural texture and looks effortlessly cool. If you're not feeling brave enough to wear the entire look, then just embrace the 'curtain fringe' - it looks like a grown out peek a boo fringe and it's super sexy.
How do you prep models' hair during NZFW?
Fashion week is about controlled chaos, so it's not unusual to have models running directly from other shows. Depending on the product that's been used, we can sometimes dampen it down slightly and rework, alternatively we need to find a creative way backstage to get it thoroughly shampooed out. Redken's Clean Maniac is the perfect solution to this.
Talk us through a five-minute hairdo we could try at NZFW?
The 'Half Pony' will get you from a show during the day to a fashion week after party in the evening. Create a lived-in texture by spraying Windblown 05 generously through dry hair. Don't use a brush, just rake through with open fingers and pull back to secure into a ponytail that sits low in the nape. On the last pull through of the pony, only pull through far enough to create a loop and leave a short tail. Finish with a light dusting of Powder Grip 03 on the front of the head for some texture on top.
What are five hair products we should always have on hand to style our hair in a hurry?
Pillow Proof Blow Dry Two Day Extender
Windblown 05
Shine Flash 02
Fashion Work 12
Glow Dry Diamond Oil
[rev_slider alias="NZFW2"]
(feature imagery courtesy of NZFW - for all event info head over to their site)