The battle of the celebrity cosmetic empires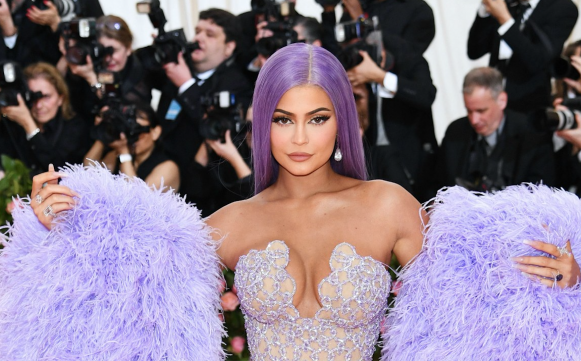 Celebrities have long leveraged their visibility in the form of hugely lucrative brand endorsements and partnerships across a wide spectrum of consumer products and services. However, few stars have matched the recent success of Kylie Jenner and Rihanna, who have single- handedly built beauty empires that are shaking up the $532billion dollar cosmetic industry.
Reality TV star Kylie Jenner turned an insecurity about her lips into a multimillion dollar business when she launched her line of lip kits in November 2015. Having plugged the launch on social media a day before its release, Forbes reported that the teen sensation sold out 15,000 units in just one minute, and with that, Kylie Cosmetics was born. Now offering over 50 products through an online store, Kylie uses her social media prowess to directly connect with fans, posting videos testing her products to 126 million Instagram followers every day. Three years on, Kylie is set to become the world's youngest billionaire, with Forbes valuing her company at over NZ$1 billion as of August 2018.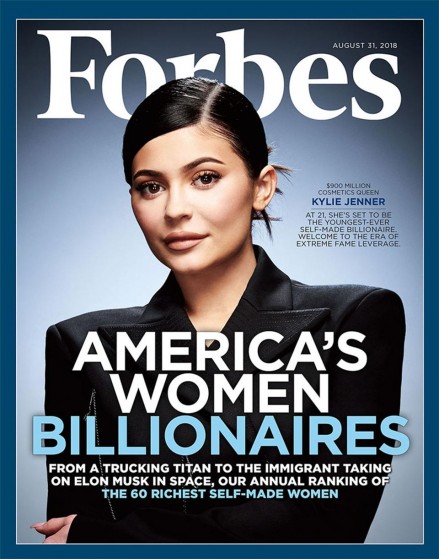 Kylie is founder and director of the company, holding 100% of the shares and bene ting from 100% of pro ts. Costs are kept low, thanks to a production outsourcing agreement with Seed Beauty in California and a marketing budget that virtually sits at zero. Who needs billboards or radio ads when you have 126 million customers on Instagram? Undoubtedly Kylie's family fame helped propel the starlet's millennial celebrity - Keeping Up With The Kardashians continues to air in over 160 countries - but it was her slow start, testing the water with a single product, a formula, that helped her mitigate risk during the brand's inception. It was only a year after the initial launch that Kylie introduced Kyshadow palettes and a limited edition holiday collection, which Forbes reported sold US$19 million dollars of in one day. Summer Fridays and Beauty Blender have mimicked similar growth strategies.
Launching online instantly gave the brand a global reach and allowed the company to introduce pop-up stores in the United States, which themselves have turned into lucrative partnerships with the likes of West eld Beverly Hills and South Coast Plaza
in Southern California. Jenner pop- ups inject enormous foot traffic into stale bricks and mortar shopping experiences, so the Jenners demand a cut of that pie. In a similar fashion to Kanye West's Yeezy line, Kylie uses product drops to create hype and exclusivity around each launch, which moves product fast. Kylie knows what her demographic want, be it a smoky eye palette or birthday-themed packaging. This February, she plugged a new Valentine's Day collection with a makeup tutorial on her Instagram story, showing followers the exact products she uses and how to replicate her famous pout. It's an entirely new form of marketing, granting consumers an all-access pass into a celebrity's life and then supplying a one-stop- swipe-up-shop for them to buy into the lifestyle. With over US$330 million worth of Kylie's makeup sold in 2017 alone, it's no wonder her big sister joined jumped on the bandwagon...
Enter KKW Beauty, Jenner's half- sister Kim Kardashian West's makeup line, which started similarly with a single contour kit in 2017. Now worth an estimated US$100 million by Forbes, the reality star who was once 'famous for being famous' has also launched KKW Fragrance, which was so popular that the brand re-released its limited edition Kimoji Hearts for Valentines Day. The key
to KKW Beauty's success again lies in minimal overheads, savvy social media marketing, with Kim plugging products everyday and limited releases, creating a hysterical hype worthy of one of her husband's
album launches.
Kim has leveraged her fame, turning in influence and social media reach into a serious e-commerce enterprise, selling $14 million worth of makeup on her first day of sales, according to the Business of Fashion.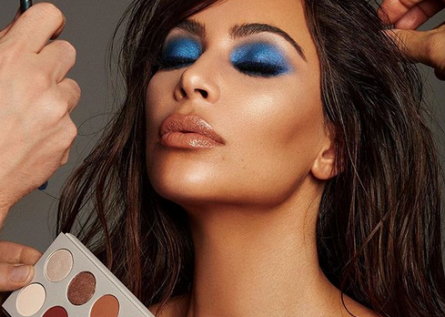 'With social media you can have a direct-to-consumer brand and if you market yourself and promote it the right way you can have a really successful business, something I don't think people thought was possible five years ago,' the reality star said at the 2018 Business of Fashion summit.
Kim pioneered consumer-influenced marketing on social media, having asked fans on Twitter back in 2009 to choose the bottle design for her first fragrance. 'It sold out in minutes because her fans really felt a part of the process,' says mother-in-charge of the Kardashian empire, Kris Jenner. Being an influencer is big business and it doesn't get much bigger than the Kardashian-Jenner clan, unless you're an international pop star. Rihanna's world domination goes far beyond music, with a long list of endorsements and collaborations to her name; most notably with Dior, PUMA, Manolo Blahnik and her Savage X Fenty lingerie line. Rihanna too has now forayed into the world of cosmetics with Fenty Beauty; an all- inclusive makeup range in partnership with LVMH division Kendo Beauty. Having launched in September 2017 at Sephora, across 2,300 stores worldwide, Fenty Beauty has seen a rapid brand loyalty only comparable to Kylie Cosmetics.
The Fenty Beauty hero product is its 40-shade foundation range for women of all races and skin tones, which expanded to 50 shades in January. Fenty Beauty bridges the gap where many cosmetic giants have failed - something customers are all too happy to report. Nyma Tang and Krystal Robertson (who has albinism) praised the star on Instagram for helping them finally and the #PerfectMatch, forcing the industry to step up.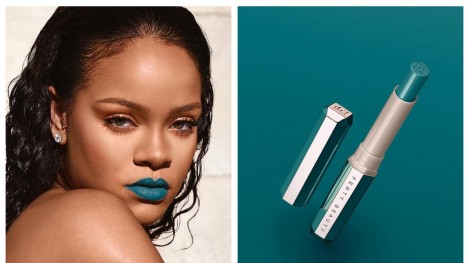 'We've had an amazing, emotional connection with customers who have never been able to find their shade of foundation before, women crying at the counters, it's crazy,' the 30-year-old songstress said at the 2018 Vogue Forces of Fashion conference.
'The first woman I saw putting on makeup was my mother, who is black, so I wanted everyone to be able to come together and be a part of the Fenty Beauty moment.'
Now Dior, Maybelline, M.A.C Cosmetics and even Kylie Cosmetics have introduced up to 40 shades of foundation and concealers – proving the Fenty effect is in full force. Demand for the Bajan beauty's cosmetic line has skyrocketed and the sales speak for themselves, with LVMH reporting that the queen of pop sold five times what Jenner did in the first month and €500 million in its first full year, compared to Kylie Cosmetics US$420 million in its first 18 months of business. Rihanna now is reported to overtake Jenner in the race to a billion-dollar beauty empire.
Despite similar growth, there are vast differences between the two cosmetic companies. While Kylie Jenner mainly caters to the millennial market, Fenty's demographic is extremely diverse, with Slice Intelligence reporting that a majority of its shoppers are African American and Hispanic, with a solid Asian fan base as well. While Kylie is reported to do well with diverse consumers, her shoppers only spend on average US$181 on makeup per year, compared to Fenty's US$471 per year. However, Rihanna has the power of a global retailer like Sephora (which is owned by LVMH) behind her, whose consumers spend more on average than online shoppers. Witnessing the benefits of greater spend in tangible stores, Kylie launched a selection of her lip kits in Ulta Beauty last November. While the retailer has 1,124 stores across the United States it has yet to expand globally, giving Bad Gal Riri the head start in the billion dollar race.
Consumers have cemented Fenty's status in the industry with Cherry Pick reporting that Rihanna's makeup range was ranked the highest for consumer intent, while Kylie's was ranked seventh. But with Rihanna's stake in the LVMH brand unknown, Kylie's privately owned company will be raking in more cash, proving that while major conglomerates can give bigger reach, owning the company gives more bang for buck.
Other stars are cashing in on the beauty trend as well, with Madonna launching MDNA Skincare in 2017 and Jennifer Lopez announcing that a skincare line is in the works. The celebrity skincare market is growing like wild re with Victoria Beckham promising to spice up our lives with a new beauty brand arriving in April.
'I want to take care of women inside and out, providing them with the must-have items in makeup, skincare, fragrance and wellness that I feel I need in my own life,' the mother-of-four said in the brand's press release. Victoria Beckham Beauty will launch direct-to-consumers online and will focus heavily on social media for product
development and feedback, which signifies
the shift to consumer focused brands, a rarity for the luxury market.
It's this move towards social-media driven brands that has drastically changed the business landscape, granting smaller companies access to consumer groups they wouldn't have previously been able to reach; something Kiwi entrepreneur Iyia Liu knows all too well. After paying Kylie Jenner NZ$300,000 to post a photo on Instagram wearing one of her waist trainers, the brand's profile skyrocketed overnight.
'Jenner's endorsement generated a lot of web traffic and exposure in the US for our brand,' Liu says, with the company going on to sell $3.5 million worth of product in its first year of sales. The 25-year-old credits social media for the brand's online growth. 'It's much more affordable to do marketing via social media and allows many startups to surpass big brands with more capital.' However, it's the power of influence that drives the most sales with many brands tapping celebrities and influencers to endorse their products. 'It helps to build trust and get in front of people over and over again. Even if a promotion doesn't result in an immediate sale, it helps build brand awareness,' says Liu. New Zealand beauty vlogger Shannon Harris, who goes by the name Shaaanxo, agrees with this sentiment.
'Now brands realise that they need a personal opinion attached to a product. Finding an influencer that loves their brand is essential, because consumers will buy a product from a person they look up to and trust'. With 3.8 million Youtube and 1.5 million Instagram followers, Shannon is one of the most trusted resources in the business; with Forbes naming her the fifth top beauty influencer in the world in 2017. 'I see more and more brands reaching out to influencers to talk about their products rather than use traditional forms of advertising.'
The 26-year-old has now leveraged her fame into an e-commerce business, creating her own line of cosmetics, XoBeauty. It's a power move many influencers are making, such as Huda Beauty, Jeffree Star and Mariana Hewitt and Lauren Gores Ireland's Summer Fridays, the cult beauty mask launched at Mecca Cosmetica in December last year.
But being a personal brand is risky business, with a companies' reputations falling directly on owners' shoulders. When there is no disconnect between the person and the brand, negative controversy can adversely affect sales. In the case of most beauty conglomerates, it's a risk they're nervous to take, but one the Kardashians tackle head on. 'It was the craziness of the 24-hour news cycle that gave us the platform to create these various brands. At the end of the day this could all go away tomorrow, but we know we have each other and we're con dent in that,' says Kim Kardashian West.
While Fenty's slate is clean, Kylie Cosmetics has had plenty of controversy, from claims Kylie stole her now-iconic lip design to stories of the contracted production company breaching agreements with L'Oréal to meet her deadlines. Who would have thought a cosmetics production would tell L'Oréal to wait in line? Gwyneth Paltrow's wellness brand Goop is known for controversial articles and products, selling everything from yoni eggs to private islands, all of which only maximise the brand's image and result in more traffic for the site. The brand's organic, non-toxic skincare line in collaboration with Juice Beauty is one of the leading ranges on the clean beauty market. With Formula Botanica estimating that the organic beauty sector will reach $22 billion by 2024, clean beauty is big business.
While Kylie Cosmetics is vegan and Fenty is paraben and cruelty free, most big beauty brands do not disclose their ingredients and animal testing. But with the likes of Kourtney Kardashian educating audiences on cosmetic reform, it's time luxury companies grow a conscience and create products that are in line with consumer beliefs. Similar to the global ban on plastic, the industry needs to step up, starting with cruelty-free products, something both Kylie and Rihanna are united on.
'The success of celebrity cosmetic companies boils down to the direct contact social media has allowed them to have with their fans and the emotional connection this builds,' says Tatum Savage, former communications manager for M.A.C Cosmetics in New Zealand and the founder of Savage Society. 'Both Kylie and Rihanna are at the epicentre of youth culture and can directly converse with their consumers, which is extremely powerful. Even big beauty brands who have 20 million plus followers can't compete with Jenner's reach.'