All you need to know about the acts playing at Deep Hard n Funky
Festival season isn't over yet and the team over at Our:House are making sure it never is. In celebration of their 21st birthday in 2020 *cue virtual yardy*, Our:House had a funny feeling that their multi-zone extravaganza Deep Hard n Funky was set to get bigger and of course better. This year, the mammoth event sees 40 artists on eight stages, across seven zones, including the infamous George FM inflatable Nightclub, exclusive to Deep Hard n Funky. With an additional 11 artists on top of its already huge line-up, you'll be partying right through till 4am. And, just when you thought things couldn't get any sweeter, the open Trans-Tasman bubble means our friends across the ditch will also be playing centre stage.
Get acquainted with the line-up below so come July 10th you'll be ready to rumble.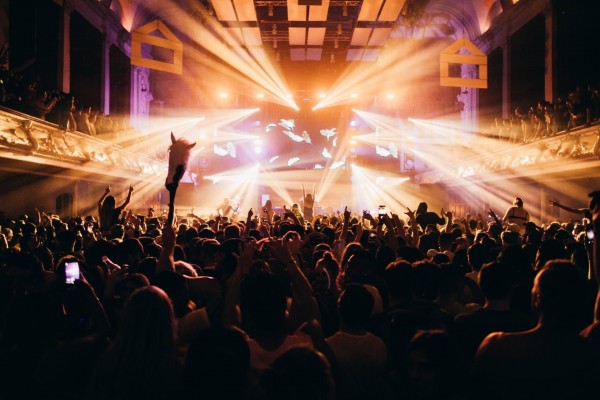 TORREN FOOT
Dom Dolla's newest prodigy on the block, TORREN FOOT is a house dj/producer raised on the working docks of Melbourne's inner west, a fixture of Australian club culture as one of the countries most in demand touring club dj's and recently gained international attention following the release of 'More Life' topping #1 Beatport overall, 6 million+ streams, spins from tastemakers Adam Beyer, Claptone, Mat.Joe & Wax Motif.
MOTEZ
Taking the house music scene by storm is Australian record producer, musician and DJ Motez! This HUGE artist has won several South Australian Music Awards for Best Music Producer and Most Popular Electronic Artist. His hit song Future Ft. Antony and Cleopatra hit Platinum across the ditch and he has played shows like Splendor in the Grass and Electric Forest Festival!
STACE CADET
EDM and house music legend Stace Cadet is from Melbourne, Australia! He can hype up any crowd and has performed headline shows all over New Zealand and Australia. His hit song Energy with KLP peaked at number 1 on the ARIA club charts for three weeks as well as hitting platinum.
FLOWIDUS
Producers Raphael and Garo have worked both individually and now collaboratively to create Flowidus! They keep beats fresh and are a dynamic drum and bass duo always getting crowds pumping. Flowidus dropped their first EP together named 'Arrival' which saw them to sign exclusively with Elevate records and EP 'kids in the club' hit 9th in NZ HOT20.
ENSCHWAY
Meme king, ramen and beer drinking lover Enschway is joining us all the way from Sydney, Australia! It didn't take him long to become the next big thing and his high energy shows get the crowd pumping when it comes to dance, electronic and pop music! He has clocked over 500,000 streams on SoundCloud and has headlined for superstars like Jauz and Baauer.
OTOSAN
They are no stranger to the Deep Hard N Funky stage and in fact they are our legendary residents that just keep going from strength to strength. After their most recent banger, Nowhere, hit 1 million listeners on Spotify, this iconic duo have featured on sets from Diplo, Dillon Francis and more! Their fan base is strong and their ability to never fail to please the crowd resulting in the party set everyone froths to see.
WONGO
Dance music's biggest multi-tasker Wongo is a Producer, DJ and radio show host from the Gold Coast, Australia. Party starter Wongo has released originals like 'Mars', 'Hollywood' and 'Be 2 Be' he sure knows how to get a crowd moving! He also is a remixing icon hosting his own radio show on Insomniac Radio in the USA every month.
LITTLE FRITTER
Australian DJ and Producer Little Fritter is a fun ride dedicated to dance floor fruitiness! He is no stranger to the music scene and has made an imprint on hearts internationally. Little Fritter also spreads his love regularly touring through Europe with performances at the last ever 'Love Parado' in Germany and 'Spilt Milk' in London. He also teamed up with best mate FISHER for three sold out gigs at LA's Shrine Expo warming up for Chris Lake.
YVNG JALAPENO
From the land down under is electronic DJ/Producer Yvng Jalapeno! He often mixes up a range of beats creating his own signature flare when it comes to trap and bass music. Yvng Jalapeno is a force to be reckoned with and has performed alongside names such as JOYRYDE, Jauz, Tisoki and Just A Gent!
TORI LEVETT
Australian babe Tori Levett is no stranger to the stage performing her unique gritty mashed-up-loops focusing on electronic and bass music. Her tear-down-the-party tunes will make you feel electric when she plays her hit track 'I See You' which reached over 300k views on Spotify. She has toured all over Australia, Japan and Malaysia and has also toured with Peking Duck, Quix, Enschway and What So Not!
BODY OCEAN
Put your dancing shoes on because Nik and Jeremy from the Upbeats have teamed up to form iconic house music duo Body Ocean. They are two friends from opposite ends of the globe both sharing the love for Drum and Bass music now exploring house and dance music together. Joining forces with Dattan Records they dropped their first EP called Narcissist and will make you surrender to the dance between your body and the ocean.
TWENTY TWO
Kiwi multi talented Drum and Bass duo Twenty Two are a NZ fan favourite! From playing throughout Asia, Australia and the Pacific to hosting their own show on Saturday Nights on George FM they are not one to miss! They have also worked alongside some of the biggest names in the industry such as Dimension, Friction, Culture Shock and Delta Heavy.
PORIS
Auckland based Drum and Bass legend Poris is notorious for her heavy mixing style! She has played among festivals like Rhythm and Vines, Northern Bass, Bay Dreams and Sound Splash. Porous is making waves within the NZ DnB scene and will have your body pumping during her set!
The Lowdown
Where: Ellerslie Racecourse
When: Saturday 10th July
Tickets: On sale Thursday 27th May at 8:00 AM HERE