In talks with the fun aunty of music, Gin Wigmore
Kiwi music maven and style icon Gin Wigmore has never been one to conform to social norms. From her nonchalant grungy style to her unique mesmerising sound, Gin has shaped the New Zealand music industry for the better, inspiring females nationwide to follow their aspirations. Ahead of her return to the motherland ( which was rudely postponed to a date yet to be confirmed, thank you omicron) for a summer regional tour, we caught up with the now LA-based artist to chat about having Covid on Christmas, how to balance work-life and motherhood, her new album and most importantly… Her mum's apple crumble.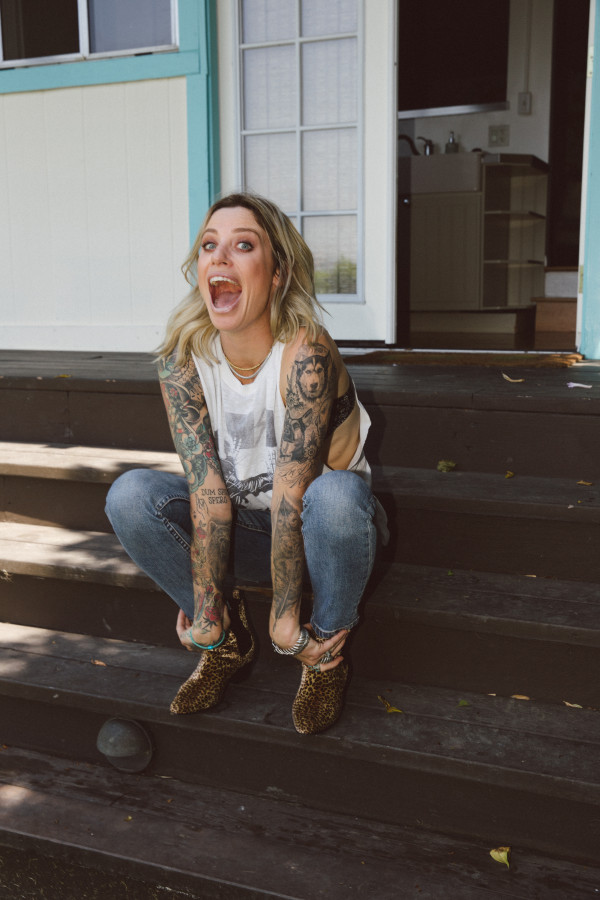 Happy New year! Well, it's now March but how did you spend it?
I had fu*king COVID! I got a positive test on Christmas eve, which was awesome. So we had to bring all the Christmas cheer and spirit to two small children on Christmas Day with fever and chills, feeling like actual shit. We finally got out of isolation on the 31st so we went down south to celebrate New Years. We are binge-watching the series Succession, which we are obsessed with, so we were like, Let's go to a fancy hotel and live like Succession for a second, but we were just so exhausted post-COVID that we just fell asleep by 9:30. It could've been worse, but it wasn't great and definitely wasn't one for the books.
You're set to go on a regional sometime this year, How does it feel to be returning home and playing on NZ soil?
It's always so exciting. I have been very fortunate and have been able to come back to New Zealand pretty much every year for ages now. So it feels like something that needs to happen every year for me. It's purely selfish. I just love being back in New Zealand. I can sling a few dates around and play some music and it's just awesome. I mean, that's where it all began.
What's the one thing you miss most about NZ when you're away? Aside from friends and family of course!
I am so excited to have a swim in the ocean and walk along the beach where there's no trash or general Los Angeles bullshit everywhere. I think I'm most excited to just sink back into island time, the pace is just so different in NZ.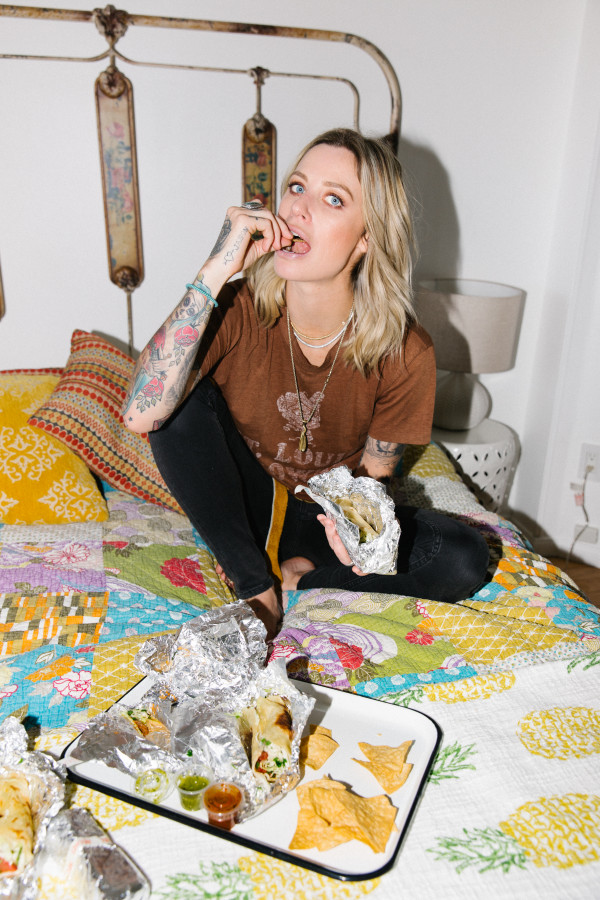 What's the first thing you do or place you go when you come home?
I go to mum's and she will make a classic homemade meal, which is probably going to be a lasagna or a stir fry of sorts, which I just love. Then followed up with some dessert, probably an apple crumble of sorts. Mum bloody love's a crumble! There's nothing like mums cooking, it's so comfy and just so cosy.
How does it feel to be playing live again? Are you excited or a little nervous? I can imagine after so long spent in lockdown, seeing a massive crowd must be quite overwhelming!
It's always fragile going on stage with all your inner feelings and thoughts, and then being confronted by loads of people in front of you. It's really important to just get on the same page and go, okay, this is the goal, this is what we're trying to do. I have to remind myself that we're playing music and we can all do it. If you make mistakes, who cares? Just own it. Have a blast. We don't know how long we're going to be doing this for so let's just have some fun with it.
Do you have any pre-show rituals?
Yes, some of my songs I've been playing for so long, but I still have to write out the start of every verse, the chorus and my setlist. I've got five pages in front of my microphone stuck to the ground just to be sure because I've had moments in my life where I have fully forgotten songs! One time I forgot the start to Written in the Water four times. FOUR TIMES! Another thing my band I do is have a tequila shot. It doesn't matter if you're having a sober night, we say fu*k it, you need it. And then, we all do a little breathing exercise, which has started from my guitarist Dave, who's been with me forever. We try not to laugh or make some dumb joke in the middle of it. But it is really unifying.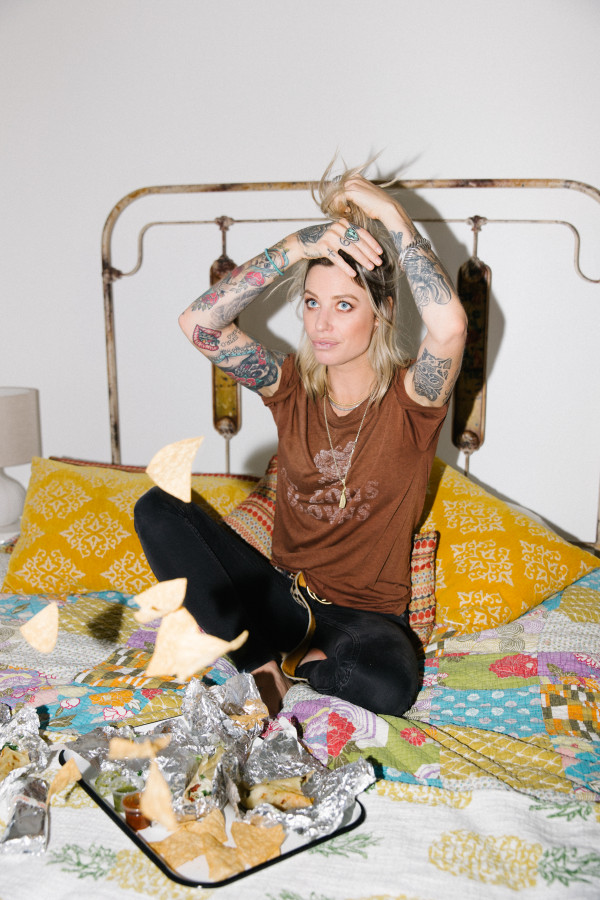 Rumour has it you've been writing and recording a new album! Which is so exciting, what can we expect from this new project?
Yes! I am so hyped. It's really cool. I feel like it has got so many little pieces of really yummy ingredients going into it, pulling from old rock rolls and old country Tammy Wynette over to Joan Jett, inspirations, and some blues stuff too. It's got it all. It's been really fun to just write again with no clear direction, it is just writing to get a bunch of songs, and we're pretty much at the end of it.
Any advice to working mothers out there on balancing motherhood and work life?
I would just say just lunge into it, just jump. The more you think about how you can't, or can, the more the mountain seems too massive. As long as you've got a good support network you'll be just fine. My husband is awesome; when he's here, he's here, and so willing and able to help and juggle, so that support network is amazing. It is also important to not sacrifice your own needs and desires as a person, not just as a mother because that's what your kids will see. You want them to see a woman that can do fu*king anything. A person who can be satisfied, nourished by their work, happy with their life, not resentful and just stoked. Kids are such sponges and they just watch all the time.
What does a weekend in your family look like?
We seem to not stay in house's very long, which is definitely my doing. This weekend, we thought we'd move to Venice Beach. Venice is one of those spots in LA where diversity is alive and thriving, and so we are spending a lot of weekends down there. Other than that there are a lot of beach trips where the kids run around nude, we go out for dinner or go see Nana and Popa. Those are the kind of things we'll do during the weekend. The cool thing about LA is there are so many things to take the kids to, like the Van Gogh exhibit, the Banksy exhibit, DJ parties for kids in the middle of downtown. Something is always happening.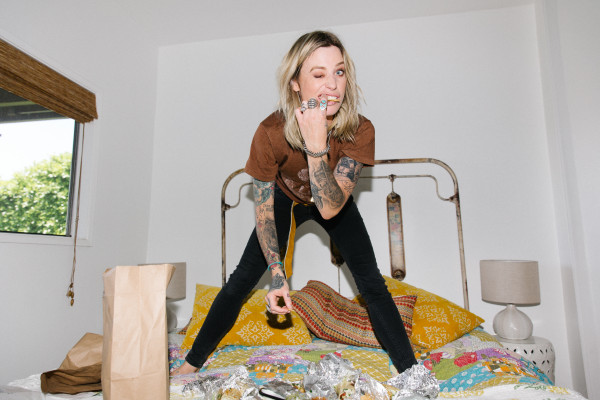 You have always had such a unique and epic style, how would you describe it?
I would say it came from not caring. It's contrary fashion, whatever someone else is doing, I don't want to do that. I've been like that since I was born, my mum said I was so contrary and I would have to say something different from everyone else. I like things that aren't shy and retiring. I want bold out front. I like supporting people who do interesting initiatives environmentally with their clothing and minimizing shit, that's where my buying habits are going these days.
Name your top 3 favourite items in your wardrobe
Oh god. I'd have to say definitely my Converse, I'm literally wearing them right now and I'm out walking the dog. I guess you're supposed to wear walking or running shoes when you do hikes, but I don't. These things go everywhere with me! They'll be on stage, they're on me right now, they used to be white i think… Now they're a lovely shade of dirty brown. I've also gotten this really cool King Baby necklace, it's a black opal heart with spikes and thorns. It is wicked. It makes me feel like Kate Winslet in Titanic. I want Leo to paint me when I wear it. And then I'd have to say this really cool cardigan. It's like the Technicolor Dreamcoat as it's every single colour. It's cool, it's cozy, It's massive, you could hide like four people in it, and it's just so multi-purpose that even my husband steals it!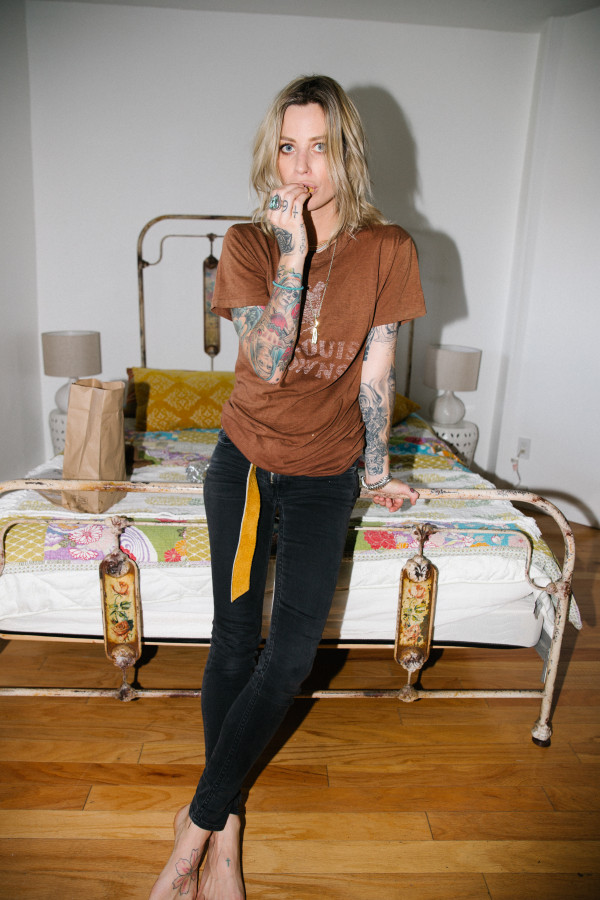 Is there anything you want to say to your fans coming to your shows?
Basically, just Thank you. Thank you for being so down to keep seeing live shows from me and my band. I mean, I can't do this without people still wanting to see my music. So I'm super grateful. I promise I will do a really cool show for you when I can. Come see the cardi, the converse, and the 'paint me like a french lady' necklace.