The Ultimate Grammys Recap
The 62nd Annual Grammy Awards were somewhat subdued in tone this year as only a matter of hours separated the prestigious event from the devastating loss of late legend, Kobe Bryant, his 13-year-old daughter Gianna, and seven other victims in a helicopter crash.
"Tonight is for Kobe," were the opening words, spoken by Lizzo, before performing strong renditions of Cuz I Love You and Truth Hurts. The pace was graciously maintained by first-time host Alicia Keys, as she delivered an opening speech with honor to Bryant before performing an impromptu a cappella rendition of It's So Hard to Say Goodbye to Yesterday alongside Boyz II Men.
A light-hearted cover of Lewis Capaldi's Someone You Loved by Alicia Keys (with nominee name-drops left and right) followed suit, easing the atmosphere of the room and opening the show as cordially as possible. As the evening proceeded, she further proved her brilliance as an awards host, proclaiming "it's time for newness, and we refuse the negative energy. We refuse the old system; we want to be respected in our diversity."
Regular programming entailed for the remainder of the night, with a variety of show-stopping musical performances incremented between awards granted to the various winners within their respective categories. Notably, the 18-year-old ground-breaking Billie Eilish swept the top categories with ease, winning 5 of the 6 Grammys awards that she was nominated for – Best New Artist, Song, Record and Album of the Year (which hasn't been done since Christopher Cross in 1981). If that wasn't enough record-breaking for Billie, she is now also the youngest artist in history to receive the Album of the Year award, previously held by Taylor Swift.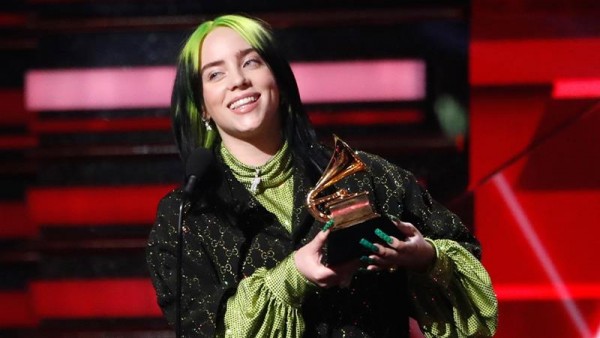 Further first-time Grammy winners include Finneas O'Connell, brother and collaborator to Eilish, who won five awards for Best Engineered Album (nonclassical) alongside Record, Album, Song and Producer (nonclassical) of the Year. Power-house artist Lizzo won three of her eight nominations this year: Best Pop Solo Performance, Best Traditional R&B Performance and Best Urban Contemporary Album. Lil Nas X complemented his eclectic performance with Billy Ray Cyrus by taking home two awards for record-breaking hit Old Town Road; Best Music Video and Best Pop Duo/Group Performance of the Year. Among other winners, Tyler, the Creator won best rap album for Igor, former first lady Michelle Obama won Best Spoken Word Album for her memoir, Becoming, and J. Cole won Best Rap Song of the Year *finally* for his hit A Lot, amidst eleven other nominations.
Let us change lanes to an equally monumental subject matter: the next-level fashion seen on the red carpet this year. The common denominator within Grammy history continued to repeat itself (in the best way possible) as our favourite celebrities epitomized bodacious, outré fashion yet again...
First things first: Billy Porter electrified the carpet in a custom crystal Baja East ensemble in a dazzling blue, paired with a Sarah Sokol Millinery hat with fringed curtains, electronically wired to open and close with his hand-held manual clicker. His "bright blue disco fantasy jumpsuit," according to stylist Sam Ratelle, boasts a total of over 70,000 Preciosa crystals. Typically, it takes a lot to stand out at the Grammy's awards in an ocean of risk-taking celebrity fashion ensembles. For Billy Porter, however, this is a foreign concept like no other.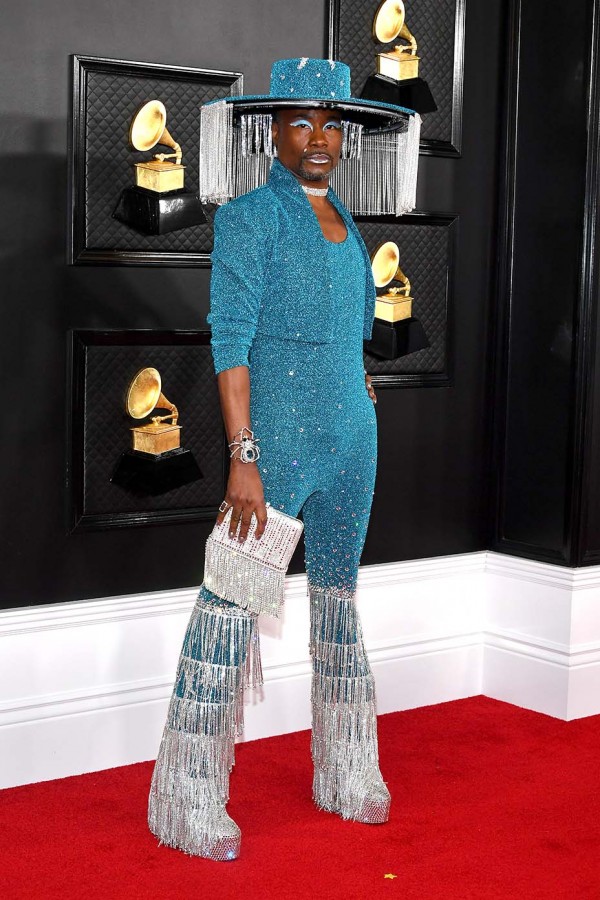 The princess-resembling Ariana Grande successfully pulled out the stops, three times over. Grande stunned the world with a custom grey tulle Giambattista Valli ballgown (reportedly 20 feet in diameter) with matching gloves, before changing into a two-piece outfit consisting of a bow ballgown skirt and sleeveless top in contrasting shades of grey. If that wasn't enough outfit evolution for one night, a third and final outfit was debuted during the award show broadcast - a mesmerising strapless emerald gown by Givenchy.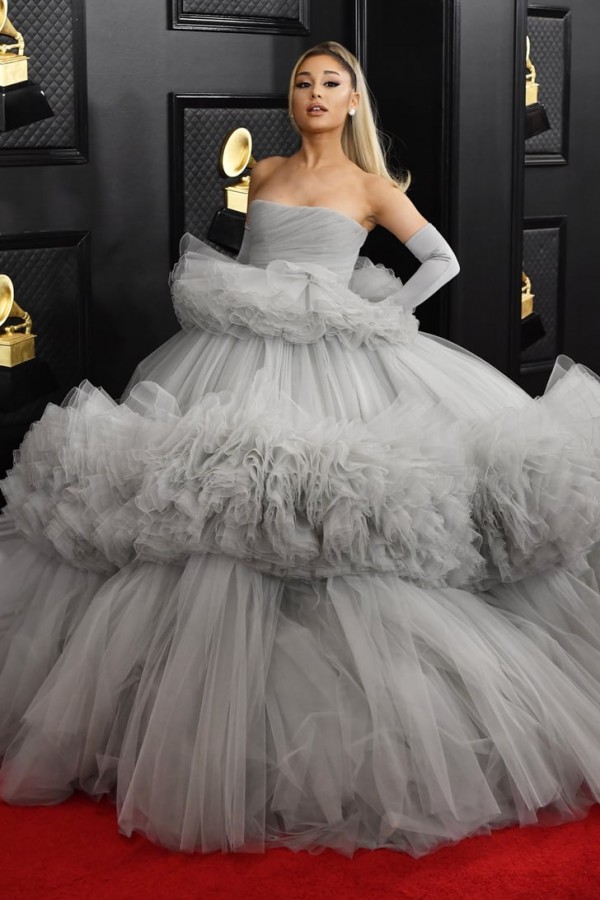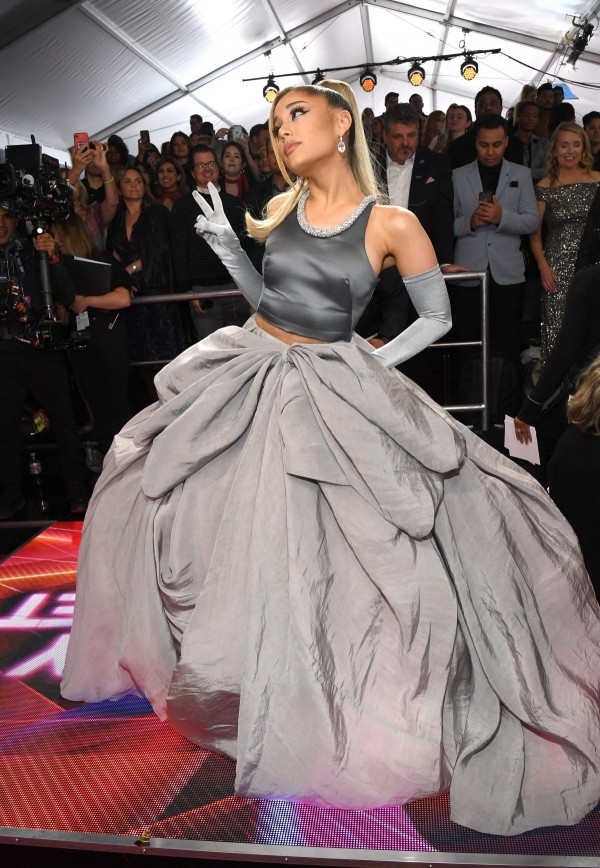 Lil Nas X turned heads in a western-inspired, hot pink, all-Versace outfit embellished with Swarovski crystals... and yes, this did include a matching harness, cowboy hat, and printed silk scarves tied around each wrist. Pink appeared to dominate men's fashion on the red carpet this year as Tyler, the Creator, Common and Shawn Mendes all wore variations of the colour (with no chance of an Oscar's level eyelid-bat at red carpet induced colour clashing, of course).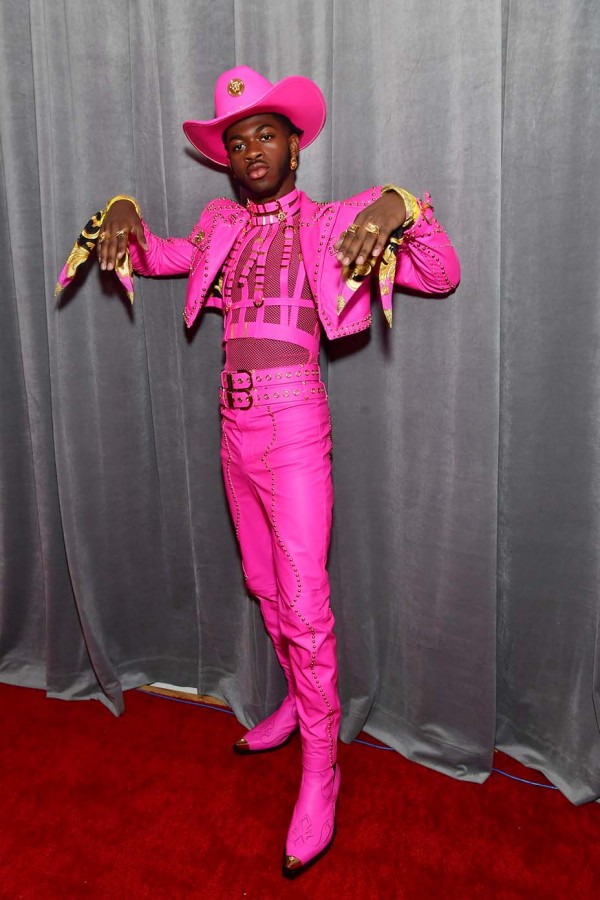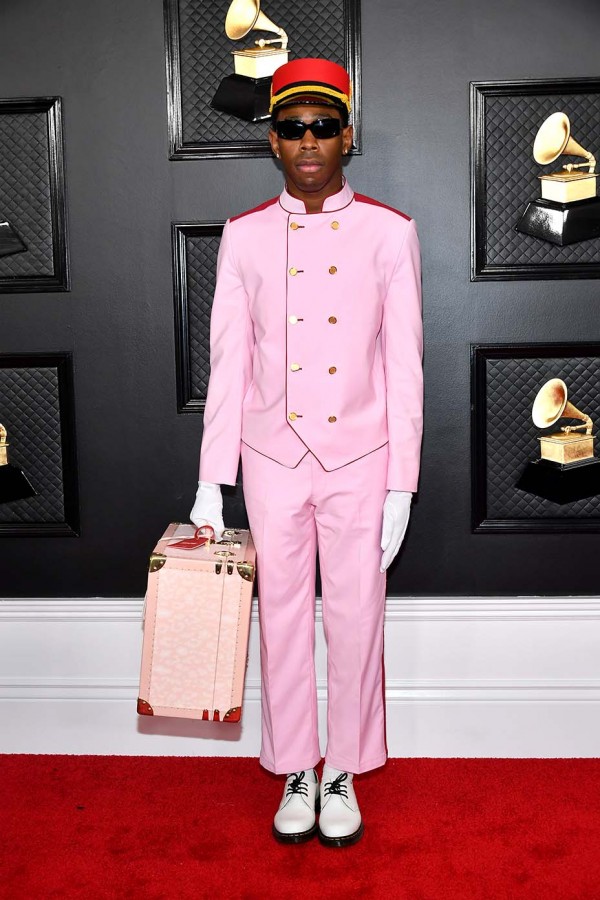 Lizzo went full glam with an angelic strapless Atelier Versace gown; white with crystal-studded piping, a Lorraine Schwartz diamond necklace and a floor-length glam white faux fur stole to match. Her stylist, Marko Monroe, revealed that the inspiration was derived from other powerful women with iconic status: "I was thinking of the powerful, iconic women who have come before her, and the image they've relayed when it's come to glamour" he said.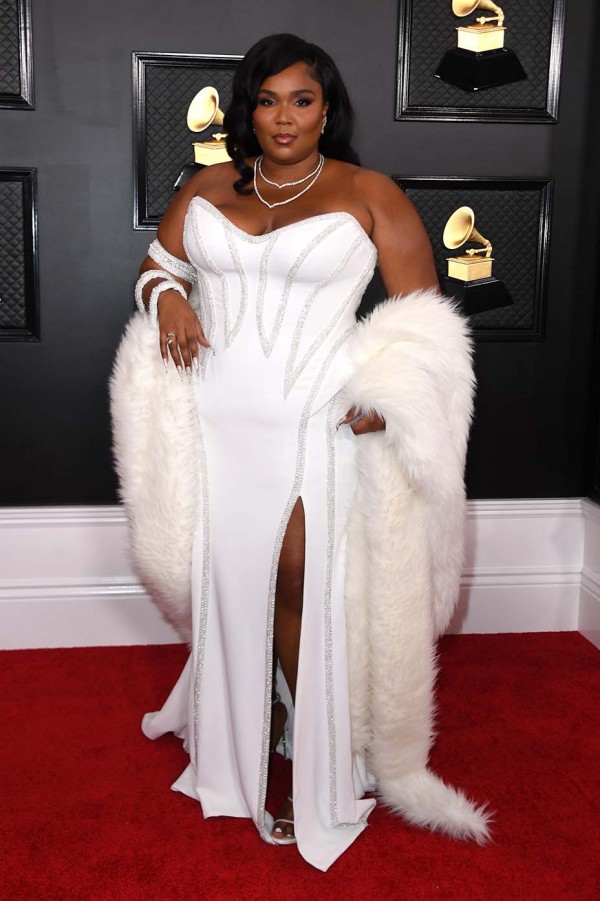 Chrissy Teigen mirrored sunset hues with a peplum worth talking about in a Yanina Couture gown with a deep set neckline, oversize ruffled tulle shoulders, thigh-bearing slit and matching velvet clutch. Contemporary perfection.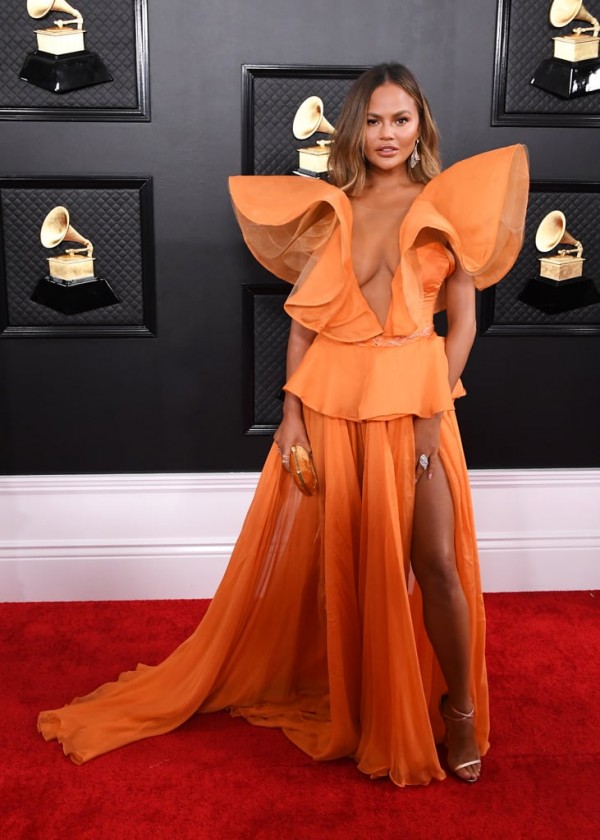 Last but not least: Maggie Rogers shared an admirable, eco-friendly morale as she accessorised her vintage black silk tulle dress from Chanel with a high-fashion water bottle (also by Chanel) - reminding us all that hydrating is key and that non-reusable water bottles definitely don't belong in this decade.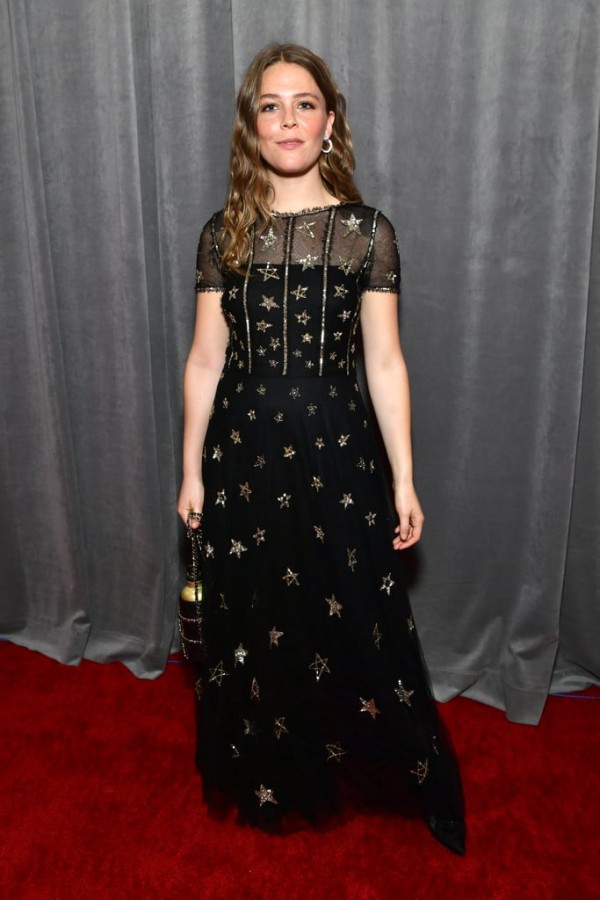 Words: Grace Meyer