RiRi and Drake's adorable matching tattoos
As if Rihanna and Drakes 'relationship' couldn't get any sweeter, the pair have now got matching camo-shark tattoos. Pictures reveal that Drake inked the small tattoo on his forearm, while RiRi gifted it to her ankle.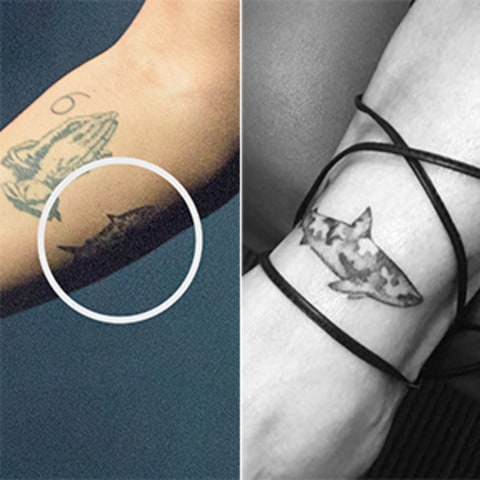 According to E! News, their new matching tattoos are said to have 'special significance' between them - it acts as a symbol for one of their many romantic dates! In August Drake took Rihanna to an aquarium in his hometown, Toronto, and gifted her a stuffed shark toy.
The unofficial couple have been seen throughout the years sharing special moments on stage at award shows, releasing hit duets, nights spent partying together and going on bowling alley, aquarium and romantic dinner dates. To say the least, it's complicated!
The events which went down at the recent MTV Video Music Awards between the two once again fuelled the relationship rumours. When presenting Rihanna with her Video Vanguard Award, Drake confessed that he'd been in love with the Barbadian beauty since he was 22 years old. This adorable confession was then followed by a kiss on the cheek.
Images: Getty, People Style, Instagram.com/BangBangNYC