the lucy x factor: Q&A with upcoming kiwi singer lucy x
For most aspiring singers, working with an established international artist early in their career is just a dream. For Chinese born New Zealand singer
Lucy X
it was a reality. Lucy X has just released her single '
Watch the World
', a collaboration with American hip hop sensation
Chingy
and it is already creating some serious buzz. As Lucy X prepares for an Australasian tour and a follow-up single for December, she chatted to Remix about how she got discovered, her thoughts on Lorde and why she didn't enter The X Factor to kickstart her career...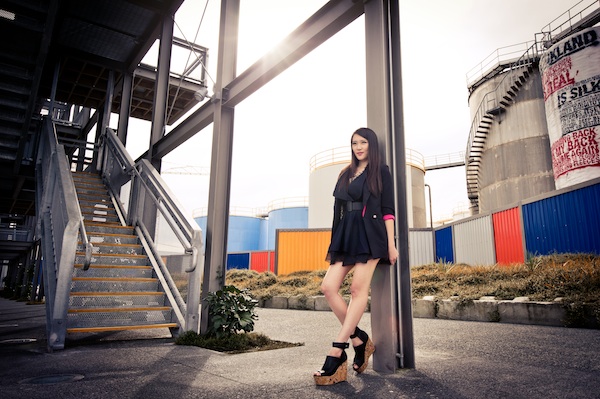 You've got a song out with Chingy! That's pretty huge! How does a relatively unknown Kiwi singer get jacked up with an international superstar for her debut single?
I signed a management deal one week and the next week I was told I would be featured with an international artist. I didn't know who but naturally, I was super excited! When I found out it was Chingy I was pretty shocked, I love his music. Chingy of course had to agree to do the feature. Christopher Kris (Kris Lal) wrote 'Watch The World' and played it to me, I loved the track and so did Chingy. It all worked out amazingly well and the song is huge!
Plans for a music video and/or trip to the US? Did you get to meet Chingy?
I will be (fingers crossed) on tour with Chingy, Omarion and Fabolous in Australia in a week to sing 'Watch The World'. Also Chingy will be here in October to shoot the video for 'Watch the World'.
Tell us how you got into recording music?
To be honest, I hadn't really recorded prior to this project. My experience comes mainly from live performances. I've been singing from a young age and have entered and won a few different singing competitions.
What artist - locally or internationally - do you admire? Is there a female singer who's career inspires you?
I love Whitney Houston. 'I Will Always Love You' is my all time favorite song. People are always shocked at this little Asian girl belting out Whitney Houston! Mariah Carey for her vocal ability, Christina for her soul and Rihanna for her style. All these women are great influences to me and it would be a dream to work with at least one of them. Kiwi musicians I like include Aaradhna and Brooke Fraser. I also feel that Lorde is doing an amazing job. She is fantastic.
You're kind of going against the trend by busting out on your own. Most aspiring artists enter a show like The X Factor now. Have you considered that? How do you rate those shows as a platform for young artists?
Those shows are great! They give artists a chance to be discovered, and people to get to know them for who they are. I love hearing amazing voices that you may have never heard of if it were not for programs like The X Factor or American Idol. I entered a few similar competitions earlier on, which is how I was discovered.
Do you have any plans to record a full length album or an EP?
'Watch The World' is part of the Christopher Kris project, which will be a collaboration album between international artists. We are working on more music for me as we speak, with more international artists. I can't say too much because I really don't know who yet! But I want to record an album that my family and friends can listen to and be proud of. I like making meaningful music that stands for something. I'm not in a rush to churn out anything that is not genuine.
What about touring? Do you get stage fright or nervous to perform?
If I can't see the people I don't get nervous, so actually larger crowds are easier to perform in front of as opposed to a small intimate venue!
You've also got a sick sense of style! Who are your favourite designers and brands? Who inspires your look?
Oh thank you! I love fashion as much as music, so naturally I want to combine the two. I love Louis Vutton for accessories. However, Marc Jacobs and Stella McCartney are two of my overall favorites. I also love Storm. One of my managers Yumiko and I work closely on my styling.
Tell us what else you get up to outside of music?
I'm currently finishing up my degree at the University of Auckland in between recording so unfortunately not much lately! I like to get out and about in the weekend. Whenever I'm not in meetings I'll try and spend time perfecting my sound in the studio.
What's next for you in the next 12 months?
My track with Chingy 'Watch The World' is out early October. I will be on tour with Chingy , Omarion and Fabolous in Australia this month and I plan on recording and releasing another single in December. Sharyn Makoni my manager has literally just texted me that I am on a hotel tour and possibly opening for a few international artists coming out this year!
Keep an ear out for Lucy X and Chingy's song 'Watch the World' on the radio. This chick is going to be a big deal, so remember you saw her here first!