Why Thievery is more than just a studio
A space unlike any other, Thievery Studio is located in a charmingly renovated building overlooking the vibrant K Road strip. In the photography, fashion and media scenes, it's something of an icon. The dynamic studio has been the location for many celebrity photoshoots, product launches, and experiential activations. Thievery is the go-to inner-city space for events, meetings, and photoshoots - but it wasn't always this way.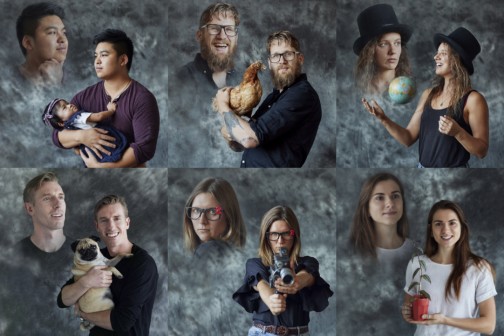 With the space previously used as a counselling facility, the floor was filled with little rooms and lots of restricting walls, with each small space being totally under-utilised. Once Thievery Director Garth Badger took over the place (with sledgehammer in hand) and one by one, many of those walls came down. This created a blank canvas, opening up the potential of the room. A talented photographer/director himself, Garth has always been chasing quality light in his career. So finding a spot with floor to ceiling windows that offered sunrise to sunset light, was the ultimate jackpot. He knew it was going to capture almost uniform light throughout the whole day - a scope of light he was not going to find anywhere else.
With renovations underway, Thievery Studio started growing into more than just a space. It was the shared love for the building and the abundant light that the building offered, that saw the inception of Thievery Studio. It soon became a full production company, gaining skilled staff from a variety of specialties in photography, film, producing and directing. Meeting the right people who shared the same desire of creativity meant the team grew fast and organically. The whole studio is now made up of passionate creatives, some full-timers, some contractors, some merely collaborating on creative ideas. Erin Geurts was the first full-timer - and is still there - still wanting to learn from Garth weeks and weeks after her work experience placement had ended.
Producer Caitlin Mackenzie-Powell is also worth mentioning as another long-standing team member as Thievery's go-to girl for all things production. Her ability to make a potentially stressful shoot run with fluidity is a testament to her hard work and care for all clients. We've worked with her at Remix over the years and can confidently say she's blessed our photo & video shoots with the ease of her logistics and knowledge. The entire group of talented creatives are always evolving and growing, creating works they feel passionate and inspired by.
For such a successful studio, it's interesting to note that Garth is personally opposed to the idea of excessive planning. A loose brief will bring out the best in him and his team. One thing he is sure of is that Thievery studio is going to keep growing and evolving - how this is going to happen is still unclear and that's acceptable for Garth. His goal is to achieve goals that he couldn't have thought of when he was last setting goals. "When you over plan you can jeopardise future possibilities and opportunities," he says.
It's clear he doesn't like to play by the rules but it's the never-ending list of happy clients and repeat business that speaks volumes to the passionate team and their iconic space that continues to be a favourite among creatives, including the Remix team.
Learn more about this creative hub, their clever visual work or to book your next event at thievery.co.nz
@thieverystudio