A sit down with Paris Georgia after their NZFW show
Remix NZ Editor Amber Baker spoke with Georgia Cherrie - one half of Paris Georgia - to discuss the aftermath of one of the biggest shows of NZFW, how they're feeling and why the models wore Tiffany & CO. down the runway.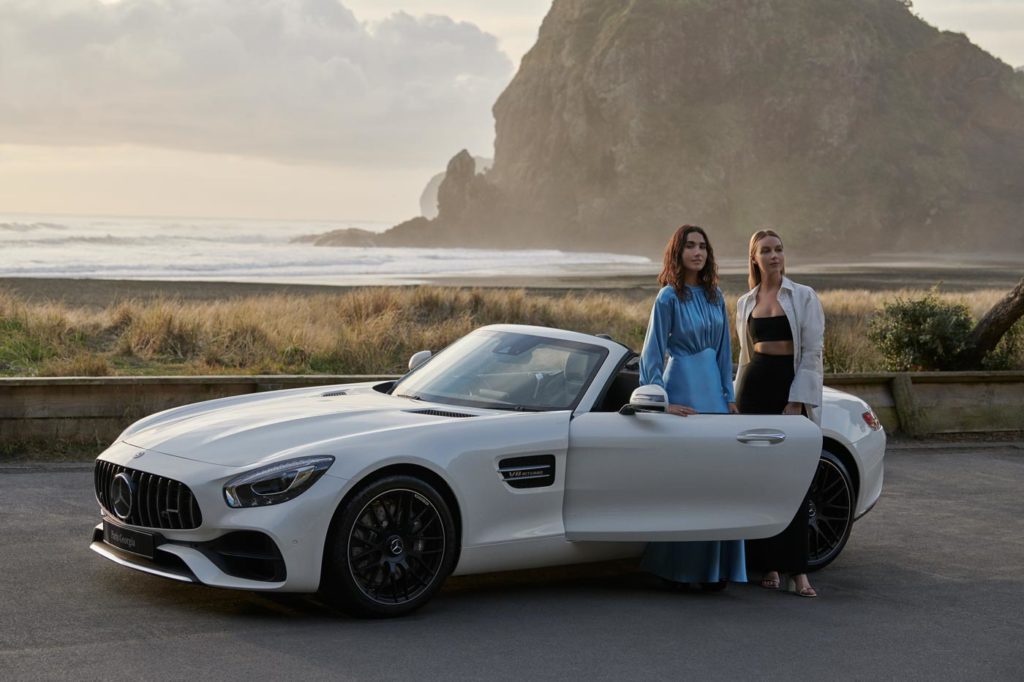 How are you feeling after the show?
We're feeling really good! I think we have learnt with the show that you have no idea what's going to happen until it's all going. We teamed up with some incredible people. For instance we had Paris' brother whose artwork was hanging on the runway and Angus Muir lighting installations at the start of the runway - both of them we trust and love, but we couldn't see their work set up until the night of the show! We saw it about half an hour before the show and were so in love with the set. We also has this incredible music composer Brad who is a friend of ours compose the music and we were so in love with the track.
Cool, so it was Paris's brother that created the art piece that was in the centre of the runway?
Yeah, so he was our art representative. That was really exciting, and then Angus Muir did the lightbox at the end of the runway - we just wanted it to be really emotional. They both nailed it, completely nailed it - we couldn't be happier with the creatives involved.
How did you come up with the idea for the beautiful metallic headwear that some of the models were wearing?
Well, we actually found the fabric and we were like this is so amazing… what are we going to do with this? We were trying to put it in clothing and it just wasn't working, it wasn't really true to our design aesthetic. And then we were just playing around with it and we wanted to create a helmet which was then designed from there. So yeah, a bit of a collaboration and playing around!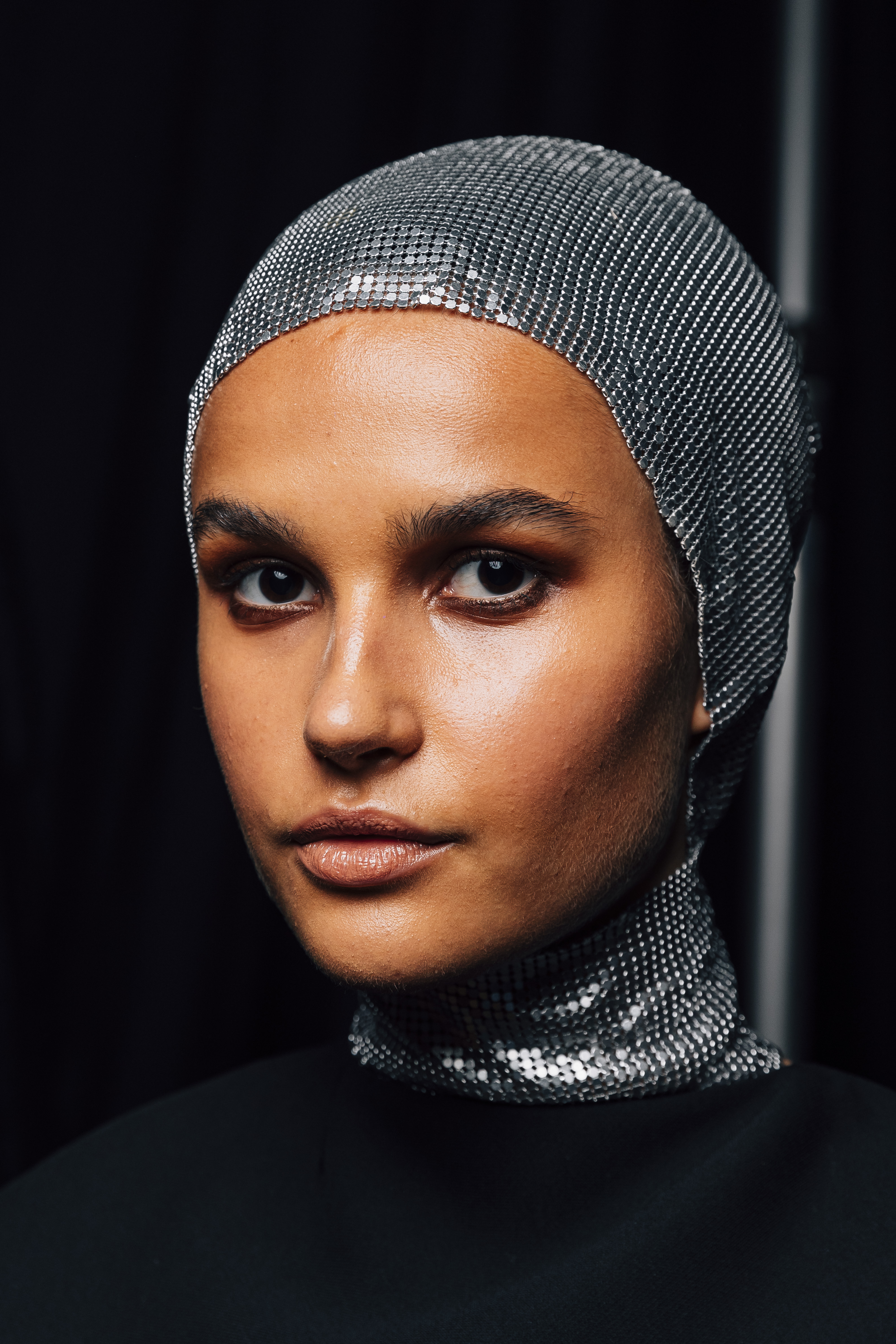 So tell me, that last 'look' was the bridal key piece from the show wasn't it?
Yes, we are about to launch our bridal lookbook next week! Before we were just doing custom bridal - which as amazing as that is - it was really expensive, obviously because it's such a personal process. So now we are offering ready to wear. The bridal lookbook is where girls can go online and order, then we will custom measure from there.
So tell me a little about the collection from the show?
When we found out we were doing New Zealand Fashion Week, we were excited to do some really fun show pieces, things that create beautiful movement. It was fun and definitely gave us the chance to be more creative - we had to create styling pieces, waist belts with chains hanging off them. The new focus of coming back to New Zealand for the show, was to make it just for New Zealand women. Making sure that we had beautiful pieces that were wearable with beautiful fabrics.
Why did you guys decide to partner with Tiffany & CO. for the show?
We love them. It's one of those Instagram relationships where you are like replying to each others stories and then when we found out we were doing the show we just emailed the Kate in Sydney and it just made sense. It's been such a nice partnership, sometimes partnerships can be quite stressful and they were just a dream
What sort of jewellery pieces did you choose from Tiffany & Co?
So we had their Tiffany T collection, their hardware collection and we used Sebastian Hunt to style the show for us. So they were in discussion and picked out their favorite pieces from online and then all the pieces turned up on the night of it all - obviously such an expensive amount of jewellery that we were putting onto the girls just before getting on the runway which was really cool and made it really seamless. The pieces are all so wearable, even though they were quite statement they looked really cool with everything.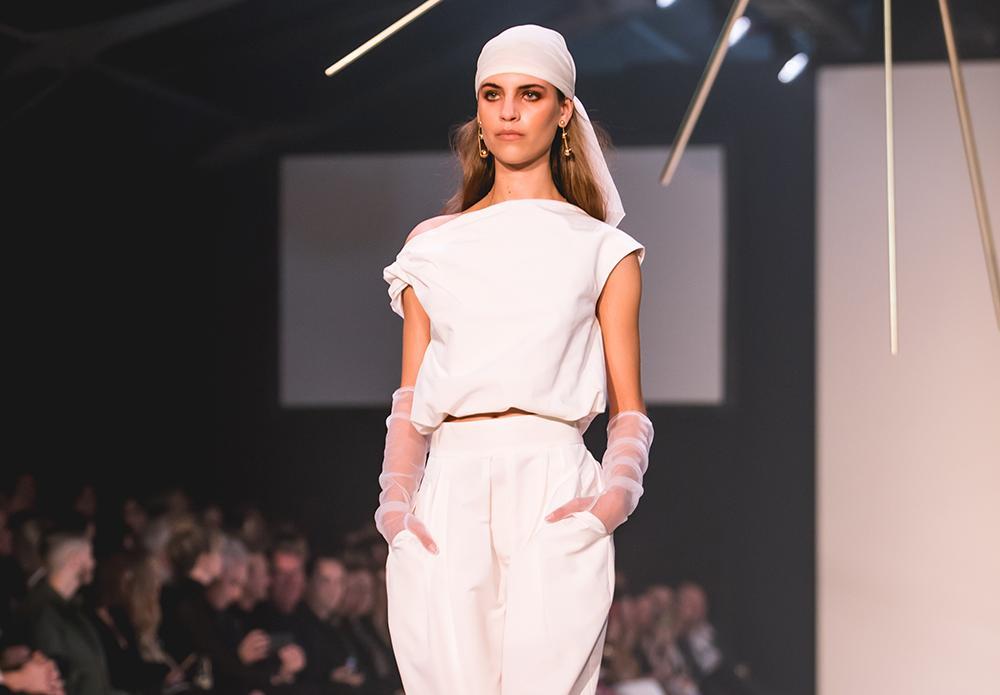 So will there be more to come, working with Tiffany & Co?
Absolutely - we love them. Hopefully we will do something in Sydney next year and here again!
And what was it like working with Mercedes Benz?
Yes, so they were our main partner, they approached us about six months ago and proposed the idea of working together, which we were so excited about. It gave us this great opportunity - I think because we went straight to Australia and New York, where our two biggest markets are, and working with them made us realise how amazing it was and the opportunity to give us a focus on New Zealand, which they were really excited about. It was amazing - the team is so awesome, for the most recent photoshoot they flew Derek Henderson over, to shoot in Piha. We were so happy with the imagery - they knew that's what we wanted so they really pushed for that and just took care of us.
So will you guys be returning to New Zealand Fashion Week next year?
Yeah, we definitely loved doing it and the New Zealand Fashion Week team has also been a dream to work with. We will just have to assess and decide whether we will have a break for one year and then return the following. We loved it and it's such a good training ground to do something overseas now that we have done it here.
Well, New York Fashion Week is next week... are you guys going to be tackling that as well?
We're going to be taking the collection there, so we're going to show to the New York market our show room but no, we're not doing a show. We would love to do something but we want to take this on when we are feeling fully ready and developed.