Remix Interviews: Angus and Julia Stone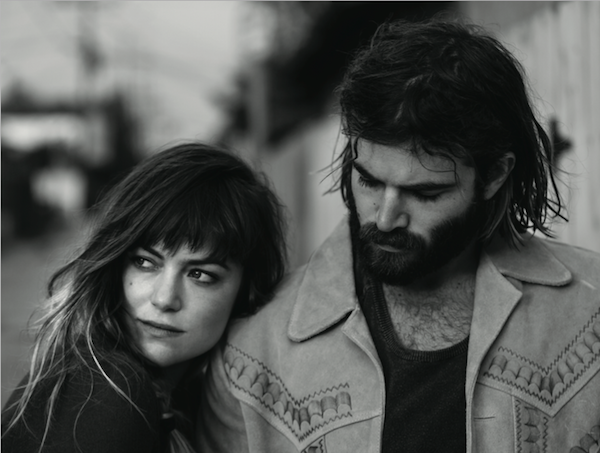 Australian sibling duo Angus and Julia Stone came back to our shores last month to headline Rhythm and Vines Festival. Pre-festival and for our latest issue (from page 164), Julia had a chat with Remix writer Isabelle Truman about the significance of a New Year's Eve show, her tips for staying happy and healthy and the New Zealand labels she can't get enough of...
What's been going on for the two of you since the release of your third album last year?
A lot of touring! We're a heavily touring based band - we've been out on the road for the last 10 years and this album was no different. We put it out and then started touring Europe, and then we did a bunch of festivals and our own shows all over the place.
Do you have a favourite out of all of those festivals?
I definitely favour ones that are based in really beautiful, natural places. For us as a band, it's really cool to have the day free to not only check out other bands but to be able to go for a walk in the jungle or something. The drummer and I like to go running, so for us it's great if we've got some beautiful nature around. To be able to wake up, put on your joggers and go for a run or a swim and then come back, shower, have some food and play a show. It makes touring a bit more relaxing.
You and Angus have both been doing your own thing for the last wee while, was it a conscious decision to record this next album, or was it more a culmination of songs that ended up in an album?
Definitely out of all of our albums this was the one record that it was a super conscious decision. In the past we were writing a lot and recording here and there and we'd have a bunch of songs so decide to put out an album, but with this record we were approached by a producer when we didn't really have the intention of getting back together. We sat down and talked about it one day and decided that if we were going to do it, we were going to write songs together and make a much more collaborative album than we've ever done in the past, so in that respect this last album was definitely a choice.
You've written a crazy amount of songs. Do you have one that is a favourite?
I like to go travelling without being a musician or having to play a show and sometimes you're in a place, there's a guitar lying around and someone finds out you can play music. In that environment I still get a little bit of a knot in my stomach and don't know what to play, but there's a few particular songs that I go back to that I find super comfortable and that feel like a natural representation of who I am and what I feel. One of those songs is a song called 'For You' and another one is a new one called 'Death Defying Acts'.
And where do you get inspiration for your songs?
Different times and different things, but I think there's a build up of creative ideas that happen from touring and just everyday life experiences. Being away, missing people, falling in love, falling out of love, and I guess the challenges and beauty that all of that brings. All of those experiences culminated together sort of start to take shape and it's not necessarily one specific thing or one specific experience,it's just a build up and then eventually you have the time to play and explore music from that place of excitement.
This issue of Remix is our happiness and wellbeing issue. What do you do when you're not working to relax and stay sane?
I'm a big advocate of yoga. If you can develop your own practice it can be really helpful. Your body knows what it needs so you can design your own 40 minutes in the morning to kind of move different parts of your body that get maybe a little bit seized up and inflexible. I find that really helpful dealing with the moods of life that come and go. I love cooking and I love making chai tea so I love to wake up in the morning and get super excited about making my tea! I guess it's creating different little rituals and markers in your day that you look forward to. Walking is a good one as well, just being outside and getting out of your head and keeping moving.
So when you're travelling through all these different countries do you make sure to get up and go walking or exercise to keep yourself sane?
I'd like to say yes. Sometimes I'm that disciplined but sometimes it's hard. Anyone who is a sensitive person – which is probably every single person on the planet – knows that there's times that you can be really dedicated to looking after yourself and then there's times that you find it really difficult to snap out of whatever mood you get stuck in. I struggle sometimes to do the right thing by myself but I really make an effort to. Getting from the hotel to putting on the trainers and getting out sometimes has this kind of resistance to it but the older I get the more I know to not be a brat and to just do it.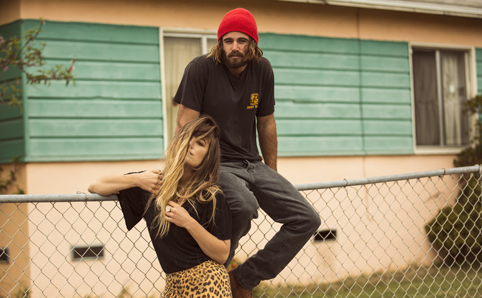 What are some of your favourite fashion labels?
It sort of changes depending on the collection each season, but I've been finding that fairly consistently I've been liking pieces from a label in L.A. called 'For Love & Lemons', they do really cute mini skirts and stuff. It's funny, the older I get the more I like showing off my legs and being more confident with my body, so that label has been really exiting to wear. I also really like NEUW Denim, it's been really nice to wear their jeans. Again, jeans and wearing high-waisted jeans is a new thing for me. But now I love to pair them with little vintage tees and ballet flats - really clean and simple. I really love Chanel ballet flats, even though it's a bit excessive buying them! I try and give myself a pair once a year.
I see that you've also got the same bikini as me from a New Zealand label too...
Oh, I love Lonely Hearts! Another New Zealand label I really like is Karen Walker, I love her eyewear! It's so great. There's lots of good stuff happening in New Zealand!
You were over in New Zealand at the beginning of the year for Laneway festival and a few sideshows. How did you find the country?
The first time we played New Zealand was at the Civic Theatre in Auckland and it was amazing, there was an amazing energy. It's weird because we're so close to New Zealand and we've been touring for nine to 10 years but we'd never played New Zealand in all of those years. We could definitely feel the anticipation among the people that had come to see the show and a lot of enthusiasm within the crowd. It was the last show of our Australia and New Zealand tour and the crowd was awesome, it was really fucking cool. Then coming back again for Laneway it was the same sort of thing – a really cool energy and lots of excited people, including us! We now have New Zealand in our minds as one of the places we continually want to tour in.
You're back here for Rhythm and Vines too! What's special about New Year's gigs?
You kind of have a different experience each year or at least I have, as some years are more powerful than others. There's always this sense of one door closing and another one opening. As a band you feel this sense that you've all survived the year and touring life and you've done it together. There's a real sense of family amongst our touring party because we've been together through so much. You become really close and that bookend of the year everybody's celebrating in their own personal lives. As a band to be able to be together for that part of the year is important I think. We all live in different cities – a bunch of the boys live in New York, Angus is up North in New South Whales, I live down South, if we weren't playing a show we'd probably all be separate. They're the closest people in my life so to be able to be with them for that night and to also be able to do what we do and tie it all together, it's very representative and symbolic of what's important to us.
angusandjuliastone.com