Win a Hallenstein Brothers Stretch Merino Suit & our interview with Jay & Alexis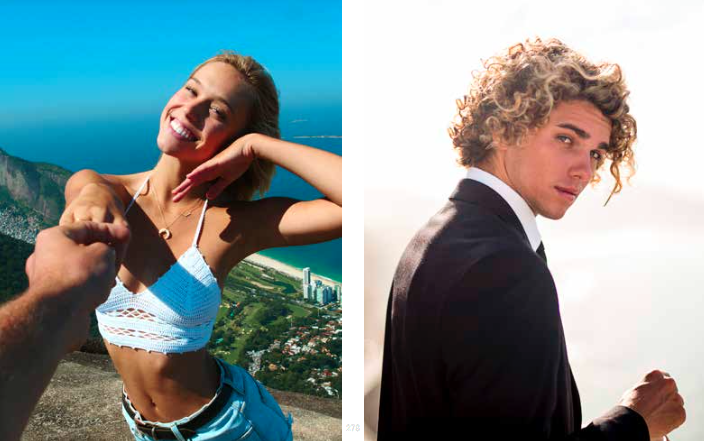 The 'follow' button on loved-up couple Alexis Ren and Jay Alvarrez's Instagrams (@alexisren and @jayalvarrez respectively) should come with a warning label; 'May induce insatiable wanderlust.' The taut and tanned Californian models, soon to star in a New Zealand ad campaign, are a match made in social media heaven. With their sun- kissed good looks, extraordinary photogeniscism and dual penchent for partaking in extreme sports around the globe, theirs puts most smoothie- and-sunset Instagram feeds to shame.
Jay and Alexis both feature in the latest
Hallenstein Brothers
campaign and took time out from filming in Rio De Janeiro to chat with Olivia McPherson about their relationship, their Instagram following and their globe-trotting life.
Where are you both originally from?
Jay: I'm from Hawaii and Alexis is from Santa Monica, California.
How did you meet?
Jay: We met through a friend Jorden Keith who's a photographer from LA. We were booked in to do a shoot together and then the day before I jumped off a friend's three-story roof into a pool and hit my face on the bottom. I couldn't go to the shoot the next day to meet her, so she DM'd me. Alexis: No! He DM'd me... anyway we caught up, clicked instantly and it's been that way ever since.
How much of the time are you travelling the world and how much time are you in Los Angeles?
Jay: The summer months we are out of LA all the time. Throughout the rest of the year we would be in LA one or two weeks of each month and the other two we are out travelling, working and exploring the world, creating adventures. We're basically always on the go.
Do you take your pictures on phones, or cameras? Do you take all your own photos?
Jay: Any camera really. I have professional gear - a Canon - but we also use our phones or whatever is handy at the time. Sometimes the phone shot can be better than the camera.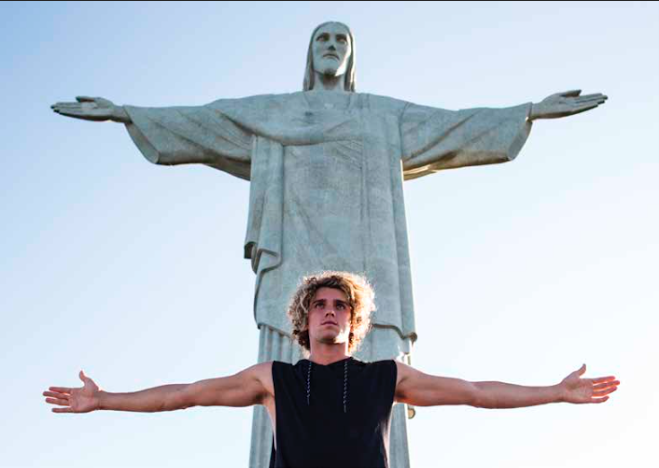 Jay, how did you start out doing extreme sports?
Jay: I grew up on the North Shore of Oahu - it's an epicentre for extreme sports. I was pretty much was surfing every day, and I watched people skydiving my whole life from the beach 'cause the drop zone is right by my house. I started talking to a few people who did it, watched a few YouTube videos and got super-pumped, so I threw myself out of a plane when I was 18 and it all started from there.
Alexis, how did your modeling career start? How were you discovered?
Alexis: I was discovered in a clothing store at the age of 13. I'd been studying ballet fulltime, but when this opportunity came up, I started modeling and I have been doing that ever since. Eventually I plan to go to New York and really focus on fashion, which is what I love.
Why do you think people love your Instagram adventures so much?
Jay: We travel to some of the most amazing places in the world and we show it from our own unique perspective, which our followers seem to connect with. We try to take them on a journey with us, so they feel like they are there experiencing the whole thing as well.
What you are doing in Rio with Hallenstein Brothers?
Jay: This trip to Brazil has consisted of eating a lot of acai and jumping out a lot of helicopters. The main point of the trip though was to get some awesome material to make a cool video for the upcoming Hallenstein Brothers Summer '15/'16 campaign. It's been amazing. This place is beautiful. We've been having a good time with all the crew and the boys @austin_victoria, @dubbsvision and @finding_hogue.
How do you choose what brands / people to work with? Why did you say yes to a fashion brand like Hallenstein Brothers?
Jay: I was working with my buddy @austin_victoria who I worked with previously in Hawaii, and he mentioned how fun the campaigns were to shoot with Hallenstein Brothers, as he had worked with them in Cuba. But the main thing that sold it to me was skydiving in Brazil. Brazil and skydiving... that sounded amazing!
Name a highlight from the shoot?
Alexis: Our favourite thing about Rio was just the unique beauty, and how it's like a city next to a jungle. The people and the energy are awesome, it's so beautiful. We also met a bunch of fans there and they were so nice and kind to us.
The craziest part?
Jay: Jumping out of the helicopter over Rio was the coolest thing ever. We landed on a secluded spot where no one was around.
Any plans to come to New Zealand?
Jay: Hallenstein Brothers have invited me to come out and do another video with them later this year. From what I have seen it looks like a pretty amazing place with some of the most epic scenery in the world!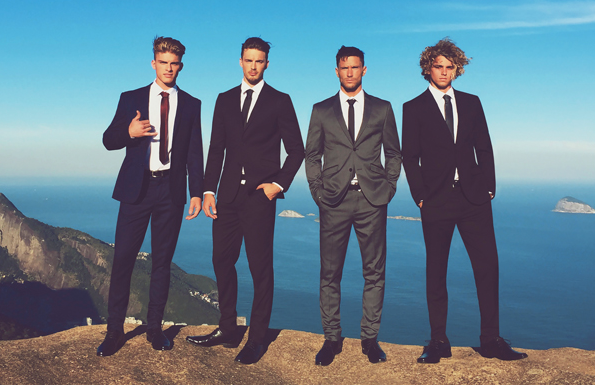 We're giving away the chance to win a Hallenstein Brothers Stretch Merino Suit
To enter, like this post on the
Remix
Facebook
and comment with your favourite extreme sport or what you'd like to try out in your new suit! Good luck