How to train like a bikini athlete
She eats clean, trains hard, and has a smile that can brighten just about anyone's day - 19-year-old bikini athlete Abbey Jessop is taking the NZ fitness scene by storm.
In her second year of competing in both NZ IFBB bikini and Australian Pan Pacific bikini competitions, Abbey keeps her 49,000-strong Instagram following motivated and inspired daily by sharing moments of her own fitness journey. Her message always remains the same, however, body positive. A strong believer that you are not defined by a number on the scale, Abbey maintains that a balanced life is the best life.
Remix digital editor Ashleigh Coldicutt caught up with IFBB bikini athlete and new PUMA ambassador Abbey to find out her favourite pieces from their new collection, the five things she always has in her gym bag and how shes satisfies her sweet cravings during comp prep.
Thanks for taking the time to meet with us, Abbey! We're super excited about your appointment as a PUMA Forever Faster ambassador. What does the brand represent to you?
I'm incredibly stoked to call myself the newest PUMA Forever Faster ambassador! PUMA have always been incredibly supportive of my fitness journey so I'm genuinely excited to be working with the brand more closely! Evolving almost daily, PUMA is mixing sporting technology with style, which allows people to feel so confident and great about how they look in their workout gear! This is so important as many people are self-conscious when they work out. Four things that come to mind when I think about PUMA as a brand are: support, care, performance and creativity. So, I guess you could say that PUMA is 'forever Faster evolving'!
Do you have any favourite pieces from the latest collection for PUMA?
Oh my goodness seriously - every time there is a new PUMA drop I just want everything! Definitely the PUMA Branded Trackpants - they're so damn cool! I also love the PUMA IGNITE EvoKNIT Women's Training Shoes!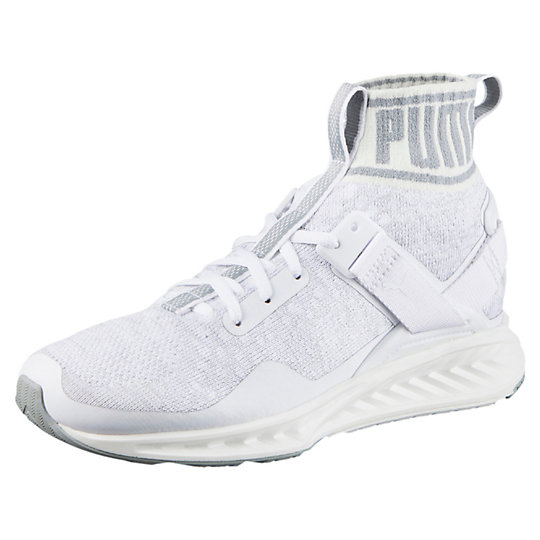 What kick-started your love affair with all things health and fitness?
Growing up, I was always incredibly passionate about sport - there would be tears if I didn't win overall on Athletics Day! It wasn't until my senior years of college that I started feeling self-conscious about my appearance. I played a lot of sport but I loved eating iced buns, cakes, and pizza (but who doesn't, right?). I remember wearing short, black Spandex for volleyball and that was probably my lowest point. I would hide between other girls so the boys couldn't see my thighs touched when I walked. This was the exact moment I decided to make a change and join a gym - and it all skyrocketed from there!
As an IFBB Bikini athlete and personal trainer, you must spend a LOT of time in the gym. What are the five things you always have in your gym bag?
Only five?! Geez! My PUMA duffle bag is always pretty chocka! My five staples would be deodorant, wrist wraps, lifting straps, a first aid kit (including deep heat, band aids etc), my lifting belt - can I have one more? My resistance bands are always in there too. Had to sneak to six must-have's!
How many bikini comps have you been a part of? How is each one different?
My first bikini comp was the PRO/AM in 2016, then Nationals followed, and the Australian Pan Pacifics Invitational after that. In March this year I again competed at the 2017 PRO/AM and went on to compete in the Arnold Classic! Every competition is so different. The Australian look is usually fuller than the NZ bikini look and posing is different too. Also, you may or may not do your full routine depending on how the show is going for time! The judging criteria can change each year, too! Sometimes a softer look can be better, or other times leaner but full can work in your favour! Also posing to your strengths and improvising plays a big role on the day.
What's the biggest challenge you face while getting comp ready?
Keeping my booty and shoulder gains! They are the hardest places for me to grow and first places to go when I'm getting leaner!
How do you like to treat yourself when you're in full comp ready mode? What's your number one vice?
Sugar Free lollies for the win! Or if I'm craving chocolate I'll mix cacao powder and natural sweetener to settle my sweet tooth! I'd totally recommend trying that before you pick up that block of chocolate next time!
What's your favourite muscle group to train? Favourite exercise?
BOOTY! The bigger the better! My favourite exercise always changes, but at the moment I'm loving squats, Romanian deadlifts and walking lunges. If I'm feeling energetic, there's nothing more satisfying than dropset lateral raises for my shoulders - the burn is SO real!
You've got a really strong following on social media, how do you try to portray a body positive message to your followers?
When I first started, I had the same mentality as some women do when starting out on their health journey. I'd always focus on the negative - saying things like, 'I dislike my body, I don't like the way I look', etc. This is definitely the wrong way of thinking about it! Sure I had flaws when I started... and I still do! No one is perfect! Sure my body changed, but most importantly my mentality did too. I now embrace my body and look forward to seeing the changes I can make - it's like crafting your own sculpture! I now promote waking up with an optimistic attitude and uplifting others about reaching their own fitness milestones! You've dropped a dress size? AH YOU GO GIRL! Be proud! Rock that new pair of jeans! Don't be disappointed that you're not "X" weight. A scale does not define you. Weight is completely irrelevant to health and fat loss! Celebrate who you are ARE and what you ARE doing to make a positive change!
When you're not training hard in the gym, what do you love to do for fun?
Outdoor adventures! Anything that will get my adrenaline levels high - think sky diving, swimming with sharks, stunt doubling! When I'm not leaping out of planes, I love chilling with friends and family.
What's next for Abbey Jessop?
The real question is what isn't next! For real, though, I am crazy excited for the future and what opportunities are going to present themselves! I just want to leap at every opportunity I possibly can! We are all so capable of amazing and wonderful things!
Watch this space...
Photo credit: @abbey_jessop Instagram