This new release Huawei Nova 5T smartphone is the only accessory you'll need this season
Enter your details below to go in the draw to win your very own Huawei Nova 5T!
No strangers to dazzling design and advanced tech, Huawei have just launched the new Nova 5T to further push the boundaries on pocket companions. As a follow up to their best-selling Nova 3, the expectation was that the tech giant would have to pull out all the stops... lucky for us, they didn't disappoint.
From a style standpoint, the device itself looks good enough to gram with its bold holographic gradient colour ways. But you'll be doing a lot more grammin' once you acquaint yourself with the exciting new features, including its 5 cameras - yes, we'll yell it louder for the people in the back, FIVE CAMERAS PEOPLE!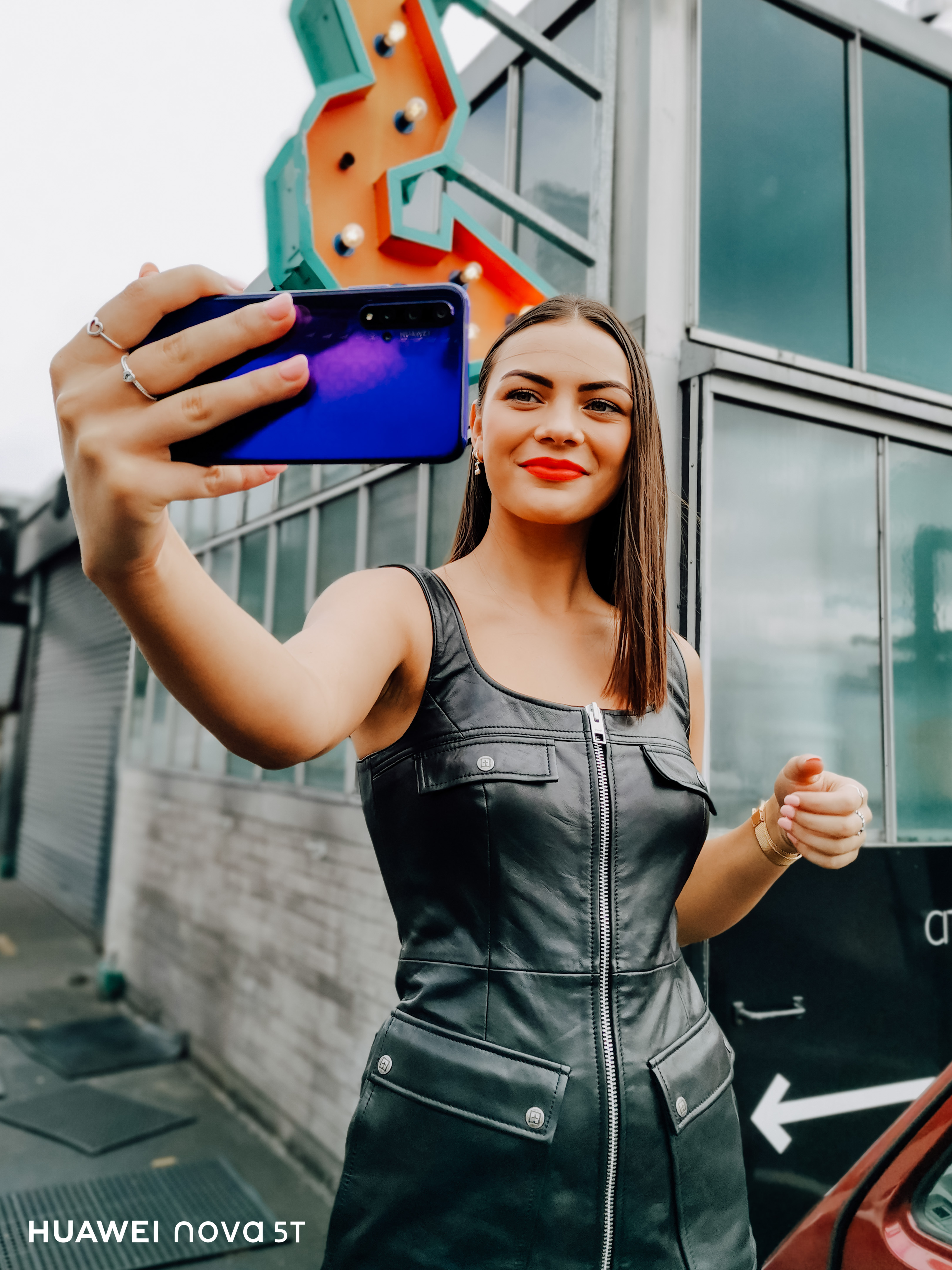 This shot was taken on a Huawei Nova 5T. Georgia is wearing Ksubi.
With an even bigger screen-to-body ratio (we're talking a FullView 6.26-inch display!) and a hidden front camera beneath the screen, the Huawei Nova 5T's screen retains its full integrity, revolutionising the user experience. So let's talk about those cameras... because let's face it, your gram game is going to go through the roof.
The device is basically a bunch of pocket pro cameras that allow you to discover new worlds. The 5T features 4 rear cameras for you to document your daily escapades on, including a 48 megapixel main shooter, a 16 megapixel wide-angle shooter to broaden your horizons, a 2 megapixel depth sensor (for Bokeh effect) and a 2 megapixel dedicated super macro lens allowing you to shoot from just 4cm away.
And there's plenty of space to store all these hot pics you'll be taking with an 8GB RAM and 128GB of storage. This little pocket rocket also comes packing the new Kirin 980 chipset, which is based on a 7nm process. What does this mean you ask? You can expect higher performance output and an even more superior power efficiency, compared to the outgoing Kirin 710 processor of the past.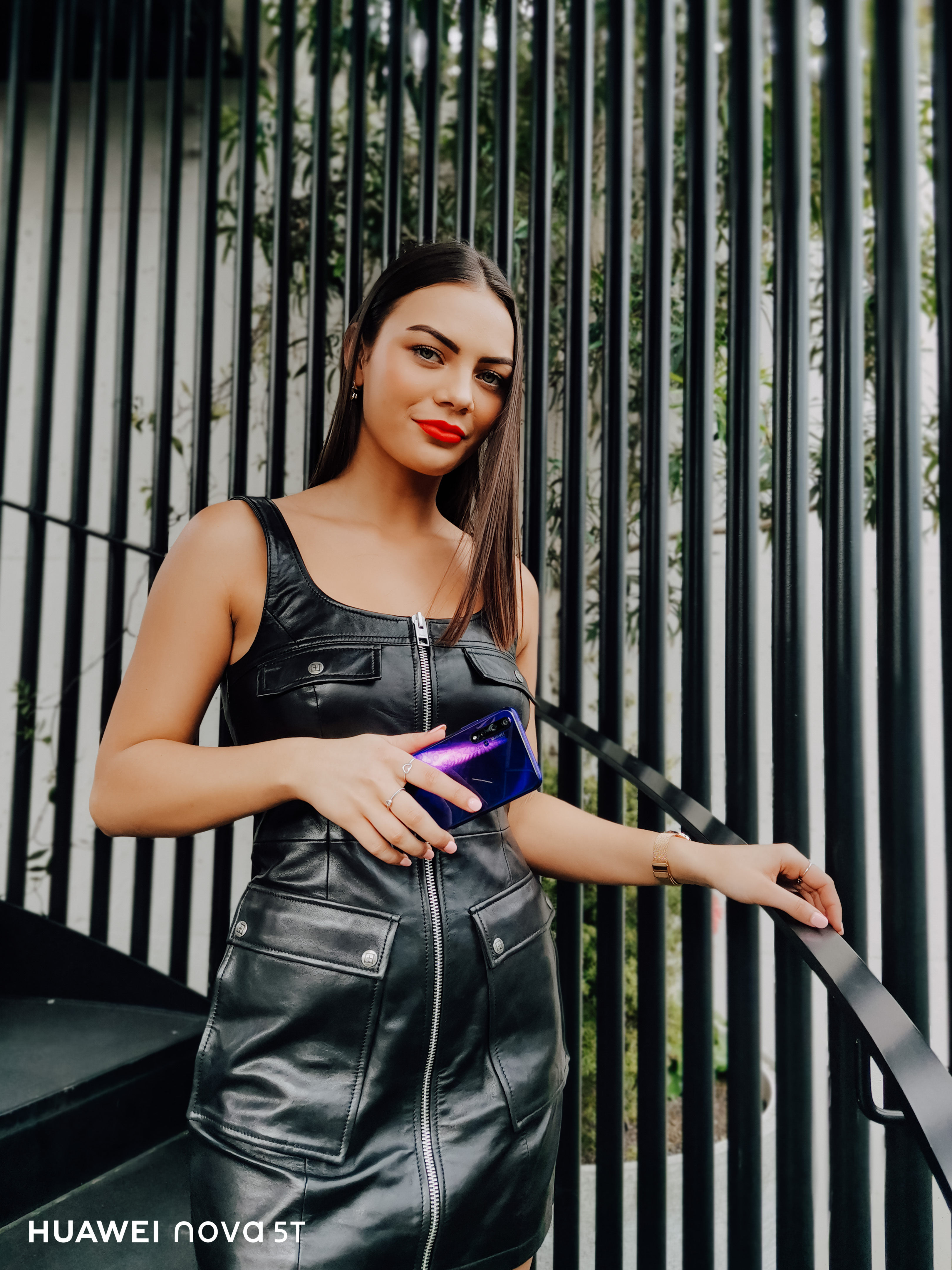 This shot was taken on a Huawei Nova 5T. Georgia is wearing Ksubi.
The front camera a.k.a the 'selfie cam' packs a real punch with an impressive 32 megapixel lens now in the top corner. Using AI technology the lens highlights your natural unique beauty and individual characteristics to bring out the best you while the 4-in-1 pixel fusion creates brighter, clearer selfies. Don't be surprised if you're astonished at how great you look in those snaps.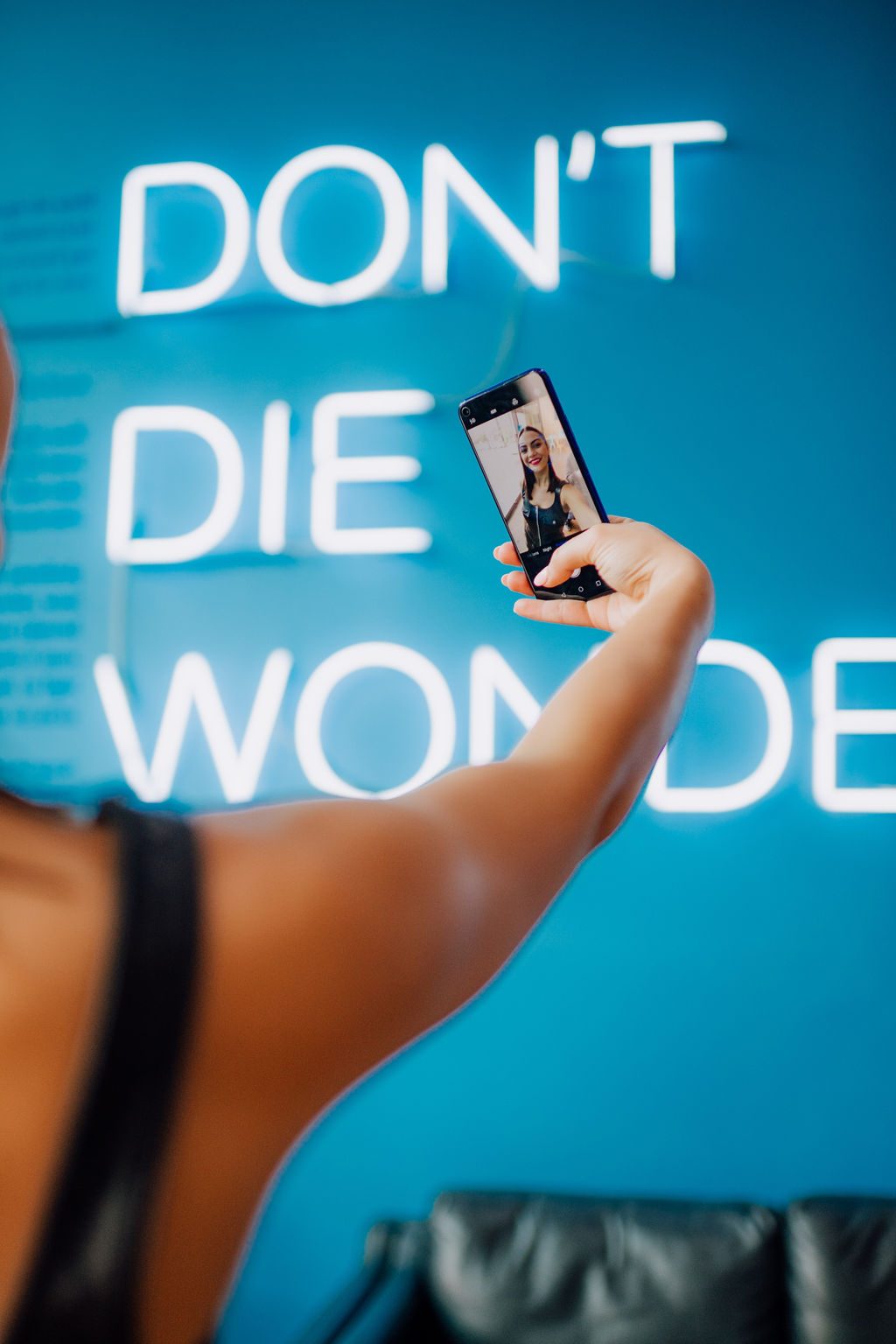 For those of you who remain glued to your phone all day and find yourself without a spare charger, you'll be pleased to know it comes with a SuperCharged Battery. With a 22.5W super charge, not only does the phone last a whole day on one charge, if you use your device heavily, the Nova 5T supports Huawei's SuperCharge - a feature that was formerly reserved for Huawei's flagship devices. With this feature, even if you just charge the phone for a few minutes, it'll last for a couple more hours!
It's super convenient too, with the ability to unlock the smartphone in a flash... The side-mounted fingerprint sensor enhances the design while instantly and conveniently unlocking the device for one-handed operation so you never miss a beat.
FUN FACT: With a bit of perspective, the NOVA logo on the back of the device forms to make two symbolic shapes that loosely reflect a boy on the left, hugging a girl on the right. See if you can find it...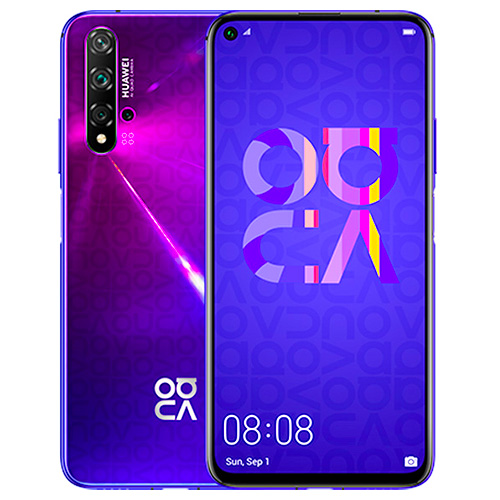 Available at only RRP$699, the Nova 5T is great value for money for trend-savvy millennials. Huawei, you've done it again.
Entry is open only to New Zealand residents only. No responsibility is taken for lost, misdirected or incomplete entries. Entries are limited to one per person. This promotion commences 20th of September and ends 27th of September. By registering their details, entrants give permission for Remix Magazine (LP) NZ and Huawei NZ to post, email and mobile text message updates. The prize package must be taken as offered and is not exchangeable, transferable or redeemable for cash. Anything not specified in these terms and conditions as being included in the prize package is excluded. The winner will be contacted via email. The promoter is Remix Magazine (LP) NZ, 65 Ponsonby Road, Ponsonby Auckland.