Island Getaway: Julia & Libby talk us through the best things to do in Hawaii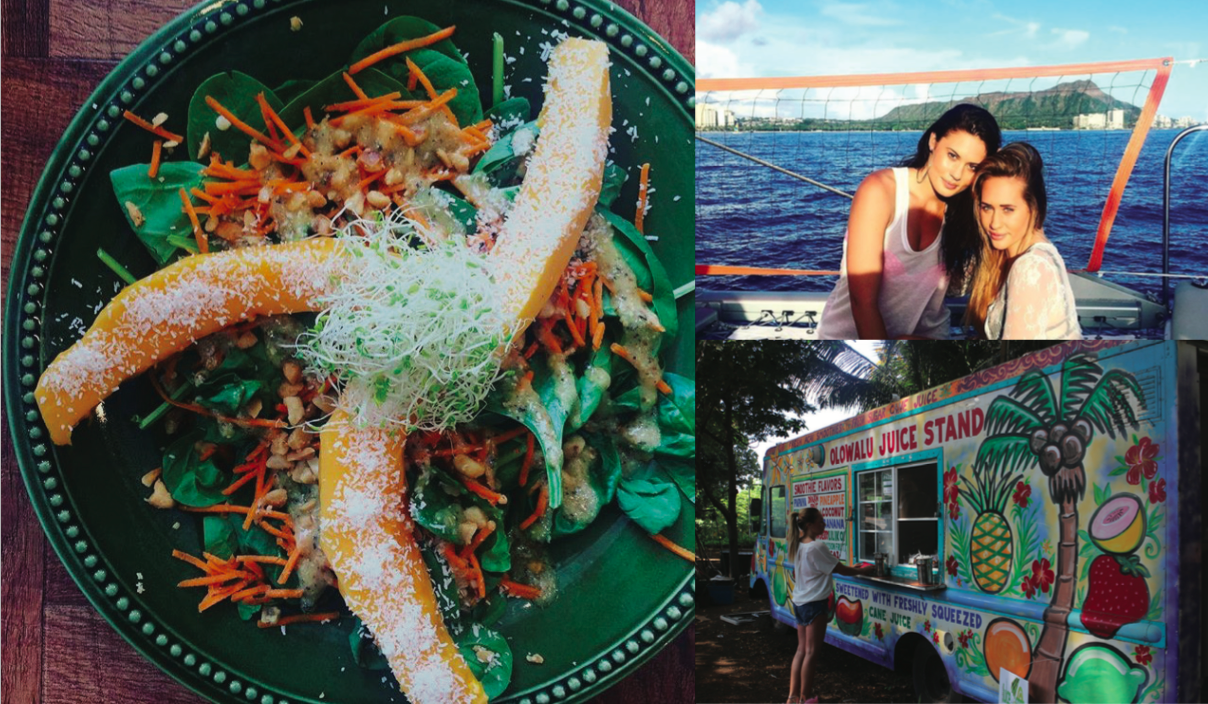 In September we were lucky enough to visit one of our dream destinations - Hawaii. Our trip was filled with breathtaking scenery, sandy beaches, shopping, island hopping, and of course incredible food.
Since there is so much to see and do on the three islands we visited - Waikiki, Maui, and Kona - we have put together a mini guide of things to do in Hawaii, from where to eat and what to do to how to get around and the best way to travel to
Hawaii.
GETTING THERE
Flying to Hawaii from New Zealand is a nine hour flight so you want to make it a comfortable one. We flew direct to Honolulu with
Hawaiian Airlines
and upgraded ourselves to 'Extra Comfort' in order to make the flight more enjoyable. The benefits of flying 'extra comfort' include more legroom, priority services, pillow and blankets and an upgraded meal. We had enough leg room that we were able to stretch right out and sleep comfortably, allowing us to arrive in Hawaii feeling refreshed and ready to explore.
WHERE TO EAT
Bills, Waikiki:
The well known eatery Bills in Sydney has opened in Waikiki and it's a must visit when you are there. We would highly recommend the ricotta hot cakes – they are famous for a reason!
Choice Health Bar, Maui:
Smoothie, salad and acai bowl heaven! All the food is raw, vegan and delicious.
Nobu, Waikiki:
World famous Japanese restaurant chain, Nobu was by far one of the best meals we have eaten (yes, big call!). We treated ourselves to dinner, dessert, and cocktails here. Pricy but worth every cent.
Heavenly Café, Waikiki:
If you are after a healthy meal with decent coffee, Heavenly is the place. We found ourselves dining here most days, ordering the omelette, green juice, and acai bowl.
Chai's, Waikiki:
Chef Chai is recognised as one of Hawaii's top Regional Cuisine Chefs and also creates all the meals on Hawaiian Airlines. His menu reflects the cultural diversity of the Hawaiian Islands and Oahu. The fish tacos are to die for!
Maka By Mana, Maui
: When asking for food recommendations in Maui this place got mentioned many times, and after visiting we could see why. This is raw vegan foodie heaven. Their Makua Bowl was a favorite of ours - Maple maca yogurt base, sprouted vanilla bean, macnuts, apple bananas, sprouted granola, and a drizzle of local honey. They also do an amazing cold brew coffee.
Original Big Island Shaved Iced, Kona:
Lychee, mango, guava, blue vanilla cream and root are just a few of the flavours this place has to offer. Toppings include coconut cream, ice cream and whipped cream. Very indulgent but worth visiting if you are wanting a sweet treat.
Under the Bodhi Tree, Kona:
A quant vegan café that serves vegan and vegetarian meals along with fresh juices, raw desserts, smoothies and kombuncha on tap. All the ingredients are sourced locally which is a big tick from us.
WHAT TO DO
Shopping, Waikiki:
Waikiki is every shopper's dream, it has over 300 stores and almost every store you can name. Make sure you put aside a full day to shop here.
Surfing, Maui:
We had our first ever surfing lessons and it was an experience we will never forget.
The Maui Surfer Girls
make it so much fun and can make any rookie catch some waves.
Greenwells Coffee Farm, Kona:
The Greenwells Coffee Farm
tours take you around the coffee fields, processing facilities, you can enjoy various flavours of coffee, and see how coffee is made. Highly recommend this tour for any coffee connoisseur.
HOW TO GET AROUND
Whatever you do, rent a car when you visit Maui and Kona. There is so much more to see and do if you hop in your car and explore the islands. Waikiki is a lot easier to get around, the shops, beaches and eateries are all walking distance from most of the resorts and if you do want to explore the further parts of the island, use an Uber.
Words and photography by Julia & Libby Matthews.