"Yay I am so glad it's finally Monday!" - said no one ever. At least this is something we can all agree to on a universal basis, right? We're all in the same caffeine deprived boat.
There a few tips and tricks that are believed to make you relished and alive for the week ahead, which experts swear upon. These include yoga, a green smoothie, Kombucha and other health rituals. But most importantly... Remix's Monday Must-haves. Oh yes, the experts swear by it.
1. MECCA20
This October marks the 20th birthday of the one and only MECCA! In celebration of this special occasion, MECCA is giving us a gift- how generous is that? This includes a line-up of 20th Birthday limited-edition colour, skin treatments created with the help of the worlds leading skin specialists and festive fragrances - because who doesn't want to smell good when celebrating? Too Faced has created a limited-edition palette of 12 matte and shimmer reflecting party vibes all-round with champagne nudes, frosted chocolates and gorgeous eye-catching colours to make your makeup look pop. NARS is also amongst the likes with its limited edition Audacious Lipsticks and Lip Glides that will leave you as the envy of any party. As well as this, By Terry has exclusively created the Birthday Kit Eye Designer Palette Parti-Pris, consisting of six ultra-blendable eyeshadows inspired by peach and pink MECCA20 tones. Oh, and to top it all off, frank body has contributed a Body Birthday Suit Exclusive Scrub which is a coffee scrub but smells like a birthday bonanza and replenishes your skin like never before.
2. Moët & Chandon's Share Mini Moët packs
Okay, we know it's Monday - but we are all deserving of a glass of bubbly after a long hard day, surely! And these Moët & Chandon share packs are calling our names, really loud. These packs include six mini bottles of Moët & Chandon Impérial Brut as well as six golden sippers that clip onto the bottles making them portable and super convenient. This gives a whole new and slightly classier meaning to the classic "bottle of wine" on a night out - and such a good excuse to get the girls over for a champers and cheese night. The Share Mini Moët packs will be available from the beginning of October at leading outlets for $150.
3. Studio Red introduces Red Fusion Express
Studio Red understands the juggling act of life we all go through at times, and the tendency to forget about plotting our own wellbeing on our long list of tasks. Because of this, Studio Red has introduced Red Fusion Express, a 45-minute yoga lunchtime class. This class will occur on Mondays, Wednesday's and Fridays at 12.15pm, providing those of us who are in dire need of a health kick and energy boost between work hours. If you've got some extra time on your hands you are welcome to stay in the room after the class has finished to continue Savasanah or stretching for an extra 15 minutes. Well worth it! Next week put these sessions in your diary and feel the results!
4. by nature's NEW Charcoal Clarifying Face Mask
Set some time aside to rejuvenate your skin with by nature's NEW Charcoal Clarifying Face Mask. This gem is packed with everything to bring some life back to your skin after your shenanigans. Whether it's a night out, a weekend in the sun or a day in the office blasted by harsh air conditioning, your skin needs some TLC every once and a while. Infused with Rosehip Oil, Essential Oils and Vitamin E this 10-minute skin ritual draws out impurities and purifies with natural Charcoal. Extracting excess oil from your skin, it will leave you feeling smooth and less irritated, minimising any redness. Made in New Zealand with skin-friendly ingredients, this product will set you back $14.99. Find yours at The Warehouse, selected Pak N Save and/or New World supermarkets.
5. Evo Hair
Our fave innovative, fun and funky hair and beauty manufacturer has rummaged up some exciting products that we can't wait to get our hair on. Even better is that their products are honest and environmentally friendly, which means no hidden nasties whatsoever. Ever so kindly, Evo is offering a giveaway package of some of their finest offerings for a lucky winner. Keep an eye on our Instagram for the competition's giveaway! The package will include the Evo Hank brush 43mm RRP $55; a styling brush for quick easy blow-drying, enhancing hair buoyancy and volume. For an added dose of volume, Evo has also thrown in their Evo Root Canal Volumising Spray RRP $39.50, which assists your roots and the manageability of your hair whether you're at the beach, dancing up a storm at a party or if you have just woken up - we've all been there. Finally, the Evo Liquid Roller Curl Balm RRP $39.50 is also included in the package, which will nurture and restore your curls with the life they once had! Just to top it all off, Evo is throwing in an Olaplex treatment valued at $55, preventing damage and repairing your locks like never before!
Stay tuned!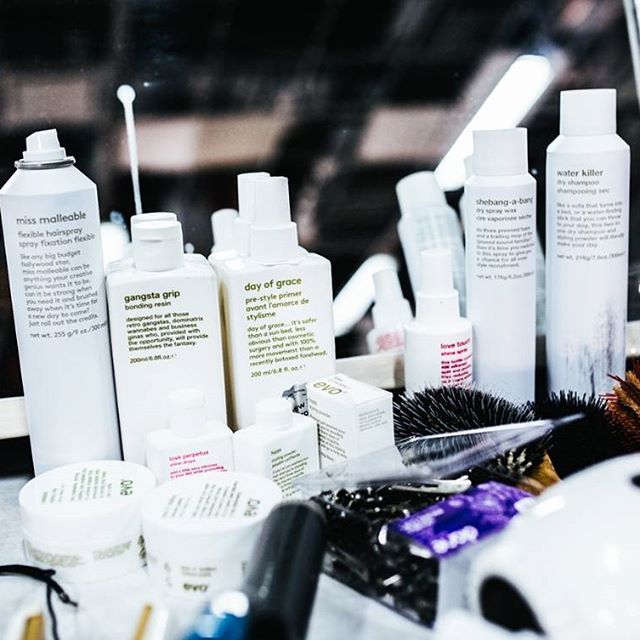 6. Mac n' Cheese doughnuts
We thought we'd heard it all when freak shakes came along - but this my friend, is too much. Al's Deli have quite possibly hit the nail on the head with food trends and high cholesterol with their newest addition to the menu, mac 'n' cheese doughnuts. This sounds like it would marry perfectly with a cold brew or as a guilty hangover feed. Either way, we need to try it, because carbs in, on and around carbs are always a good idea, right? All in moderation we say!
7. Fresh blossoms from Blush Flowers
Nothing brightens up your day quite like fresh flowers, and we're obsessing over every arrangement that's been popping up on Blush Flowers' feed lately. From delicate roses and gold painted leaves through to brightly hued orchids and larger-than-life monsteras, founder Kelly Karam's creative eye knows no bounds. Whether you're in search of a dreamy bridal arrangement or something to liven up your office, Blush is the one-stop-shop for all things bold and beautiful!
Image credits: Red Studio, Star Tribune