New York opens the first-ever dog cafe!
This is what dog lovers and their canine counterparts have been waiting for; a cafe in New York is opening up this month that's completely dog friendly. Gone are the days of leaving your pup outside in the cold when you want to grab a cup of coffee. The cafe is ushering in a new era in which brunch is no longer a human-only event, and we couldn't be more excited.
The cafe will be split into two sections, one caters purely to our furry friends with a puppy Instagram booth, a seating area, a shop with lots of doggy goodies and weekly adoption events. The other side will basically just be like a regular cafe where "you have the added benefit of hanging out with your dog," explained one of the owners to Grub Street.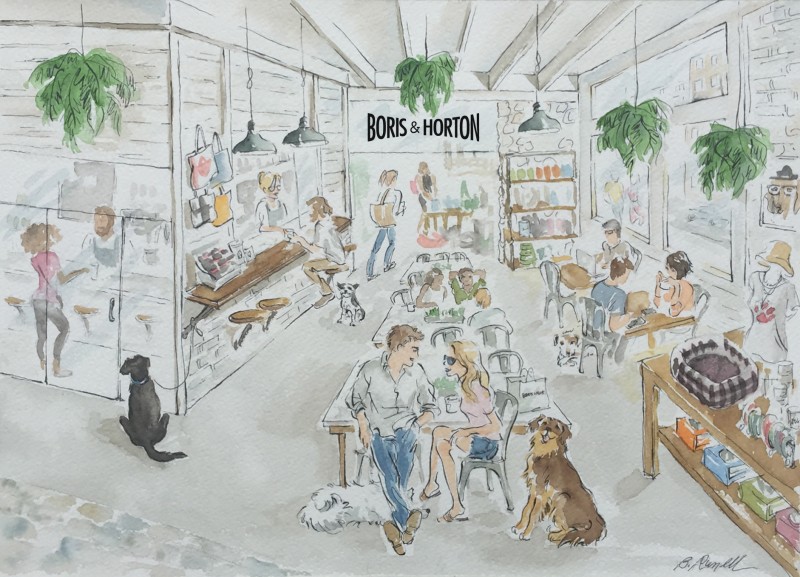 Not to be confused with the extremely popular cat cafe's that have been popping up all over the globe recently, you bring your own dog along with you instead of the cafe having dogs that live in the establishment for you to play with while enjoying your latte.
We're just going to be wishing for one of these to pop up in New Zealand, because who wouldn't want to be surrounded by dogs, coffee and delicious cabinet food?
This summer, the residents of New York City learned that, at long last, the city would get its very own puppy café. In a world that looks more toxic and strange with each passing day, it was the rare bit of good news. Now, there is even better news: We are just weeks away from the moment we have been waiting for. The East Village's Boris & Horton, on 12th Street and Avenue A, is slated to open in a matter of days, with a soft-launch in mid-January and plans to be fully up and barking by the end of the month.
The idea, explains Coppy Holzman, who owns the shop with his daughter, Logan Mikhly, is a place where you can "have great coffee, eat, have wine and beer, hang out, and" — the most crucial detail — "also bring your dog inside." It is meant to be friendly and chill, like an exceedingly well-designed living room that also serves pastries. What it is not, it's worth noting, is a canine version of the city's Japanese-style cat cafés, which feature staffs of residential cats up for adoption. "We're shooting for a different look and feel than the cat café," Mikhly says. "We want it to feel as much as possible like your typical coffee shop, but you have the added benefit of hanging out with your dog."
Named for the duo's own dogs — Boris is Holzman's soulful two-year-old pit bull mix; Horton, who has been with Mikhly since college, is a snaggle-toothed poodle-Chihuahua combo (no one's totally sure) — Boris & Horton is a BYOD situation, an indoor place you can get a latte with your border collie, and perhaps meet your neighbors. "It's not just a coffee shop where people sit there with headphones on their laptops," Holzman says. They want to build a sense of community — and figure the pups will help: "Dogs sort of break the ice." And so, the café is very intentionally located in the former Ost space near dog-hub Tompkins Square Park, and, sure, every design choice has been made with dogs in mind. There is a dog-centric shop and a puppy Instagram booth; the drinks will be stenciled with Boris or Horton's face. And there will be dog-adoption events on weekends.
For human patrons, there will be pastries from Balthazar and Bien Cuit, plus gluten-free options from Husk Bakeshop, and coffee from City of Saints, as well as a more substantial menu of toasts (sweet and savory), and, in the evening until the 11 p.m. closing time, wine and beer.
Photo: Milla Chappell
In a surprise to no one, it is difficult and expensive to build a space that is appropriate for both food service and retrievers. To that end, they started working closely with the Health Department from day one — "we met with them I don't know how many times" Holzman says — to make sure they were building a space that would pass muster, because if your thing is that you're a dog-friendly café, you need to be really, extremely positive that you have actual approval to allow dogs.
And so to stay on the right side of code, the space will be formally divided into two very distinct spaces: a café side, with food and drink sales, and a "dog side," featuring tables and dog-focused retail. There will be an outdoor walk-up window for solo owners to order, so dogs themselves will never have to enter the café space, and if you want to doglessly buy a muffin on the café side and then cross through the vestibule to the dog side to eat it amid terriers, well, that's up to you.
Needless to say, the Boris & Horton team expects dogs to keep it classy— "keep it classy" is in fact a house rule, governing "humping and mounting" — and staff members will be trained by the School for the Dogs to read canine body language and anticipate issues. It is important to know your customer.
Non-dog-owners, take heart; you can still be a part of the action: If you just want a good cup of coffee, Holzman says, they're here for that, too. "We want to be a destination for wonderful food and beverages in addition to the dogs." The dog sweaters are just a bonus.
Image credit: Refinery29