Our favourite cocktails in Auckland right now and where to find them
Auckland has really upped its bar game in the last few years. World-class cocktails used to mean venturing offshore, but now we've got the highest-calibre of bartenders and ample venues to suit every soiree right on our doorstep.
This festive season we're vowing to spice things up. We're challenging ourselves to hold the rosé and dare to try something different: Whisky. It's a cocktail staple but we bet you've never seen it like this before.
Light, refreshing and thirst-quenching, Maker's Mark whisky is poised to be the unofficial beverage of the season. The handcrafted, small-batch bourbon whisky produced in Kentucky is guaranteed to elevate your summer sessions. Trust us, after scrolling through the below you won't need any further convincing.
So, in the name of research (it's a tough gig, we know) we headed to a few of our favourite Auckland's bars for a sunny arvo tipple to scout out the best whisky-based concoctions on offer.
Each bar we visited have created their own signature cocktail using Maker's Mark. The best part? You can sip your way through summer and try them too.
The Ching Shih at White & Wong's Newmarket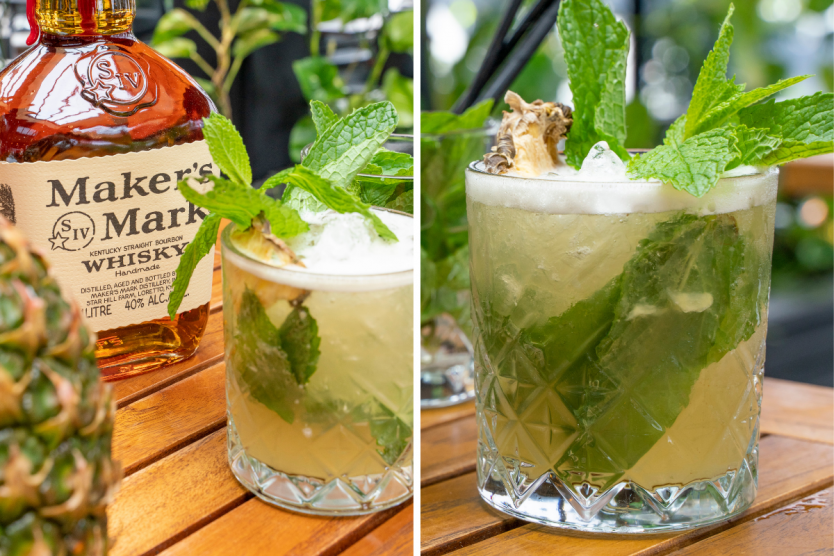 With distinct character, east-meets-west inspired street food and a deck that wraps around the uppermost level of Newmarket's rooftop terrace, White & Wong's Newmarket has long lunch (maybe not go back to work) written all over it.
The first cocktail we tried on our whisky-themed Tour de Auckland was the Ching Shih created by bartender Max Samuels. Featuring a citrus scent softened by the pairing of fresh cucumber and mint, this whisky-based cocktail captures the essence of summer. The best part about this concoction? Its versatility. Its lighter style leans well to a long arvo lounging seaside or alongside alfresco dining.
Ingredients
30ml Maker's Mark
20ml pineapple rum
10ml elderflower liqueur
15ml pineapple juice
15ml lime juice
2 cucumber slices
6 mint leaves
Cucumber tonic to top-up
Method
Muddle cucumber in a shaker, then add all ingredients except mint leaves and tonic water. Shake and double strain over ice in an old fashioned glass. Clap mint leaves then add to glass and stir. Top with cucumber tonic.
The Banana Sour at Parasol & Swing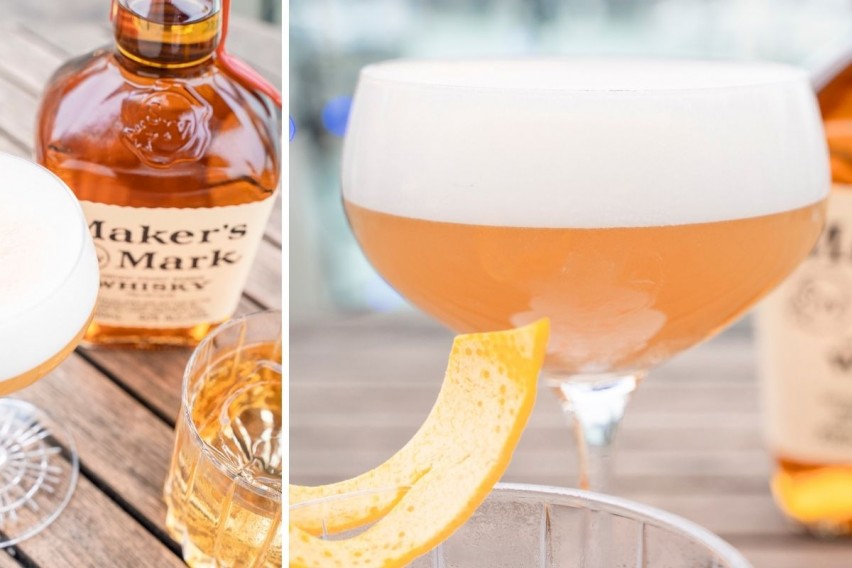 It's true, we love a rooftop at Remix, and it doesn't get much better than the sun drenched-rooftop at Parasol & Swing overlooking the Viaduct Basin and Waitemata Harbour. Add one of their whisky-based libations to the mix and you've got a recipe for a damn good time.
Raise a glass to this sweet and sour bouquet of aromatics. Despite its fruity components, this potion boasts surprising depth in flavour. Finished off with a dash of bitters, which perfectly harmonises the sweetness of the banana, this one is best slipped slowly.
Try a simpler variation of the Banana Sour you can make at home:
Ingredients
30 Maker's Mark
15ml pisco
20 banana liqueur
25ml freshly squeezed lemon juice
1 egg white
Dash of bitters
Method
In a two-piece shaker combine ingredients with freshly squeezed lemon juice and egg white. Shake without ice to emulsify the whites. Then, add ice and shake vigorously for 10 seconds. Fine strain the liquid into a chilled coupe glass and dash some bitters over the top.
The Classic Old Fashioned at Parasol & Swing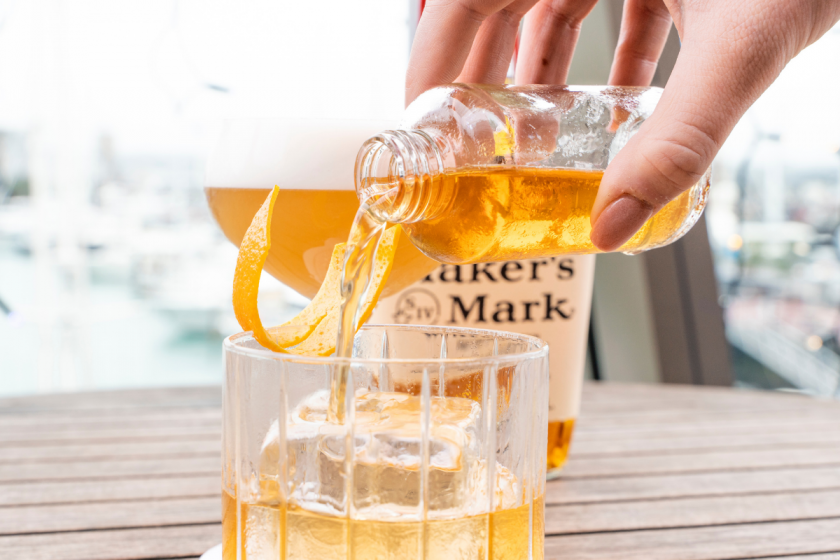 If you're a sucker for a tried-and-true cocktail, an Old Fashioned may be more your style. For all of its suave simplicity, the drink remains as relevant today as it was when it first captured drinkers' hearts 200 years ago. For such a historical classic, it's only befitting to use Maker's Mark, a whisky with a lot of history itself. Parasol & Swing puts their own touch on the classic, with the whisky arriving in a twee glass bottle for you to pour over a square of Maker's Mark stamped ice.
The Mulan Rouge at Sardine Viaduct
Located on the edge of the harbour, but it feels a world away, Sardine is the perfect base for a bit of afternoon escapism. Rohan Prajapati mixed up arguably the prettiest cocktail of the day, The Mulan Rouge. Once again, a whisky base balanced out with the sweetness of raspberry and traditional simple syrup, makes for a delightful cocktail as beautiful as it looks. The complex depth of flavour is enhanced a step further with egg white froth and raspberry dust, transforming it into an indulgent treat that leaves a lingering aftertaste long after your last sip.
Ingredients
30ml Maker's Mark
15ml raspberry liqueur
10ml fig liqueur
15ml sweet vermouth
15ml frozen raspberries
20ml lemon juice
30ml simple syrup
1 egg white
Raspberry dust
Edible flowers
Method
Add all ingredients, shake and double strain into coupe glass. Garnish with raspberry dust and edible flowers.
About Maker's Mark
Did you know Maker's Mark is still handcrafted the way its founder intended? It's made one bottle at a time. Every time. The distillery lives by the saying, "If we could make it any faster, we wouldn't." There's no compromise on anything at Maker's Mark, especially time. The whisky is aged according to taste, never time. It usually takes between 6-7 years for the whisky to be ready. What sets the whisky apart is, despite advances in technology and a shift towards automation, the manufacturing process is still very much the same as it was over 60 years ago. Every 525-pound barrel is rotated by hand, each bottle is hand-dipped in 400-degree red wax and the labels are still cut on a hand-operated, 1935 Chandler & Price printing press.