Remix Cooks: Beet Pesto Pasta
With so many Pink Ribbon Breakfasts appearing on our Facebook and Instagram feeds during Breast Cancer awareness month, now's the perfect time to celebrate all things pink with this Beet Pesto Pasta recipe! Not only is it the right shade of millennial pink, it's a super healthy way to ensure you get your 5+ A Day.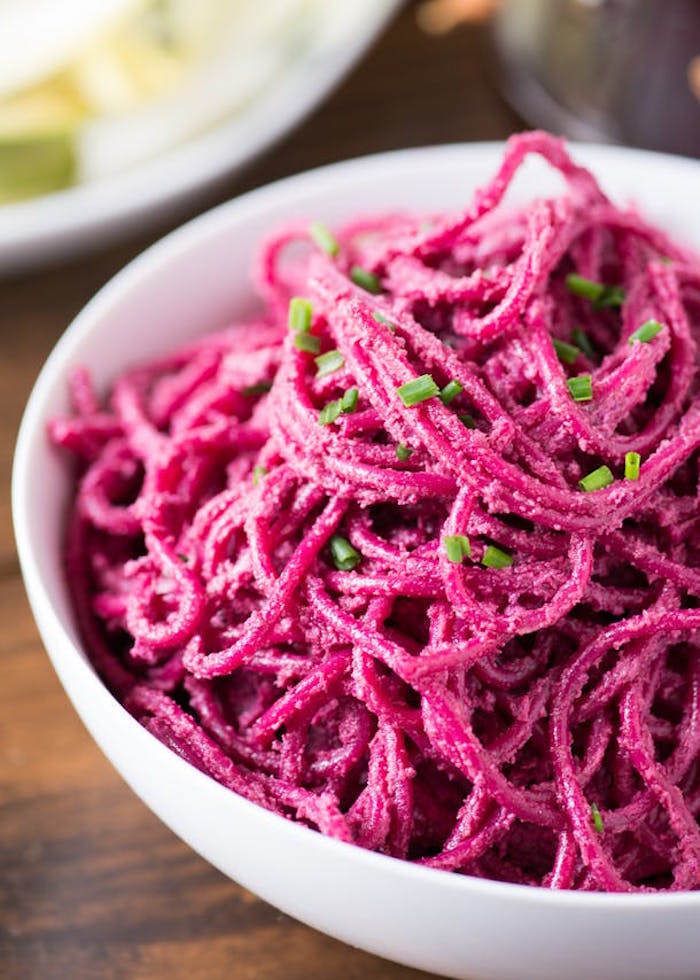 The secret behind pink pasta is beets! Beetroot's strong red colouring tends to make everything around it pink and we aren't complaining. Packed with valuable nutrients, these pink treasures lower blood pressure, fight cancer, boost your stamina and support detoxification - sounds like the meal we all need on a Sunday morning.
For those who don't like beets, surely the colour is enough to entice you. This vegan recipe is virtually fool-proof and, when topped with edible flowers, it's almost be too pretty to eat.
Beet Pesto Pasta
Serves 6
1 pound regular or gluten-free spaghetti
2 cloves garlic
1/2 cup raw slivered almonds
2 large cooked and peeled purple beets, coarsely chopped
1/3 cup olive oil
2 tablespoons red wine vinegar
Kosher salt
Minced fresh chives, for garnish
Bring a large pot of salted water to a boil. Add the pasta and cook until al dente.
Meanwhile, place the garlic and almonds in the bowl of a food processor fitted with the blade attachment and pulse until the almonds are a fine meal and the garlic is minced. Add the beets, olive oil, and vinegar and pulse until you have a smooth pesto-like sauce. Season to taste with kosher salt.
When the pasta is ready, toss with the pesto and season to taste with kosher salt. Serve hot. (If you want to serve the pasta at room temperature or chilled, rinse the pasta with cold water before tossing with the pesto.)
Stay pretty in pink and eat your beets!
Photo credit: thekitchn.com, littlemarketkitchen.com
Recipe credit: thekitchn.com