Auckland's top five glamping destinations
It's always nice to escape the concrete jungle for a weekend and reconnect with nature. There's something magical about leaving behind the bustling city and allowing yourself to completely unwind. It can be hard to find the time to take a holiday with a working schedule but that's no excuse!
New Zealand may be small but its opportunity for miniature getaways are vast. It would be a waste not to experience the beautiful forests, magnificent beaches and evergreen pastures. You don't have to go far to completely immerse yourself in nature. There's only one problem, what if you can't hack the raw camping experience?
Here at Remix, we appreciate the comfort of luxury and that includes our out-of-city excursions. We seek the perfect balance between the securities of a hotel, with the authenticity of a camping trip. Whilst previously impossible, the introduction of Glamping into the outdoor world has been our saviour and we will be forever grateful.
You will no longer have to struggle with your blow up mattress, grassy pillow or cooking your canned food in the dark. There are plenty of places near Auckland to get the full Glamping experience, right at your doorstep. Whether you lean more towards a lavish lodge, home-sized tent or even a charming yurt, there is no end to the glamour! Check out our picks below…
The Round Tent Raglan
This hidden gem is a short drive off the main road in Raglan. If you're a lover of rural settings, its backdrop of established trees and a willow-lined pond will render you speechless. The Round Tent is tailor-made for the ultimate relaxation retreat. You can unwind by the outdoor fire or admire the stunning night sky whilst soaking in the stone bath. The versatile canvas will protect you rain or shine, so you can book whatever the season! The lavish yurt has an outdoor deck and for the rainy days you can cuddle up inside the cosy interior. The glampsite is a short walk away from all essential amenities and a café. What bliss!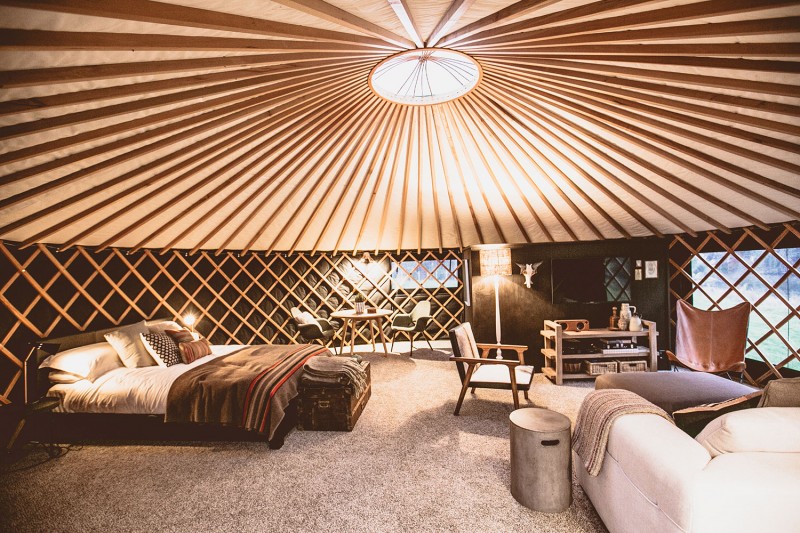 Castaway Resort Camping Waiuku
The team at Castaway understand the need for a balance between nature and luxury. This is why their coveted Glamping experience is second to none. They offer a couples experience and even a multisite 'Glam Camping Village.' The costal tents feature an ensuite, kitchen, king bed, indulgent outdoor bath and stunning views of the Tasman Sea. How can we resist? To top it off, their Glam Camping Couples package includes a gourmet dinner and breakfast, complete with a cheeky bottle of wine! This exquisite resort is only 50 minutes out of Auckland, in Waiuku. The ideal weekend getaway for two!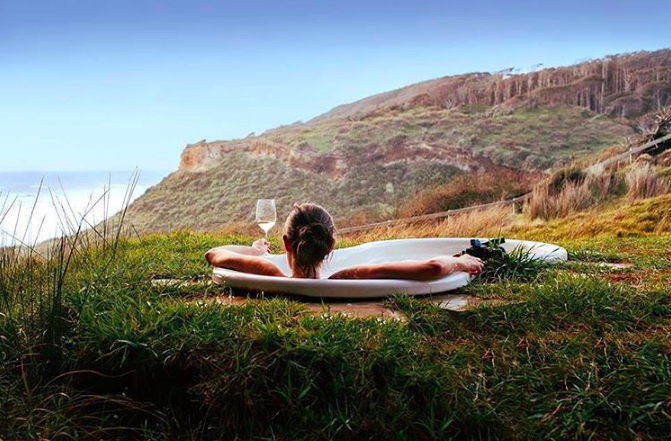 Fossil Bay Lodge Lotus Belle Tents Waiheke
If you're looking for an authentic camping experience with unparalleled views, then the Fossil Bay Lotus Tents on Waiheke Island are for you! The Lotus Belle Tents come with all the amenities you will need to feel like you're at home but the stunning location will be otherworldly. The canvas is waterproof, with external ensuites and a queen-sized bed. Nestled amongst stunning forestry, you can enjoy the privacy of the secluded location, whilst still being a short walk away from the beach! Explore what Waiheke has to offer with a nature experience like no other.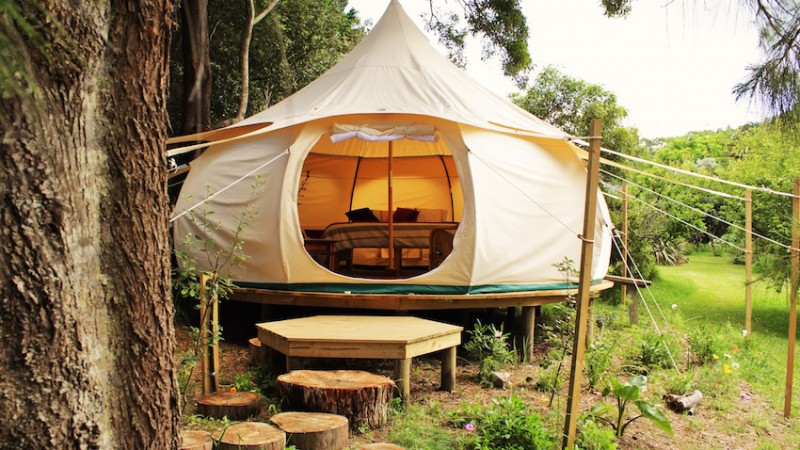 The Kauri Tree Hut Mangawhai
The Kauri Tree Hut has made headlines for its magical treehouse inspired layout. It consists of three small huts that are connected by a deck. Elevated amongst Kauri Tree's, this is an experience that the childhood you would have dreamed of. You can look out of the windows or from the hanging chair on the deck, and see a beautiful jungle of Kauri trees. You won't find wifi here because there's no need for it! Whilst you're relaxing in their deep, oversized bath, you can listen to the trickles of water from the natural creek below or watch the native birds fly overhead. If you can drag yourself away from this haven, Mangawhai village is only a five-minute drive away! It's definitely one for the bucket list.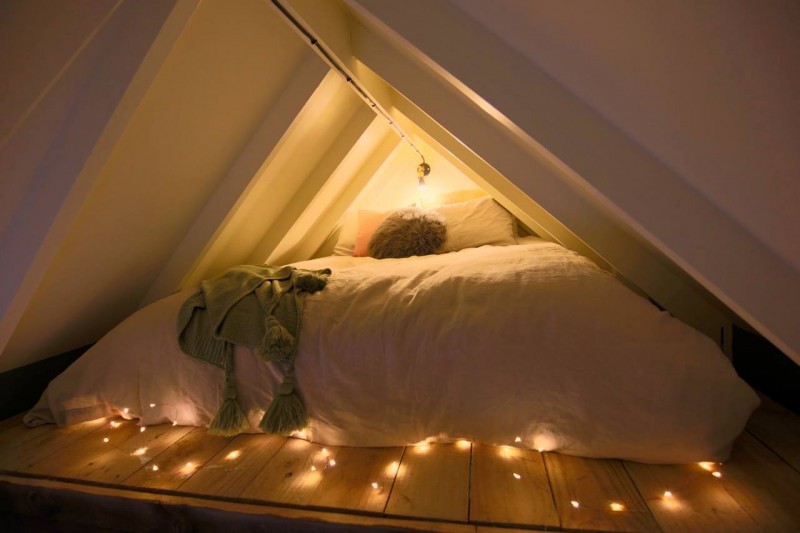 Slipper Island Canopies Coromandel
Slipper Island Canopies are an unadulterated local paradise. It will leave you thinking you travelled much further than the sandy bays of Coromandel. Whilst the excursion is a tad longer, there is plenty of option for transport. You can drive to the utopian location or even catch a ferry from Auckland's CBD to ensure a smooth journey. Once on the island, it's only a short water taxi back to the mainland! Your home away from home features two gorgeous rooms, with an ocean view like no other. Plus, the famous white beaches are just a stone's throw away! Spend your days sunbathing on the deck or for the advantageous, there's plenty to explore!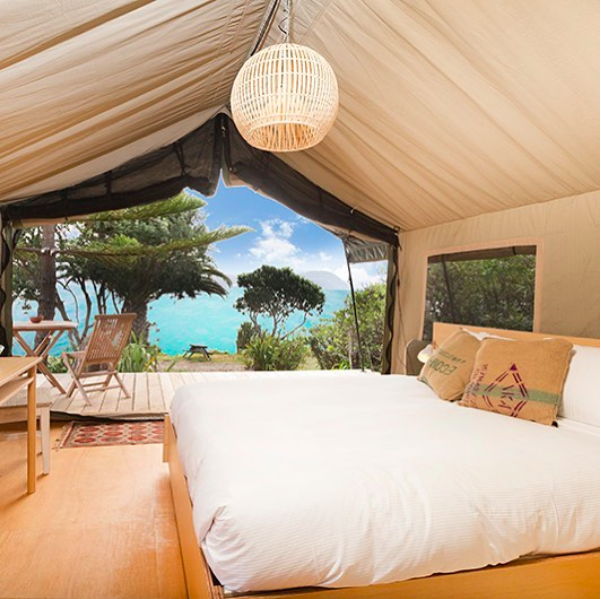 Image Credit: The Round Tent, Trip Advisor, Castaway Resort, Fossil Bay Lodge, Canopy Camping