What to do and see in Rotorua
Summer travel is a must-do on every Kiwi's list, whether it be for some well-deserved R&R, a family getaway or simply to make the most of those warmer days. Spoiled for choice in our slice of heaven we call Aotearoa, sometimes it's hard to choose the perfect place to vacay. If you're on the hunt for a destination that ticks all of the must-see's and do's, then consider Rotorua.
Remix Deputy Editor Orion was lucky enough to experience this extraordinary slice of New Zealand, discovering the very best Rotorua has to offer for a weekend getaway.
Where to stay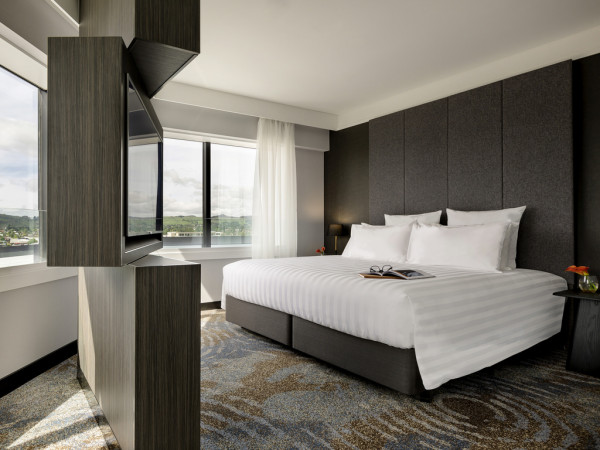 Pullman Rotorua
Located smack bang in the city centre, this five-star hotel is the perfect place to unwind after a long day out adventuring and site seeing. The central location makes it easier than ever to walk to breakfast and dinner spots and explore the bustling CBD. Complete with 130 rooms and suites, a gym, an executive lounge and a restaurant and bar, it has everything you need to ensure a more than comfortable stay.
What to do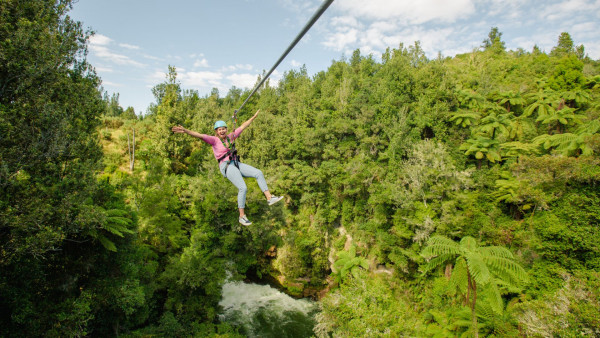 Rotorua Ziplines
If you fancy yourself a bit of an adrenaline junky then this one's for you! Opening just last year Rotorua Ziplines is a must-do in Orion's book. For two and a half hours you will soar across three stunning waterfalls, and one swing bridge and get up close and personal with the famed Okere Falls forest on a series of boardwalks.
"As someone who isn't the most adventurous and a bit of a scaredy cat, I was a bit apprehensive of this activity. Thankfully I was left in very safe hands with the staff from Rotorua Ziplines who made the experience easy breezy. Whilst on the journey we stopped for a spot of Kawakawa tea and I had the opportunity to plant a native tree on the property as part of the company's reforestation project."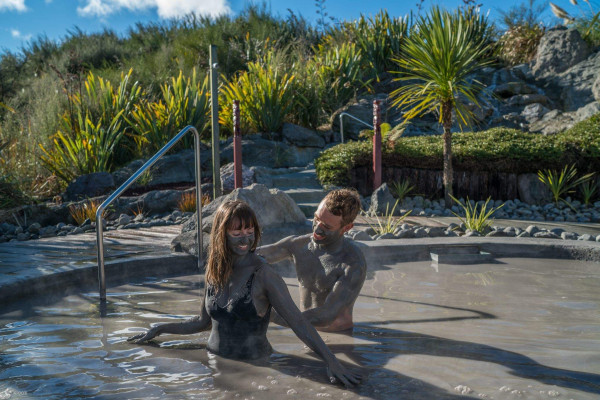 Hell's Gate Geothermal Park and Mud Spa
A trip to Rotorua isn't complete without bathing in a mud bath! Famous around the world for their mud baths and sulphur pools filled with "health-giving' waters from the Tikitere Geothermal Reserve this is an activity perfect for winding down and indulging. Not only can you bathe in multiple pools around the facility, but you can also walk around the geothermal reserve and witness bubbling geothermal activity in its truest form.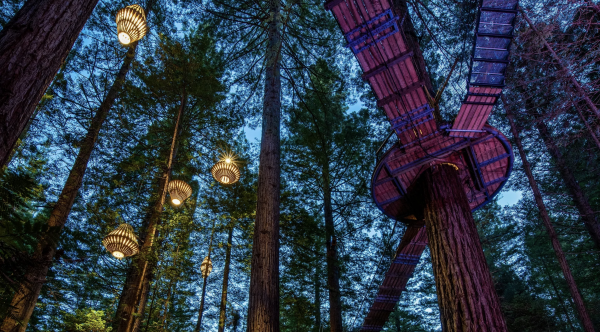 Redwoods Nightlights
Suspended 20 metres in the air the Redwoods Treewalk is the world's longest suspended walkway and is an attraction not to be missed. Consisting of 28 elevated swing bridges and living platforms there's a reason why this is one of Rotorua's most visited attractions. Partnering up with sustainability maven David Trubridge Design to create a glowing world in the trees, Redwoods Nightlights is an iconic nocturnal experience that will quite literally take your breath away.
"The Redwoods Nightlights was definitely up there on my favourite activities because there's nothing more magical than walking through a forest at dusk, surrounded by glowing light features. The whole experience was so good I did it twice!"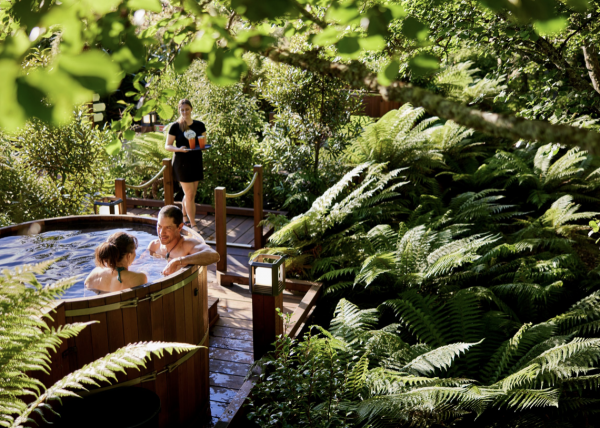 Secret Spot Hot Tubs
This took the weekend itinerary cake for Orion and is at the top of her must-visit list. Secret Spot Hot Tubs lives up to their namesake providing private cedar hot tubs nestled into the stunning Whakarewarewa Forest, filled with fresh forest spring water. Taking relaxing to a whole new level each private tub is equipped with a service button meaning you don't have to leave your luxurious soak to get a glass of wine or a bite to eat.
"I think I could have stayed in my Secret Spot tub all day, especially when a glass of vino is only a buzzer away! If you're seeking some R&R on your holiday then this is the place most definitely takes the cake."
Where to eat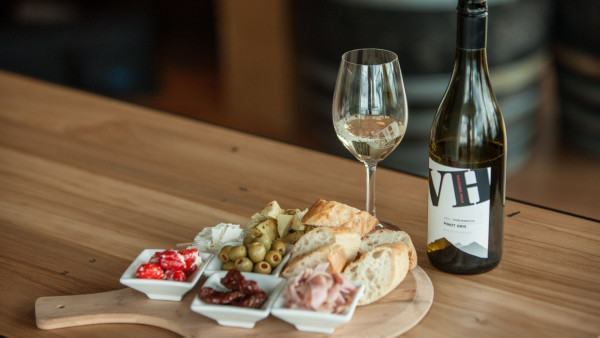 Volcanic Hills Winery at Skyline
We can't deny that we all love a winery trip, but one located at the top of the iconic Skyline Rotorua is something else. Indulge yourself in a spot of wine tasting as you look out across the Rotorua landscapes and watch the adventures make their way down the Luge.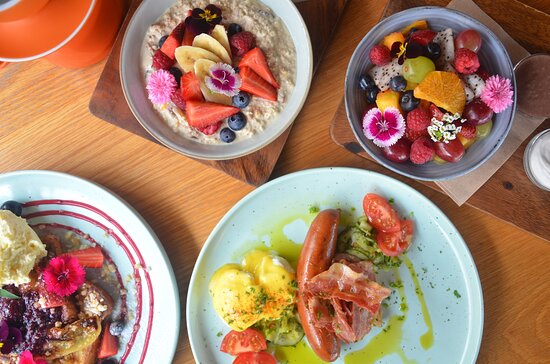 Capers Cafe +Store
One of Rotorua local's favourite cafes, Capers Cafe + Store is more than just a place for a quick bite to eat. Serving up quality food in an inviting environment, you'll leave this establishment happier than when you entered.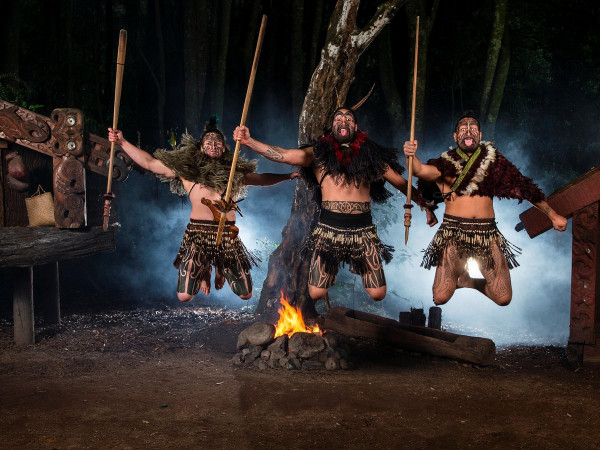 Te Pa Tu
If you're looking for an experience that is 100% New Zealand then this is it. Coined New Zealand's most awarded cultural attraction, Te Pa Tu celebrates seasonal food and Maori Culture in its truest form. Far from just a dining experience, Te Pa Tu takes guests on a cultural adventure. Take part in a mystical Ahi Taitai ( fire ceremony) before stepping into the Tawa Forest for seasonal canapes and Kawakawa tea followed by a short Harakeke workshop and a game of Tī rākau. The final event will have you walking through the lantern-lit forest to a lavish three-course family-shared feast.