Win one of five milla collagen packs 
Enter your details below to go in the draw to win one of five milla packs including a 350g collagen creamer & 350g nude marine collagen.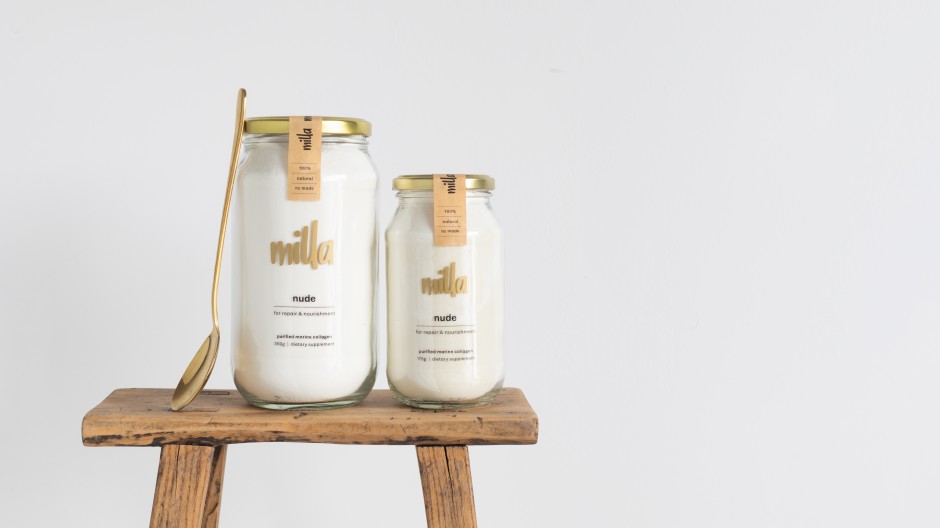 In case you haven't heard, collagen is making a comeback - and it has nothing to do with expensive injections or pricey topical creams.
The nutrient re-emerged as the darling of the wellness world when the health-conscious set started brewing up complicated batches of bone broth in the hopes of getting their collagen hit. But now, we're skipping the lengthy stock process and adding the trendy protein - in powdered form - straight to your morning smoothie or cup of coffee.
While ingestible beauty products have been around for some time now, it's important to remember that not all beauty supplements are made equal. Like everything in your beauty arsenal, it's crucial to do your research and find a product that works for you. To give you an example, many powdered collagens are made from the connective tissue in cows, so, if you're trying to avoid beef for dietary or religious reasons we may have found the answer in husband and wife spearheaded collagen brand, milla.
Named after the middle name of their youngest girl, Madison, the products are designed to instil her confident spirit in their customers. Made entirely from sustainable marine collagen sourced from France, it's about the most convenient way of consuming collagen, without having to chow down on a hamburger or a pork chop.
If you're not familiar with collagen, to give you a very brief overview, it's the most abundant form of protein found in the body. It plays a crucial role in structural support for the skin, so it makes sense that as collagen levels decrease from your early 20's, the skin becomes more prone to wrinkles and fine lines. And while eating protein-rich foods can help synthesis collagen, when we're stressed, have poor gut health, or are on a restrictive diet, simply eating protein-rich foods isn't always enough.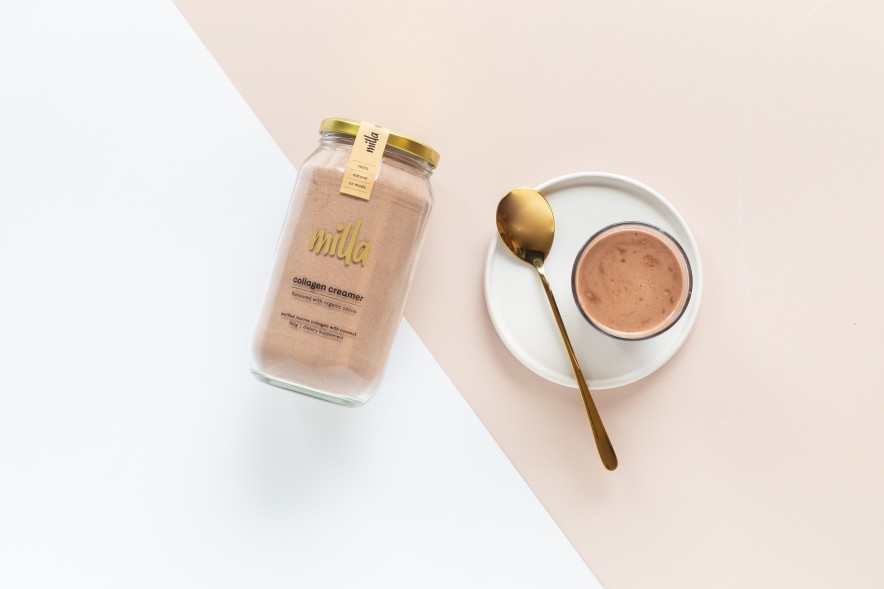 That's where milla collagen comes in, being 100% New Zealand owned and operated, their focus is to make products that are good for you, good to others, and good for the planet. Here's how:
they use clean and natural ingredients, sustainably caught marine collagen and whole ingredients to add flavour (nothing lab-made).

they make a conscious effort to buy from Kiwi suppliers, this includes the glass jars, screen printed labels, lids, and most of their ingredients

they've moved away from paper tubes, which aren't recyclable, to glass jars that are reusable and recyclable right here in NZ
For the dairy-averse, their new collagen creamer range offers all the benefits of marine collagen in sugar and dairy free form. Made with vegan coconut milk powder it's flavoured using natural coconut, ethically sourced Heilala Vanilla or Trade Aid fair trade organic cocoa.
One thing's for sure, dumping a teaspoon or two of milla collagen into your morning brew beats waiting eight to 10 hours for a slow cooker to make broth.
Find out more about their products here millacollagen.com
milla packs including a 350g collagen creamer & 350g nude marine collagen. Entry is open only to New Zealand residents only. Entries are limited to one per person. By registering their details, entrants give permission for Remix Magazine (LP) NZ AND milla collagen to post, email and mobile text message updates. The prize package must be taken as offered and is not exchangeable, transferable or redeemable for cash. Winner drawn 22nd July.