Rapper Brooke Candy has teamed up with M.A.C once again
American rapper Brooke Candy has teamed up with M.A.C Cosmetics once again to create a vibrant capsule collection, and we want it all. This line marks the musician's second collaboration with the cosmetics giant, the first line being released in August last year.
This time, the collection is bigger, bolder and more personal. In an interview with Bustle earlier this year, she explained, 'I picked every name and color and designed the packaging. I am a control freak. I cannot do it any other way.'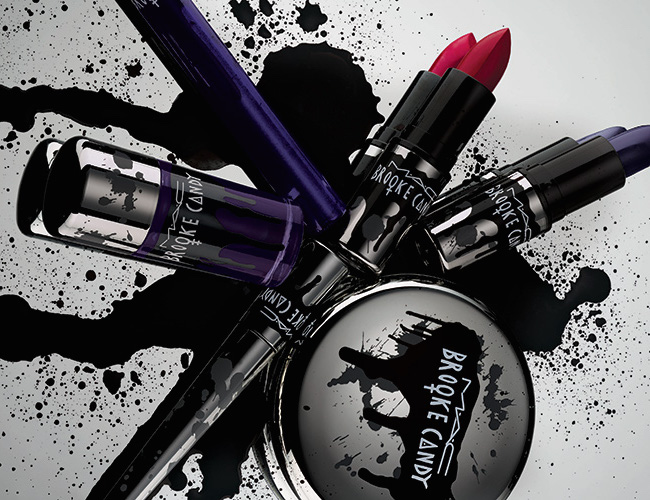 Brooke Candy for M.A.C is available in New Zealand at selected M.A.C stores on May 5.
To celebrate the release, here's our interview with Brooke last from last summer:
If you haven't yet heard of Brooke Candy, you probably will shortly. Born in California and now based in New York, she's something of a gangster Gaga. She's the latest muse of creator director Nicola Formichetti, the man often credited with 'making' Lady Gaga. She was briefly an intern for stylist and reality star Rachel Zoe. She's the pink-cornrowed star of Grime's 2012 video for Genesis'. She's a bit like Iggy Azalea, but much more authentic, a bit like Nicki Minaj, but much more fashion and a bit like Gwen Stefani, but much more badarse. Although it's tempting to compare her in some way to all the other female musicians out there, don't bother. 'It's very obvious and typical for women in this industry to be pinned against each other,' says Brooke. 'But you know, there is enough room for all of us to succeed, there are enough lanes on this fucking highway for every artist who has ambition, drive, talent and uniqueness to succeed.'
'I'm my own person and Lady Gaga is her own person.I'm not the new anything - I'm just me. I want to create something new. But you know, if a comparison is going to happen, which it is, then Lady Gaga is great to be compared to. I've heard from mutual friends she has an amazing work ethic, she's polite, she's incredibly professional, she works her arse off and she performs under a lot of restraint. It can't be easy to perform with a 100-pound headpiece but she does it with poise!'
Although by saying so I fall into the trap of comparing her, Brooke has, like Gaga and many of the great pop music icons before her, that intense thirst for the colour and culture around her, constantly seeking inspiration and direction for her art and music. She's a sponge, soaking up everything she sees and touches, fusing it into her own aesthetic and lyrical identity.
'Visually and musically, Michael Jackson is my biggest inspiration. He was someone who knew how to put on a show that blew viewers away in a way that they didn't know how it all worked. Like, how was this human being even doing that stuff? I like the discipline and willpower that Madonna has and that she's at a point where she's so self-sufficient and doesn't need a man or anyone. She's such an intellectual and still so fucking cool. But you know, I'm inspired largely by what I read, numerology, philosophy, psychology, I'm really into Dali and the Surrealist movement and the cliques of that time.'
Although she's recently exploded onto the covers of PAPER and V and the runways of fashion shows like DIESEL with her insanely strong and sexual aesthetic, Brooke's been in and around the entertainment industry for several years now. Well, a different kind of entertainment... Her father is the CFO of infamous porn magazine Hustler and the CEO of Hustler Casino; Candy assisted in styling Hustler store mannequins, then worked in Hollywood stripclub for eight months. Once her rap singles and videos began to go viral on Tumblr and social media, she started doing pop sets at nightclubs, eventually impressing major record execs, hotshot producers and art directors, who are now preparing to launch her as the next big international sensation.
'Sia [Furler] is working on my record; she's been so instrumental in helping me further my goals and understand myself as an artist. She's executive producing the album. She's such a fucking genius, she's very carefree and loving and kind. I just want to make an album that's timeless, really good music. Music can start a riot or a love fest, depending on what it is. Art is selfless and that's why I'm doing this - it's for me but also everyone else.'
After flirting with various labels, Brooke recently signed a deal with RCA Records, announcing the contract on Instagram by pashing fellow RCA mate Miley Cyrus. She then provided backing vocals on Kylie Minogue's latest album, a track (naturally) entitled 'Sexercise'. Her debut EP Opulence gave her growing legion of fans a taste of her sound when it was released earlier this year and the studio album in 2015 can't come quick enough. 'I have to come visit my New Zealand fans! I had a show booked in Australia but I got super sick and couldn't make it! I've never not done a show, I even played a show in Paris once with pneumonia, but I was really sick. It'll happen soon, I'm hoping to come to Australia and New Zealand with the record next year.'
Interview by Steven Fernandez
Photography by Darren Craig