Coachella hair tips from Millie Mackintosh & your chance to win a ghd azores atlantic jade styler!
ghd recently attended the incredible Coachella music festival in Indio, California with UK celebrity, Millie Mackintosh. Coachella is our go-to for inspiration when looking at on-trend hairstyles, and to make it easier for us, the Made in Chelsea star documented her festival hair looks throughout the weekend, as created by ghd brand ambassador Zoe Irwin, so we can get her look at home!
Millie shares her favourite festival hairstyle for 2016 from Coachella, saying 'The poms pom braids that Zoe Irwin created for me is my favourite festival hair style. I loved all of my Coachella hair styles in a different way but the pop pom braids were a real statement look and everyone stopped to admire them.'
With the gruelling conditions of Californian heat, we find out what Millie's secret is for making sure her hair looks as good on day 3 as it did on day 1…
'Festivals are definitely a time to experiment with hair. I'm all about undone hair at festivals. Hair shouldn't look super glam, it should look worn in as that goes with the whole vibe. I use lots of ghd root lift spray to add texture, and then use ghd smooth & finish serum on the ends so that hair isn't too dry.
'Braids are great for festivals as you can keep them in for 2-3 days and they can be mixed up by adding pom poms to change the look from one day to another. Also a flower crown can be good to hide roots after a few days at a festival. And sometimes I rely on a hat for the last day!'
This is how you get the enviable look of the Pom Pom Braids with Millie Mackintosh, created by ghd ambassador Zoe Irwin:
1. Blow dry hair with the ghd air hairdryer and round bristle brush.
2. Spray ghd root lift spray and curl hold spray into hair to add texture, then gently backcomb the roots all over
3. Create a natural centre parting with fingers by zig zagging a finger down the parting then smooth the mid lengths and ends of the hair using the ghd platinum serene pearl styler.
4. Pin and secure two different coloured pom-pom trims into the hair by cross crossing two kirby grips over each other just behind the ear. Braid into the hair and apply a clear band at the ends to hold the plaits.
5. Gently pull the pom-poms out of the braids so that they're more visible and pull the braid apart to make it wider. Set with ghd final fix hair spray.
Finally, Millie tells us what her three favourite holiday appropriate hairstyles are…
1. Wavy beach hair – I like the texture from swimming in the sea and so then I just add ghd smooth & finish serum to smooth over the ends and add definition.
2. Centre parting and sleek super straight hair – I straighten hair with ghd platinum serene pearl styler. It looks like nice with tanned skin and natural makeup with a bright lip colour.
3. Slicked back hair with a centre parting and a low bun at the back.
To help you achieve Coachella inspired hair we're giving away one gorgeous ghd V atlantic jade styler from the new ghd azores limited edition collection, and all the styling product you need to complete the look!
The ghd azores collection puts paradise in the palm of your hand with three stylers now available in pearlescent shades. Inspired by the landscapes of the Azores islands the ghd azores collection will transport you to white, sandy beaches while styling your hair at home. To enter, simply like this post on either our Facebook or Instagram and comment with the festival babe whose hair you'd love to recreate – e.g. we're all about Hailey Baldwin's grey Coachella locks!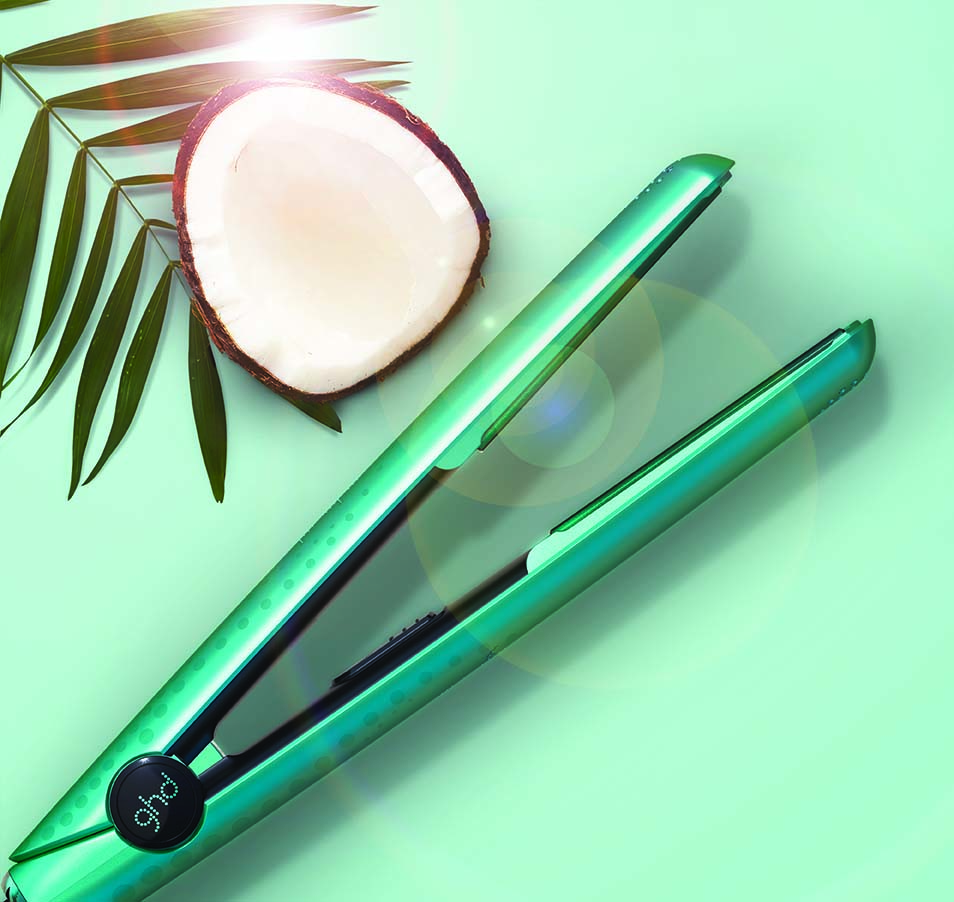 For more information on the #ghdAzores collection head here