The Makeup School celebrates 10 years of glamour
They're in the business of beauty, TV and film makeup and 2017 marks this duo's 10- year anniversary in the industry. Throughout this time, The Makeup School has trained and introduced many talented beauty gurus to dazzling careers in the makeup, film and television industries.
Set on what we like to call a long-lasting foundation, are beauty aficionados Gabrielle Jones and Dianne Ensor. The trained professionals' work in the makeup industry has seen them travel across the globe, channeling their inner adventure junkies as they traversed the harsh altitudes of the Himalayan mountains to the sprawling volcanic landscapes of Papua New Guinea.
These women have built an empire for many makeup lovers learning so much during their 10-year epic journey.
In the decade since The Makeup School first opened its doors, the facility has trained and introduced hundreds of talented artists to the film, television and fashion industries both locally and internationally. The team that started as two has now grown to an impressive 15 freelance industry artists who are all top in their area of makeup expertise.
Remix beauty editor Ashleigh Coldicutt had a chat to Dianne and Gabrielle in the new Spring issue of Remix magazine to find out more about their first big break, and what it's really like to work in the industry. The key to their success? Great training, a lot of hard work and determination can award you the big jobs – hello silver screen!
But, what's it like working alongside a friend, and starting a business venture together? Can it work?
'After 20 years of working together, on set or at The Makeup School, you'll still find us in our office with Polaroids of us together when we were 23. We have different strengths and we take our work seriously, but still know when to have a laugh to keep ourselves sane,' says Gabrielle.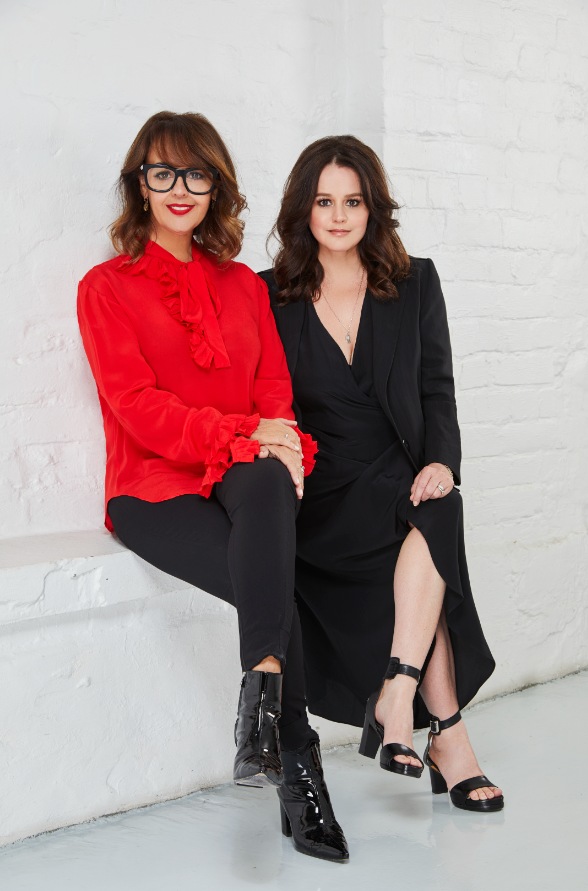 Top graduates from The Makeup School have made their stamp as makeup artists in the business, working on prominent productions both locally and internationally, including New Zealand's own Shortland Street, Westside, Filthy Rich, 800 Words, Go Girls, as well as blockbusters like Harry Potter and the Deathly Hallows, The Hobbit, Meg, Ghost in the Shell, Mr. Pip, Ash Vs Evil Dead, Shannara, Power Rangers. Talk about X-Factor!
'We are incredibly proud of everyone who comes through The Makeup School. We feel we are filling a (much-needed) gap in the makeup industry with highly trained, professional artists.'
'Seeing graduates' credits in fashion and beauty magazines, working backstage at New Zealand Fashion Week, in the rolling credits of movies and TV shows, and working in high-end beauty stores like MECCA, M.A.C, and Bobbi Brown, is very rewarding for us. It's what keeps the passion for training alive.' Says Gabrielle
When asked about their talented team based at The Makeup School, both Dianne and Gabrielle beamed with pride.
'We get a lot of interest with plenty of MUA and hairstylists wanting to join The Makeup School as tutors, and we know you are only as good as your team. Only those who have had years of experience are invited to work here.'
'Our ethos is strong and that starts with the artists we have on board, teaching the next generation of makeup artists. We also believe that students benefit the most from having 'working' makeup artist tutors who are up-to-date with current beauty trends and makeup techniques.'
'So, whether its special effects, fashion, or a hairdresser tutor, it's important for us to know that our students are in the best possible hands, as we prepare them to work in one of the most exciting industries in the world.'
In their sparkling careers, the talented duo has also worked with the famous faces of Tommy Lee Jones, Ryan Gosling, Hugh Laurie, Jamie Bell, Michael J. Fox, and Sarah Michelle Gellar, just to name a few.
Are you a budding makeup artist? Head to The Makeup School website for more, and make sure to check out the full interview in our latest issue!
Credits - Photography by Fiona Quinn, Hair by Tony Thorn from Colleen