This latest cosmetic treatment will change lives
Remember that scene in Austin Powers: Goldmember with the lovely young man and his prominent facial mole?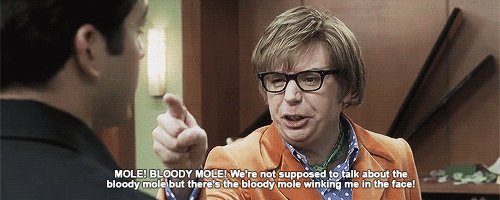 How could anyone forget, right? Moles and facial lesions are something that affects so many of us, yet we either don't talk about them or we don't know what to do about them. I have an endless surface collection of dark moles that I've learnt to live with, but many others simply can't ignore theirs due to placement, size or shape, with both men and women admitting lesions (particularly on the face) affect their everyday confidence. The good news? We're lucky to live in an age where technology is advancing as fast as our ageing bodies are changing.
Radiofrequency Surgitron, the newest treatment to improve (and remove) the appearance of unwanted moles, lesions, and skin tags is available in New Zealand - and actually been for some time - the only problem is, no one is talking about it! Relying instead on either the traditional removal of moles and lesions via liquid nitrogen, surgical excision or simply leaving their moles as is, kiwi men and women have been missing out on something more (cosmetically) effective and less invasive on the skin, that could change the way they see themselves... literally. Surgitron arrived here a few years back but is still relatively unknown to the masses. Auckland cosmetic experts Clinic 42 offer a variety of treatments, including Surgitron so I popped in for a consultation with the amazing Dr Eloise to find out more about this life-changing treatment.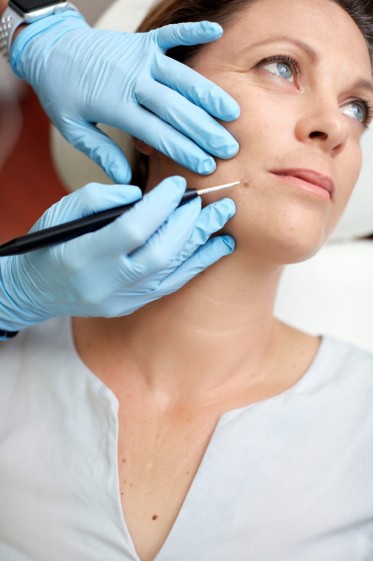 "At Clinic 42, we treat moles, lesions or changes under the skin for both functional and cosmetic reasons, or if there is concern about possible malignancy." - Dr Eloise Dickie
First off, Dr Eloise advised me that anyone who is doing skin checks to detect possible skin cancer should be using something like a dermatoscope tool. This magnifying tool will help tell whether the lesion is benign and not worry-some or if it has concerning features and could possibly be cancerous. Once you have made that delineation you can determine what treatment needs to be done. So readers beware: the approach would obviously be different if a lesion looked more suspicious.
"The Surgitron treatment is most appropriate for benign, non-cancerous lesions in cosmetically sensitive areas. It's most appropriate in areas like the face, bikini line, abdomen etc because the risk of scarring is very very low. So if someone was worried about the potential scarring from removing a raised lesion on their face, Surgitron is the treatment most likely to deliver the best results with as minimal scarring as possible." - Dr Eloise Dickie
How does it work?
Radiofrequency Surgitron treatment uses a compact machine to take very thin shavings from the surface of the skin. Held like a pen, the small tool essentially shaves the lesion off until it's flush with the skin and is most suitable for raised, benign lesions, such as skin tags, moles, and larger seborrhoeic keratoses.

Before & After
With a super quick recovery (you can go straight back to work) and low-maintenance after-care, there's no excuse not to have it done if it's going to drastically improve your confidence. However, do note: It is important for the first three months after removal of the mole that you minimise your exposure to the sun or UV rays. If you are exposed to the sun you should ensure you use at least SPF 30+ sunscreen.
The talented team of doctors and nurses at Clinic 42 understand that cosmetic medicine is a journey, and will be with you every step of the way. With more than 40 years combined experience, you'll be in safe hands.
Get in touch with Clinic 42 to say bah-bye to those frustrating surface lesions and get back to being your confident self - just like the King of self-love...