Words by Steven Fernandez. To say Jimi Hunt grabs life by the horns is just about the understatement of the century. The Kiwi daredevil and author of
A Bit Mental
has spent an enormous part of his life doing things that are… a bit mental. Remember the World's Biggest Waterslide? Jimi built that. Remember the guy who held an alternative summer Olympics with events like sandcastle building and frisbee golf? Jimi organized that. Remember the guy who played golf in downtown Auckland? OK… maybe not… but that was Jimi too.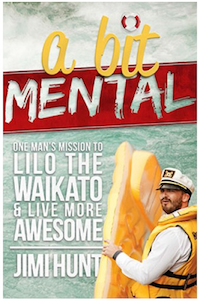 While all this was going on, Jimi was silently battling with depression. It was eating him alive from the inside, affecting his business, losing him friends and slowly, painfully destroying his marriage. Disillusioned with the help and advice he received, he read that having a goal could help with depression. Jimi being Jimi, he set a goal and announced it to the world — he would travel the entire 425km length of the Waikato River on an inflatable mattress… Loneliness, 21,000 people following the journey on Facebook, chancing upon a dead body in the river, unbridled kindness from strangers, physical pain and crazy psychic predictions are just some of the strange tales from the river. Read about Jimi Hunt's mental approach to depression and his awesome life story by picking up a copy of
A Bit Mental
at bookstores nationwide! Or head over to his website
www.abitmental.co.nz
to buy the book or for more information. This book is one of the only books you'll ever read about depression that won't be bloody depressing!