Five fresh swimwear silhouettes you need this summer
There are two words that strike the fear of God into most females come early December: bikini shopping. Few activities synonymously have you wishing you'd fake tanned and spent a few extra hours pumping iron in the gym than one that involves glaring at your pasty post-winter bod.
Thankfully, with the right shape and style, finding the right bikini can actually be something to look forward to (yes, you heard right).
Clashing unique textiles and distinguishable prints, Tigerlily swimwear delivers quality bikinis and one-pieces that don't skimp on style.
Appealing to the gypsy in all of us, Tigerlily recruits tassels, fun frills, delicate embroideries and paisley prints in their one-of-a-kind designs.
Be the centre of attention for all the right reasons in the patchwork-style Ramo, decorated with Aztec coins to add a touch of sparkle and movement while you dive between the waves. The bra-style straps ensure this bikini top won't be pulled around in the surf. Win!
Pretty in emerald green paisley, the Anse bikini top contours around the bust, and is beautifully finished with a golden decoration that dangles in the light. Paired with a ruffled bottom, this set is almost too pretty to get wet (almost).
The Aztec-inspired Zapotec set is as versatile as it is nice to look at it. The traditional halter silhouette features stunning embroidery and is totally reversible.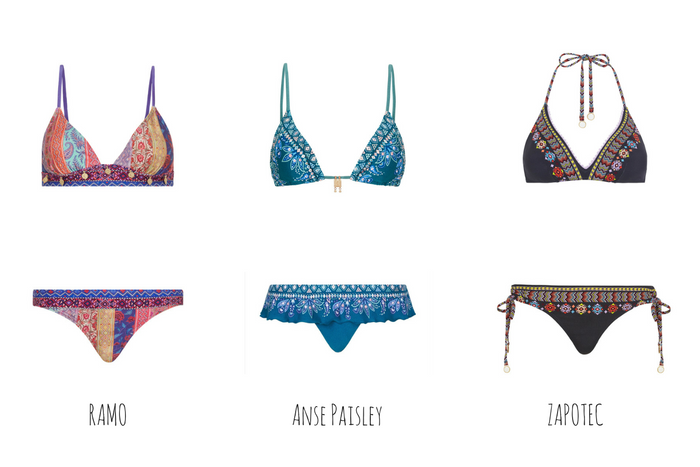 Small-busted gals will love the straight cut of the Eliseo bikini top, which works just as well as a crop as it does a bikini. Plus the horizontal stripe print transports you instantly to the vibrant streets of Brazil.
Our favourite feature of the Sun set? The tassel bikini bottoms. I mean, what's not to love about swishing around in the surf with these floating at your side?
Head here for more.