Get to know the fashion labels putting the planet first...
It's 'Earth Day' tomorrow and to celebrate such a pivotal environmental date, we've rounded up some of our favourite local and international brands in fashion taking small - and big - actions to improve not only the ways we shop, but also the ways our clothes are produced, by considering the planet first.
Considered and carefully made, these brands are paving the way for incorporating sustainable practices into their design, manufacturing and ethos.
This is the future of fashion...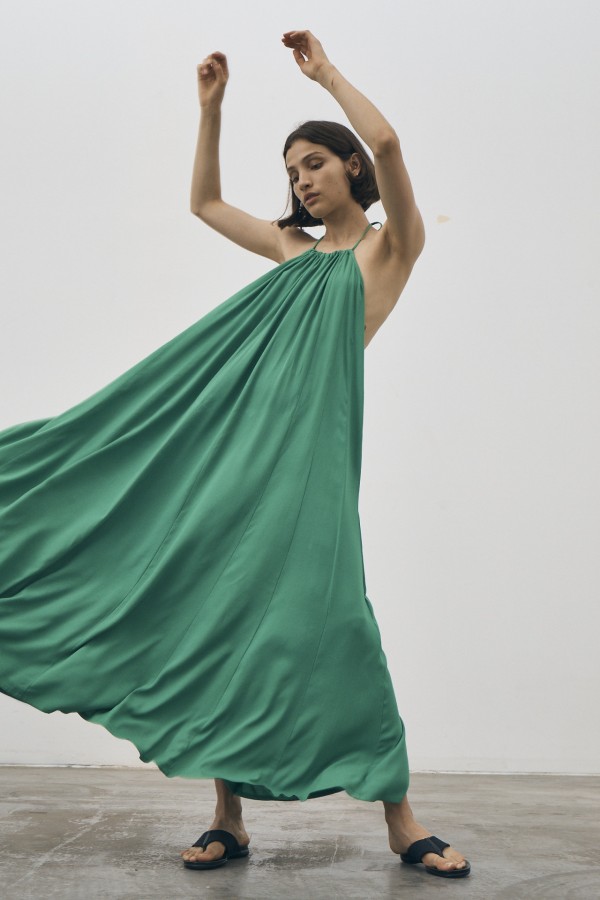 Maggie Marilyn
Already an entirely transparent label, last year Maggie Marilyn launched their 'Somewhere' label, which offers affordable pieces with long-lasting quality made from New Zealand merino, organic cotton and regenerated nylon. They also just this week sent out their new sustainability strategy update to inform MM lovers of the care they're taking to improve all sustainable angles they possibly can. Transparency is key...
Levi's
Sustainability is practically sewn into the fabric of everything Levi's do - from how their clothing is made, to the work they do to help protect the planet. For starters, they're a founding member of the Better Cotton Initiative (which trains farmers to use less water, pesticides, insecticides and synthetic fertiliser when growing cotton), with their 2020 aim to use 100% sustainable cotton (95% Better Cotton, plus a mix of organic and recycled cotton). They're also working on waterless innovations so they can create the same denim while cutting back on H20. To date, Levi's use more than 20 water-saving finishing techniques, sharing their methods to inspire industry-wide progress.
Kowtow
Officially Fairtrade approved, this label's collections are made from organic, renewable, biodegradable and regenerated fibres. Entirely committed to fair trade production, they design with longevity in mind.
Standard Issue

Leading the way in zero-waste seamless knitting technology, Standard Issue's latest collection offers a diverse approach to everyday wear for the growing sustainable wardrobe.
Ecco

Ecco Leather are working towards reinventing one of the world's oldest industries. No strangers to revolutionary innovations, they have developed a new water-saving technology called DriTan. Five years in the making, DriTan drastically reduces the amount of water required to tan leathers by saving approximately 20 litres of water per hide and allowing tanneries to operate in a more sustainable fashion. To showcase this radical technology, ECCO has created a version of the iconic ECCO Soft 8 sneaker using DriTan Leather. Ecco will save more than 25 million litres of water annually, which is enough to hydrate around 9,000 people, according to the World Health Organization's figures.
Deadly Ponies
Deadly Ponies' exclusive capsule, 'Puzzle', is designed and handcrafted from recycled off-cuts from seasons past. The idea stemmed from founder Liam Bowden's interest in reusing and recreating toys since childhood, then to the early inception of Deadly Ponies - which tool, began from leather offcuts. The capsule is an extension of that idea, further exploring their endeavour into circularity as a business.
Superdry
Superdry is transforming into an organic cotton business. Committing to go 100% organic cotton by 2040, they have started putting processes in place to future-proof the planet and their cotton farmers.
Designer Wardrobe
An online marketplace and rental boutique for buying, selling and renting designer dresses makes Designer Wardrobe a sustainable sharing community that gives longevity to party outfits that would otherwise only be worn once.
Converse
Starting with plastic bottles, then denim – now the brand is transforming waste cotton into a twisted take on the iconic Chuck 70's and Chuck Taylor All Stars with Renew Cotton. Made from 30% to 40% manufacturing waste canvas and regrind rubber, the recycling process creates a texture unique to Renew.
Karen Walker
For socially responsible fashion produced by two of the world's most inspiring brands, Outland Denim x Karen Walker collection was ethically crafted using sustainably produced, premium organic cotton. This is just one of the visible showcases Karen Walker's team are working towards a responsibly sourced and ethical practice, with many other moving parts behind the scenes.
Ellis Label
This local Auckland made- to-order business model means no wastage from bulk-made collections. Every garment is lovingly constructed consciously in a humble garage studio.
Clique Fitness
Your favourite compression tights have had a considered sustainable overhaul. The fitness label recently introduced their third generation of Core Collection classic compression tights, which are made using post- consumer recycled bottles. Not only is the new fabric sustainable, it looks, feels and fits the same as their
previous generation.
Allbirds
The brand have lead the charge of sustainable footwear with their wool and tree fabrications that leave a lighter footprint on the planet. All of Allbirds shoes are made from a combination of ZQ Certified merino wool, eucalyptus tree, sweetFoam (a rubber made from sugar) and recycled bottles. They also recently launched their new labelling initiative which sees the carbon footprint of each of their products clearly labelled both on their box and inside the shoe. This concept enables customers to compare the effect on the environment when making a purchasing decision - something we should all be doing!