How to organise your wardrobe like a designer
Ok, we've been sentenced to another week in level 4 isolation. Let's use this time wisely, and give our wardrobes an overhaul.
Here at Remix we understand that anything 'fashion' is best left to the experts. So who better to ask for advice than a local designer behind a brand that we know and love?
Raise your hand if you have Moochi pieces hanging in your wardrobe... The well-established and long-time loved label has brought ladies of New Zealand years of sheer joy - yes, that's a pun, IYKYK - with their classic staples each season. Moochi founder and designer extraordinaire, Kellie Taylor, is a bit of an NZ fashion icon, so we asked her to reveal the secrets in her wardrobe...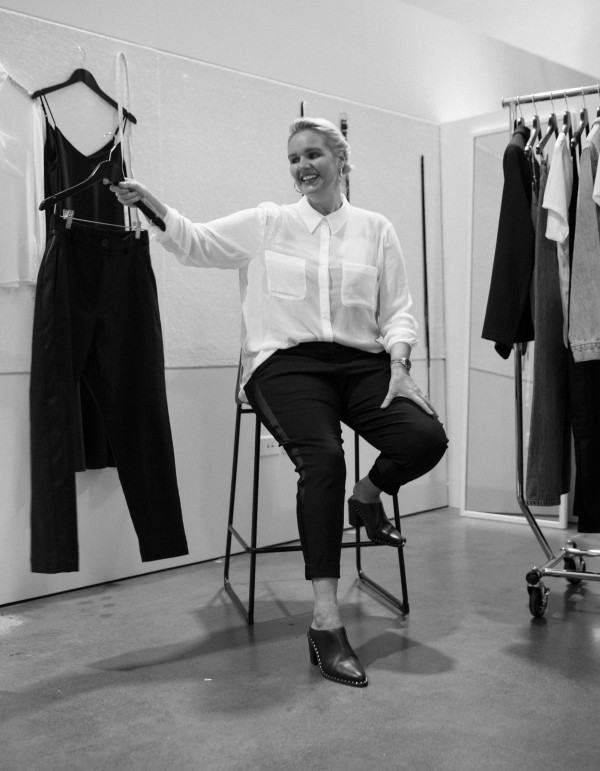 How often do you reorganise your wardrobe?
Twice a year. I like to work my wardrobe to when the weather actually shifts, and I tend to wear fave pieces for as long as I can, I get quite attached to some pieces and hate to leave them too soon!
How is it organised?
Definitely by category, as I confess that by colour wouldn't really work, 85% of my wardrobe is black, 10% white and ivory and the balance, grey marle, khaki, camel or black and white striped.
How do you store certain items to keep them in perfect nick?
I have enough room to hang almost everything which is so lucky as I hate fold lines even in my tees. I fold my knitwear on shelves, as hanging knits is sacrilege.
What steps do you personally take for an overhaul/Marie Kondo situation?
Twice a year, say March (not this year so it's all a bit of a mess!) and October-ish I get in and sort it.
I have this brilliant mobile rack that I use for my ironing each week, it has a central extender pole and 4 arms like a cross at the top.
I put this up and go through each category and ask
Do I still like this?

Do I wear this?

Does it fit?

Would someone else I know love this more now?
Then I fill the rack.
I give it a few days for 'clear out remorse' and put back the things I am already missing! I wear moochi from many years at any one time. Some people think I must get a new wardrobe each season, I won't lie I'm lucky to get the new clothes to love, but I also enjoy mixing them with previous work. I don't just go 'oh I can't wear that it was last year!'
After the purge is complete, I create piles for people I know and ask them over for a cuppa and a bag of moochi or I go and see them with my gifts, I think they love it!
There are always a few items too worn to share.
What are your styling/organising tips to make it look aesthetically pleasing?
I work with lengths, shortest to longest or with dressy to casual as my two systems. The key is to be able to find things fast.
I also keep my moochi 'bread and butter' slips and camis for under layers on a hook so they're easy to select as I get dressed.
What are your hero pieces for the colder months?
I almost always have one of our slide cami's or savour tanks on and then I build my outfit. This may also includes an extra layer of our mesh or merino skin. Usually pants, often a leather pair and then I wear shirts or tops with detail and either a coat or an oversized piece of knitwear. I don't tend to wear tailored blazers much as I find them restricting at work. I was excited to move to this winter as I expected to wear more dresses and skirts with our knee high studded stride boots.
What have you learnt over the years with your wardrobe?
I love clothes!!!! I get sick of colour or pattern very quickly which is why I keep it very simple. I look fresher in light colours but I feel strong in black. I see great value in repeat buying items that work. It's a smart woman that has more than one of her most worn styles! Trans-seasonal clothes hold the most value per wear... beaten only by leather pants! You get out of your clothes the care you put in. We put on our care label, 'love me and I will love you back'. I believe this. Buy well and respect your clothes and they will be lifelong friends!
What do you love most about your wardrobe?
It's moochi! I feel modern, comfortable and confident in my clothes for anything life throws at me.
Kellie, how have you been using this down time while in lockdown?
By the nature of my work I am dealing with what it means to stop a thriving NZ fashion business in its tracks at the retail end but also looking ahead to brighter days when spring is here, working on shoe, knitwear and other longer lead time design work. It's a crazy ride. So I'm other words I haven't made it near any of those jobs I had planned to do!
What have you mostly been wearing while in lockdown?
I feel that the first few weeks were very much a dreamy late summer time in Auckland and I was loving throwing on a linen dress most days with slides. Over the last weeks I've moved into my shirt and pants phase with trainers and I can feel the need for knitwear is very close. Winter seems to be coming quickly this year.