This Ponsonby opening is the ultimate gateway to the craft beer world
I have a long-standing love affair with craft beer. With new, vibrant brewers popping up all over the world, beer is more exciting, versatile and high quality than ever. There is now almost never an occasion that can't be made better with a good crafty, whether it's an IPA bursting with hops in the sun, or a chocolatey stout after dinner.
As I grew more interested and adventurous with my brews, the beer run developed into one of the most sacred of shopping experiences. But until now, it has also been a trying experience. We must dig through shelves of dusty six packs of generic green bottles by the type of brands who sponsor race cars to find the two or three (if you're lucky) craft gems our local supermarket or large-scale liquor store is hawking.
The game has now changed, thanks to beer aficionado Rich Yong. He has given the ever-expanding, ever-evolving world of craft beer the unique home it needed, tucked away in Ponsonby's Vinegar Lane. Yong's brainchild Bottle Stop opens today!!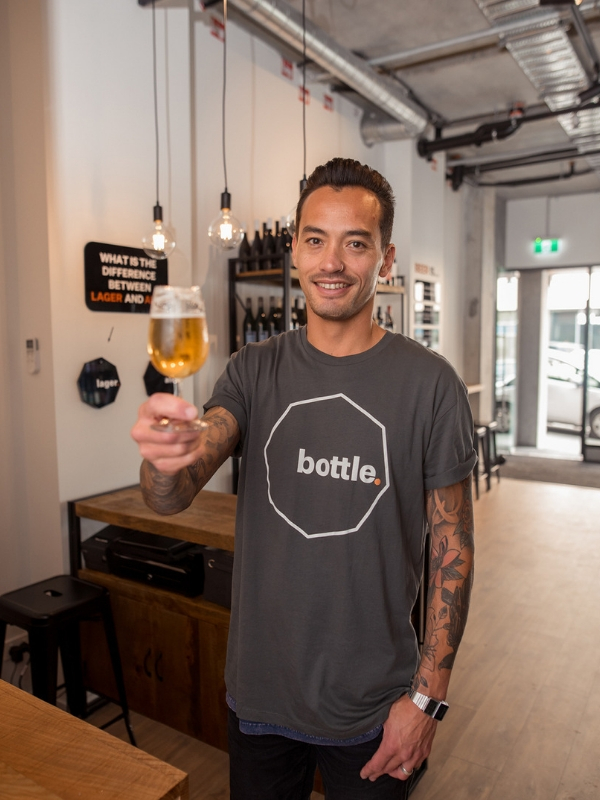 Having spent the last 16 years in London working for huge brew names, and for recently Wellington heavyweight Garage Project, it's safe to say Rich knows his way around a bottle. He knew his brand of bottlestore would be welcomed with open arms - there is nothing quite like it in Auckland.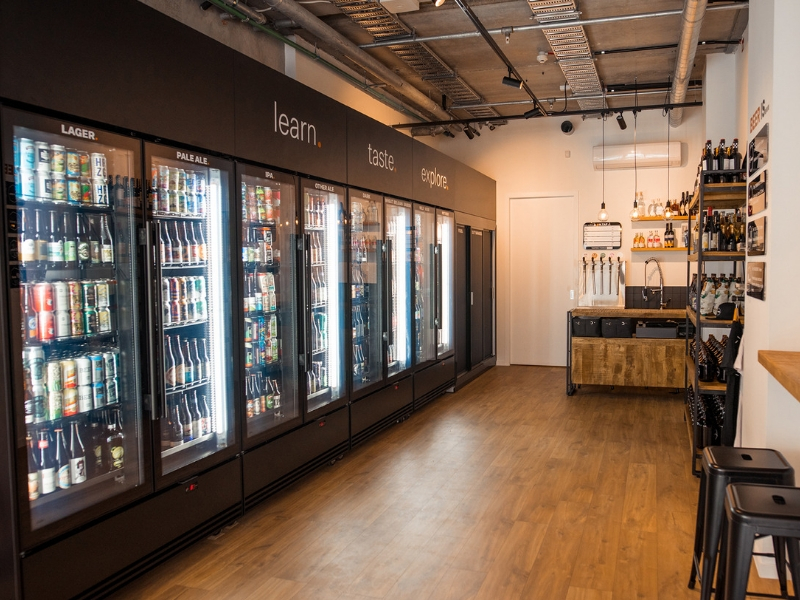 I was lucky to have a first look at this special new 'one-stop shop' last night, and let me tell you, Aucklanders, you are in for a treat. An entire wall of well-presented fridges immediately draws you over, and you could spend hours poring over labels of brews from Kiwi favourites and much further afield. Rich says the hardest part in the entire process of creating Bottle Stop was picking the beers. And looking at these fridges, that's no surprise; he has scoured the world to curate this over 300-strong selection, impressive not just in its size but its quality. It takes real expertise to whittle an entire industry's worth of gems into this modest-sized space!
Aside from the fridge selection, Bottle Stop also has four revolving taps for flagon fills and tasting paddles that can be savoured in store. These paddles can also matched with an artisan cheese and meet platter! Honestly, this place just keeps getting better. Rich wants to see more Kiwis try international beers - we have such an amazing homegrown selection that it's hard to venture out! - so he's planning on using the taps to showcase those for us customers.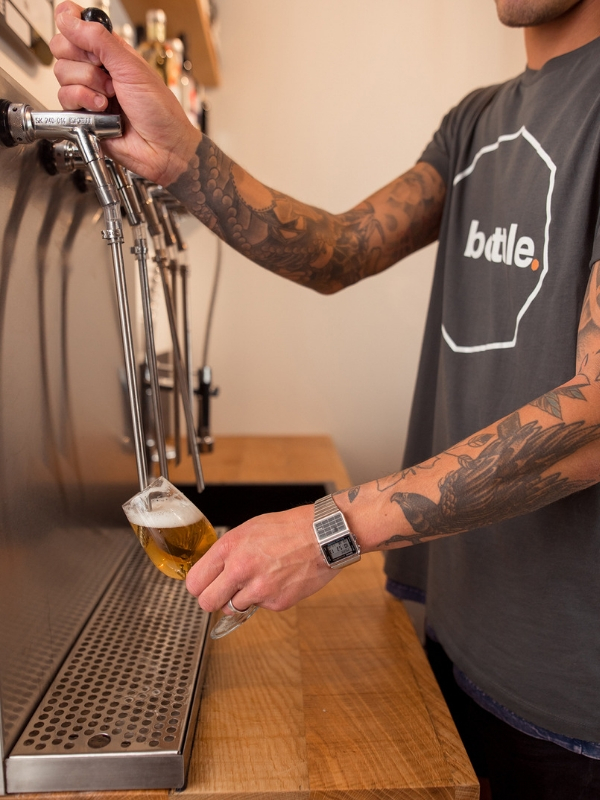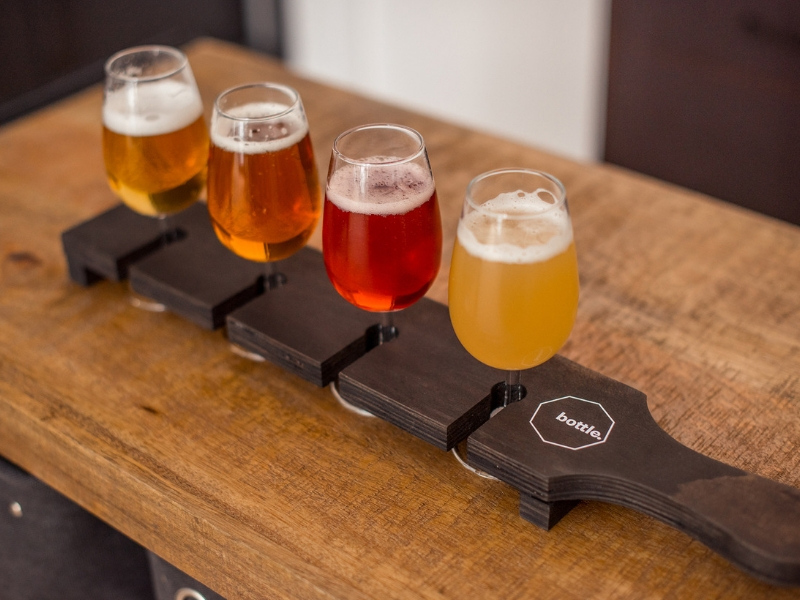 Speaking of taps, Rich has collaborated with Auckland's Behemoth Brewing Company to create a limited edition beer to celebrate the launch of the store. It was possibly the best part of launch night. It's a Hazy IPA, it's fantastic, and it's going to be snapped up very quickly, so run, don't walk.
While lucky Auckland locals will be able to visit the store six days a week, those further away don't have to miss out; the range is available on the Bottle Stop online store. From there, you can also put in a weekly delivery order - Friday office drinks just started look a whole lot better!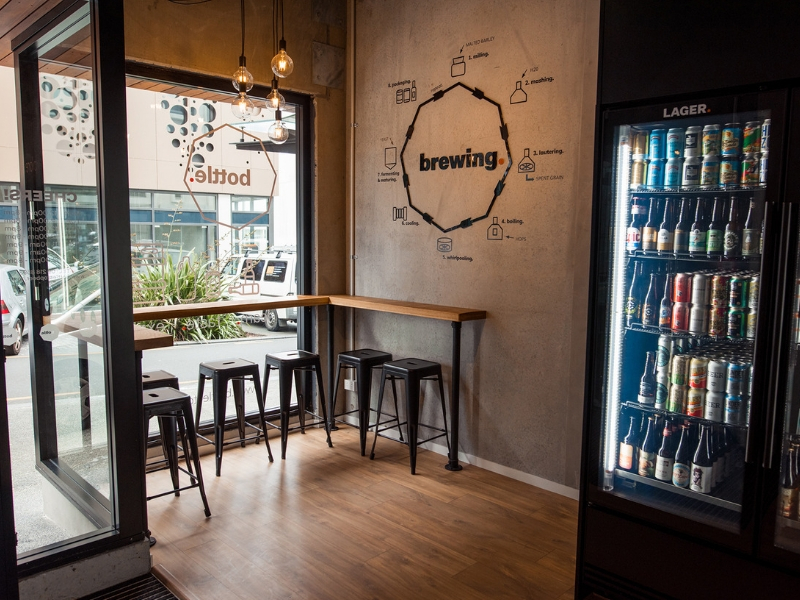 To those people who are yet to jump on the craft beer bandwagon, Rich has not forgotten you! A brilliant, and again unique, range of boutique wines and locally made craft spirits. The gin selection at Bottle Stop is... well, they can just take my entire pay check. Also, if you're considering jumping on the bandwagon, the Bottle Stop will be running Beer 101 Workshops; you never know, you could discover your inner beer fiend, or at least gain a better understanding of the artisanal drink taking the world by storm.
Cheers, Rich, for curating this insane range that no supermarket or liquor store could ever compete with. You've opened up a whole new world for beer novices and geeks alike! I'll probably be by after work...
The Bottle Stop
5 Vinegar Lane, Grey Lynn, Auckland