Yay, it's Friday - which means only one thing. We're back again with our curated list of weekly favourites. So grab a glass of rosé, sit back, and read on for some of our top picks from the latest in beauty and fashion (it's currently 1pm so maybe wait until after work - or do it at work. Either or. No judgement).
Bondi Sands
It's easy to emulate a bronzed, sunkissed goddess with Bondi Sands and their range of revered tanning products. Achieve a summery glow all year round with Bondi Sands Liquid Gold Foam, a leave-on tan that develops within hours. Infused with enriching Argan Oil, this leading formula is an ideal way to keep your skin supple, hydrated and bronze throughout the drying colder months. The GLO Matte One Day Tan and Shimmer One Day Tan are your one-stop-shop to rich, sculpted skin. Perfect for enhancing your natural skin tone or deepening your self tan, these highlighting products add a natural, radiant sheen and subtle definition. We love applying the Shimmer One Day Tan to our shoulders and collarbones for a sexy, glossy finish; perfect for a night out this weekend. Yet, if you're anything like us, tanning is the epitome of a love/hate relationship. Instead of scrubbing your skin raw once a week, reach for Bondi Sands Self Tan Eraser; this failsafe formula is designed to easily prep skin for a fresh, even application, instantly removing old tan in a matter of minutes. Pro tip: Bondi Sands offer free shipping in Aus and NZ on orders over $50, so stock up and save.
Shop Bondi Sands Liquid Gold Foam HERE (RRP $24.99)
Shop GLO Matte One Day Tan HERE (RRP $22.99)
Shop Self Tan Eraser HERE (RRP $27.99)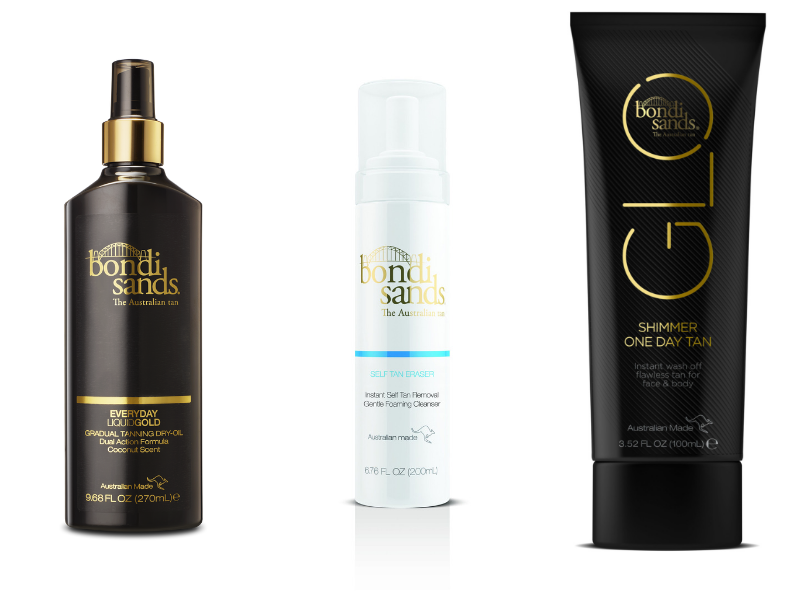 Puma Prevail Classic
Hype DC calls this classic runner an underrated obscurity, its inception dating back to 1993. Recently revived due to an original sample from the vaults of Mr. Formstripe, the Puma Prevail embodies archetypal '90s fashion with its panelled 'dad trainer' look and reminiscent, retro leather and mesh upper. What goes around, comes around, Mr. Timberlake once said; and from a '90s/early 2000s standpoint, we couldn't agree more. Bits and pieces of '90s fashion have been cropping up recently, from low-rise jeans (shudder the thought) to brown lip-liner to hair bobbles. The original 1993 silhouette has now been updated with freshly minted colourways, from White/Peach Bud to White/Sweet Lavender to White/Spectra Green. The Puma Prevail make the perfect statement sneak this 2019, echoing '90s vintage vibes and understated style.
Puma Prevail are available online at hypedc.com (RRP $160.00NZD).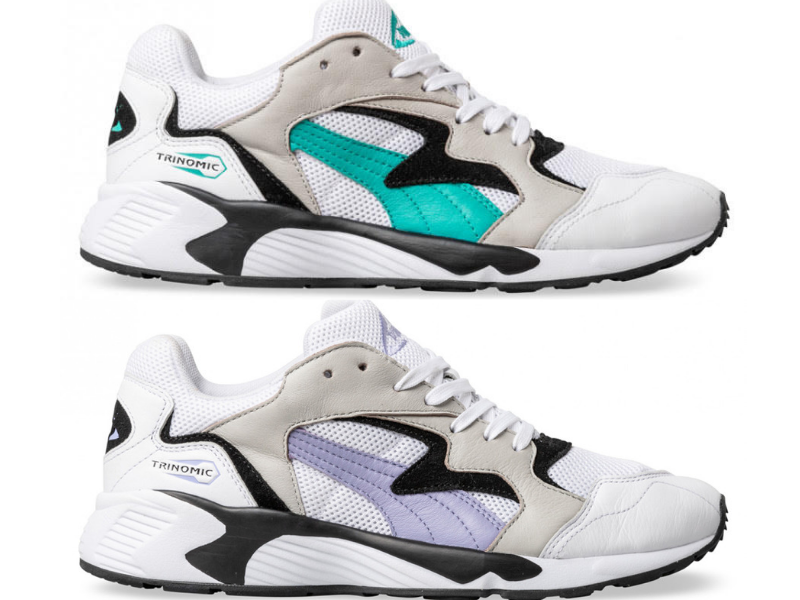 The Facialist 'SuperFacial'
Auckland's esteemed facial spa, The Facialist, has released their most luxurious and high-performing treatment yet. The skincare specialists have combined their most active, antioxidant-rich products with anti-ageing LED light to stimulate collagen production and rejuvenate the skin. The SuperFacial also consists of a triple-layer mask and sculpting massage, designed to firm and tone your facial contours. This indulgent treatment is finished with a probiotic tonic and kombucha to kickstart optimum gut health (a healthy gut = healthy skin). The SuperFacial takes about 90 minutes.
Book in for your SuperFacial HERE (RRP $290.00)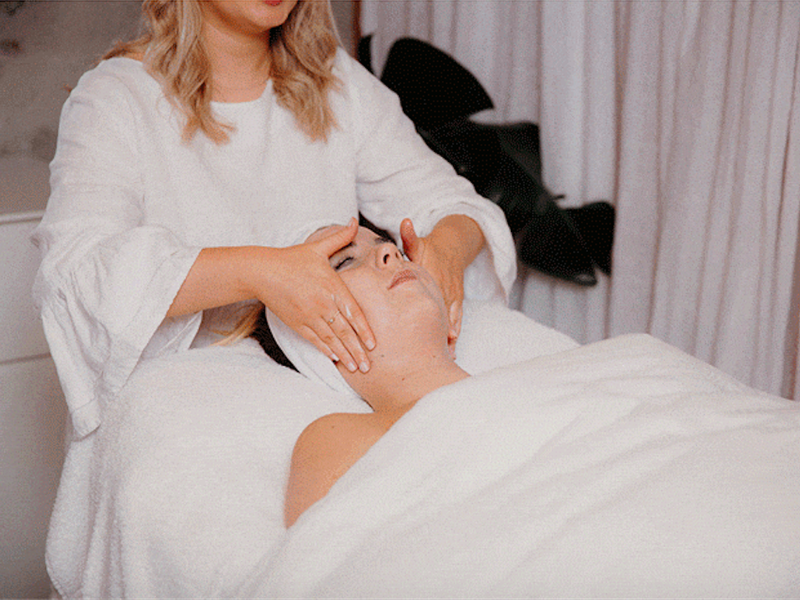 CONVERSE Chuck Taylor All Star Seasonal Lift Low - Butter Yellow
It's safe to say that yellow isn't going anywhere this year; and we're not mad about it. The cheerful hue is continuing to make its bright statement on the catwalk and in chain stores alike, so if you have yet to board the yellow train, it's about time you caught on. Converse have recently released their Chuck Taylor All Star Seasonal Lift Low sneaker in Butter Yellow. The iconic Low Top silhouette features a platform sole imbued with '80s/'90s boardwalk vibes, and a colourway inspired by the the sun-soaked scenery of Venice Beach. The canvas classics also keep you in signature Converse comfort with their OrthoLite insole.
Shop Converse Chuck Taylor All Star Low Top sneakers in Butter Yellow in store or online HERE (RRP $130.00)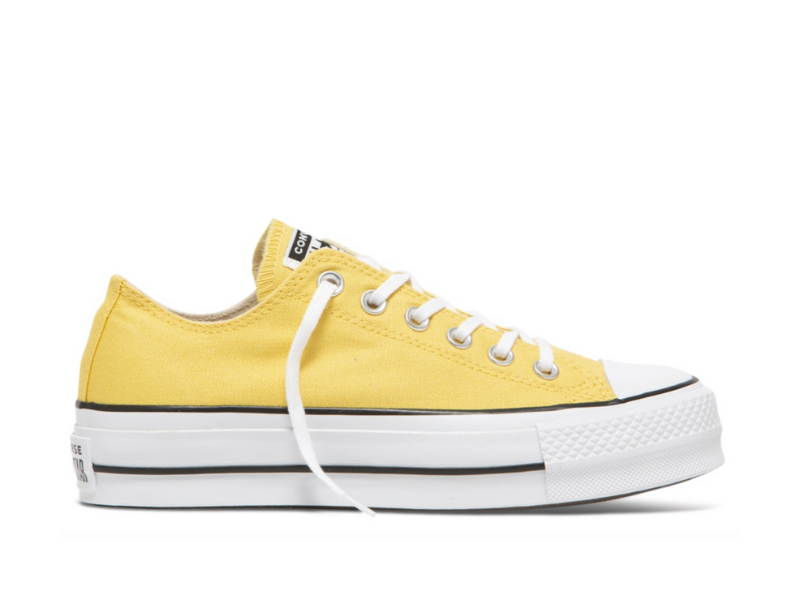 Karen Walker Onwards and Upwards, Knight Socks
Karen Walker released her new Onwards and Upwards Pre-Fall 2019 collection last December, and we're still 100% here for it. The luxury fashion house merged their penchant for androgynous style with a kooky chess game theme. Inspired by German chess player Sonja Graf and '60s bombshell Lisa Lane, the collection features tailored suits, pronounced collars and relaxed, boyfriend-style fits. If you're looking to incorporate a lick of the chess theme into your autumnal apparel, the collection features a few quirky accessory pieces that come in at a more affordable price point. We love the statement Knight Socks, available in Natural/Black or Blush/Maroon colourways. Playful socks are bang on trend this Autumn/Winter and make a fun accoutrement to your outfit. Let your Knight Socks peep out from the hem of some ankle-length trousers and pair with chunky sneakers for a whimsical (and very 'grammable) look.
Shop the Karen Walker Knight Socks HERE (RRP $35.00)
Read our in-depth review of the Onwards and Upwards collection HERE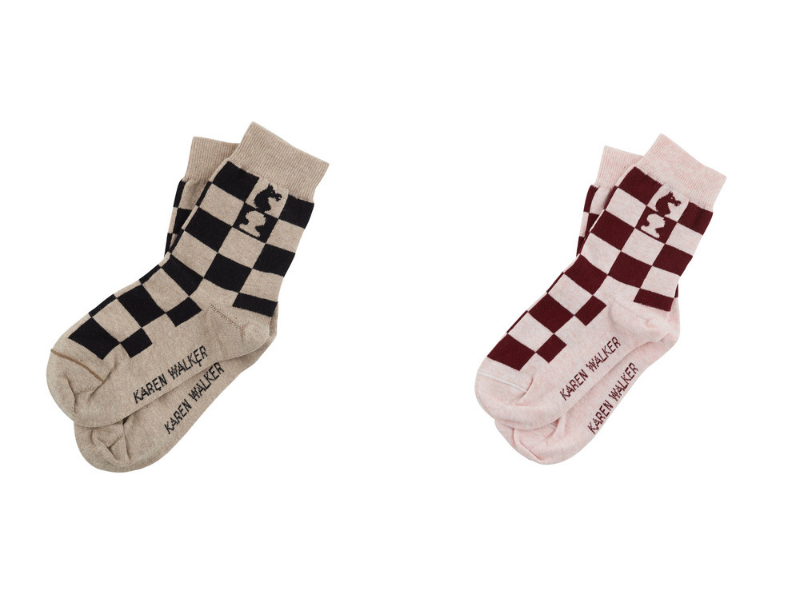 Imagery supplied or sourced from respective websites.