In Conversation with Hollywood heart-throb, Austin Butler
Golden Globe award winner Oscar Best Actor nominee, Hollywood heart-throb Austin Butler, plays an incredibly convincing Elvis Presley in Baz Luhrmann's epic musical biopic 'Elvis'. Embodying such an icon on screen would certainly come with scrutiny, but the actor himself became so absorbed in the character, he is still having trouble shedding the Southern drawl accent three years after filming began. Here, Austin talks about taking on such a huge role in Hollywood, the preparation he did for the part, and how Priscilla Presley personally responded to Austen's performance as her late husband.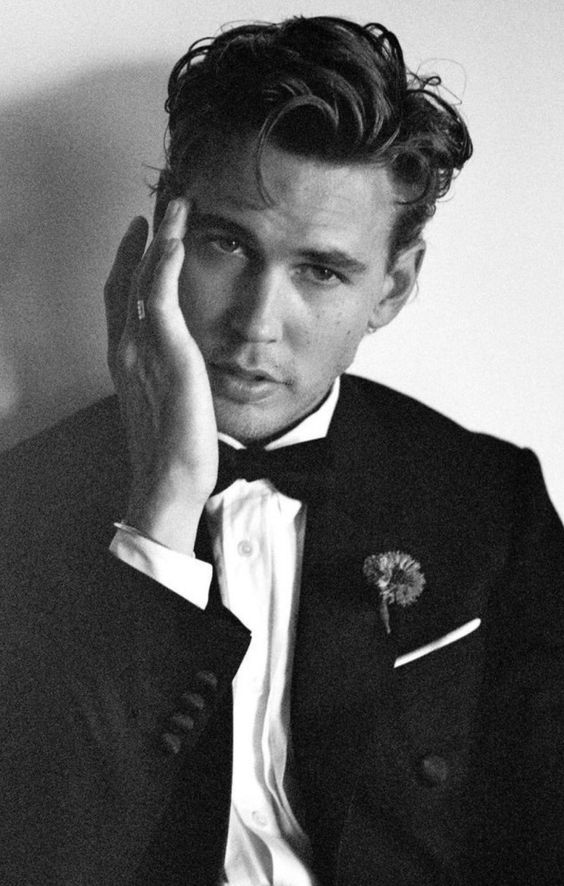 Image via Pinterest
AUSTIN, THE ELVIS FILM IS INCREDIBLE.
Thank you so much, that's so nice to hear.
IS IT TRUE THAT YOU MANIFESTED THIS ROLE, LIKE SOME PEOPLE IN YOUR LIFE HAD TOLD YOU YOU HAD AN UNCANNY RESEMBLANCE TO ELVIS BEFOREHAND? MAYBE GROWING UP?
It wasn't even growing up. The bizarre thing was how it was the month before - I didn't know Baz was making the film - and the month before I had two instances where the same person said to me and they both came out of, you know, when I was singing Christmas songs, yeah, so there's that one and then there's another one where I was just playing the piano. But it wasn't like this lifetime of – 'You've got to play Elvis'. It was just the timing of it. It was that month before and then suddenly I get this call that Baz is making the film. Yeah, it was wild.
TELL US THE PROCESS OF BECOMING ELVIS PRESLEY?
It was a two-year process where I just followed my curiosity every day, and I didn't live any other life but that. I tried many things. And ultimately, it was about finding his humanity. I mean, that was that was the core and that's what was fascinating to me - stripping away how he's the wallpaper of society or he's held up as almost a godlike figure to certain people or he's a Halloween costume to others. And so for me it was putting his life in context and stripping all that away and then personalising it for myself. So that was the core of it. But the tricky thing is that you also have this desire to get as specific as possible. So, for me, it was like this back and forth constantly asking, 'Why does he move in this way?' But then getting very specific about whatever movement you did. So it was just studying footage, like, endlessly. And many sleepless nights where I would just be feeling an incredible weight of the fact that, you know, his voice is so iconic, or any of those things that I'm listening to, endless hours of his interviews, and breaking down how his voice changed over the years and his movements and everything. I just tried to leave no stone unturned and just run down the rabbit hole for two years.
WHAT IS IT LIKE TO WORK WITH BAZ LUHRMANN?
He's unlike anyone else in the world. It's the most exceptional experience. I can't even put into words how amazing that time was.
AND TOM HANKS. HE'S A LEGEND…
He's a legend.
WERE YOU NERVOUS THE FIRST TIME YOU MET HIM?
Yeah, I went over and met him at Baz's house for the first time. Baz was living on this river on the Gold Coast and they were out standing by the water. I walked out there and, you know, it's that thing meeting your heroes. I didn't know if he was going to be standoffish or what he was gonna be. And instead, he sees me from really far away and he goes, 'My boy, give me a hug' - and he holds out his arms and he gives me this huge bear hug. And then Baz went inside and he and I just talked by the water for a while and then he said, 'I was at the stage earlier and I was choosing the doors I was going to be throwing up outside of for the first week.' I said, 'Why are you nervous?' And he goes, 'I'm terrified'. He goes, 'How are you?' And I said, 'I'm terrified!' And from that moment, then we could share and suddenly we're colleagues and I'm looking at my hero who's sharing his vulnerabilities. I never knew if that was real, or if he was just allowing me space.
THE CHARACTER HE PLAYS, COLONEL TOM PARKER, YOU CAN'T REALLY WORK OUT IF HE'S THE VILLAIN OR NOT. HIM AND ELVIS DID SEEM TO NEED EACH OTHER?
Yeah, I think it's the complexity of any human being. Things aren't black or white. There's not just this one thing. So it's a very complex relationship that is filled with a lot of love. And then at a certain point, there's moments where, because the Colonel didn't have an artistic bone in his body, and he had different goals, you know, and so at the end of the day, there are moments where I think that it's tragic. It's an absolute tragedy that Elvis never got to perform overseas. It blows your mind.
WHEN YOU EMBODY SOMEBODY LIKE ELVIS WHO PEOPLE KNOW, DID YOU HAVE ANY WEIRD SPIRITUAL SORT OF CONNECTION WITH ELVIS? LIKE DID YOU DREAM ONE NIGHT AND FEEL LIKE HIS PRESENCE MAY BE CAME THROUGH TO YOU?
I had many of those moments where whether it was a dream or these sort of out-of-body experience moments or yeah, there's that thing where energy is neither created nor destroyed and you feel things. It's hard to actually put into language because it's these really intense feelings So yeah, there were those times. And I welcomed it in, as much as I could.
AND WHEN YOU WELCOME SOMETHING LIKE THAT IN IT CAN BE HARD TO LET IT GO, RIGHT?
Yeah. You don't quite know what to do with yourself when you finish.
SO YOU MADE THIS IN AUSTRALIA. AT WHAT POINT IN THE PANDEMIC WERE YOU SHOOTING THIS AND DID YOU HAVE TO STOP FILMING AT ALL?
Yeah. We were a couple days out from shooting. And that's when Tom [Hanks] got Covid. Yep. And I thought at that time that it was going to be two weeks that we were going to shut down. It turned out to be six months. And so at the end of those two weeks, they said, 'You know what, we're going to ship you back to the States'. And everything inside me just said, 'That's not right. I gotta keep this momentum. I gotta keep preparing.' And it became this really amazing time where I didn't have anybody knocking on the door.
SO ISOLATION HELPED YOU IN A WAY?
Well, I went three months without a hug. I went three months where I was just locked in my apartment. And I wallpapered the walls with images of Elvis in a timeline. And I did nothing but just watch his films and interviews and obsess. And I would set up a camera and I'd record myself and I'd watch it back and just try things. It allowed me to have this time where I could just follow my curiosity, where it wasn't somebody else going, 'There's a timeline and what you got to do…' So every day it was just, 'Where's my curiosity leading?' And then after those three months, when we were allowed to kind of come out, I met Baz and we went surfing. [laughs]
IT'S YOU SINGING IN THE MOVIE TOO, RIGHT?
Yeah, a lot of it.
DO YOU HAVE ANY AMBITIONS TO BE A POP STAR?
I'm just focussing on this right now.
YOU PLAY INSTRUMENTS AS WELL THOUGH, RIGHT? WHAT IS THE FIRST LOVE?
Well, I started playing music before I started acting and music for me has always been like therapy. My dad bought me a guitar and I was obsessed with it. I'd play for eight hours a day and do nothing else. And it was this way that I could just disappear into music. But for whatever reason, it never crossed over into me wanting to play for the world. That wasn't a part of it. It was all personal. So this has been an interesting experience because suddenly now I'm singing and I'm doing things in front of people and it's nerve-racking, it's terrifying. But I found this incredible joy in it and I love it so much.
YOU HAVE THIS BROODING LOOK WHEN YOU DO PHOTOS. ARE YOU BORN WITH THAT OR DID SOMEONE TEACH YOU?
I think, you know, I had this conversation with Jim Jarmusch once and we were about to walk out on a red carpet. And he takes his sunglasses out of his pocket and puts them on his face. He always looks so cool and has always got these sunglasses, and you think, 'Oh, he's just this bad-ass who doesn't smile and just always wears sunglasses.' And he said, 'People always think that I wear sunglasses because I think I'm cool - it's because I'm just so nervous to go out there.' And that was such a nice thing to hear, because I'm so nervous when I get on a red carpet. It's so wild. I don't like attention. I get to talk to a lot of people but I'm a shy kid at heart. And so, for me, I think as well when I was younger, I'd get captured on a red carpet mid pose and you just have that goofball look. It's like when paparazzi get you eating. So yeah, I don't know, I mean, at Cannes I wasn't even thinking about it, I just was so happy I smiled in the storm. But I think that some of that comes from just being shy.
DID YOU SPEAK TO THE PRESLEY FAMILY WHILE YOU WERE PREPARING FOR THIS?
I met Priscilla beforehand. And we spent some time together. And that was really so moving. I mean, just looking into her eyes alone. She's the woman that he loved for so many years and has been in love with him since she was so young. I mean, it's just amazing. When you look in her eyes, and you go, 'These are the same eyes that he fell in love with.' It's unbelievable. So yeah, and then after the film, you know we've spent more time together now and just hearing how it moved her and also the moments when she says, 'You know if he was here today how he would feel…' - I just get chills. I can't dream of a better review. You know art is subjective but when you're talking about somebody's life, no matter what anybody says on the negative side, it's like, that's what I really care about. So I'm so grateful.
DID YOU HAVE ACCESS TO SPECIAL FOOTAGE THAT WE'D NEVER SEEN BEFORE WHILE YOU WERE PREPARING?
I mean, there's a lot of amazing stuff just on the internet alone. And on top of that, then there's fans out there. I mean, I'd go on fans' websites and buy DVD things that they would have like B-side things from documentary footage and that sort of thing. But then I was very fortunate because the people at Graceland were very kind and sent me some home movies that are out there. Some of those were the most enlightening because you're seeing him in moments that he either doesn't know that he's being filmed or he's being filmed by somebody that he's close to. They're just on a Super Eight camera or something like that and you get to see him just joking around. And there's a lot of glimpses into his personality that really opened things up for me.
OBVIOUSLY, A BIG PART OF ELVIS' PERSONA WAS WHAT HE WORE. HOW WAS IT GETTING INTO THOSE OUTFITS? DID YOU TAKE ANYTHING HOME WITH YOU?
I've got a couple of things. I've got one of the black leathers. That's pretty cool. I was happy to take that home with me.
THIS FILM SPANS THE WHOLE OF ELVIS' LIFE – WAS THERE A PARTICULAR ELVIS THAT WAS HARDER TO PLAY? OBVIOUSLY, AT THE END OF HIS LIFE THERE WAS A LOT OF SADNESS THERE?
Yeah, there's a lot of tragedy that is just heartbreaking. Every aspect had its own challenges. It was more of the fact that I was jumping back and forth between -we weren't filming chronologically. So I would film a scene 72 and then the next day I'd be in 56, or something, you know? And grounding yourself in each time period - that was really tricky. So, every night, I would look at what I was doing the next day. And I had this whole timeline on my walls in the house and I would just really ground myself in that time. I was more familiar with the Elvis of the '50s when I started but I just fell in love with that '70s Elvis, you know? I mean, it's just a glorious time, late '60s/'70s – it's just amazing.
INTERVIEW by LUCY ALLEN / HOT FEATURES