Baduzzi's Michael Dearth shares some of his favourite meatball recipes
Mad About Meatballs; We sat down with Auckland restauranteur Michael Dearth of Italian-inspired Baduzzi and fine-dining The Grove to discuss an expertly crafted meatball menu championing Kiwi Bacon.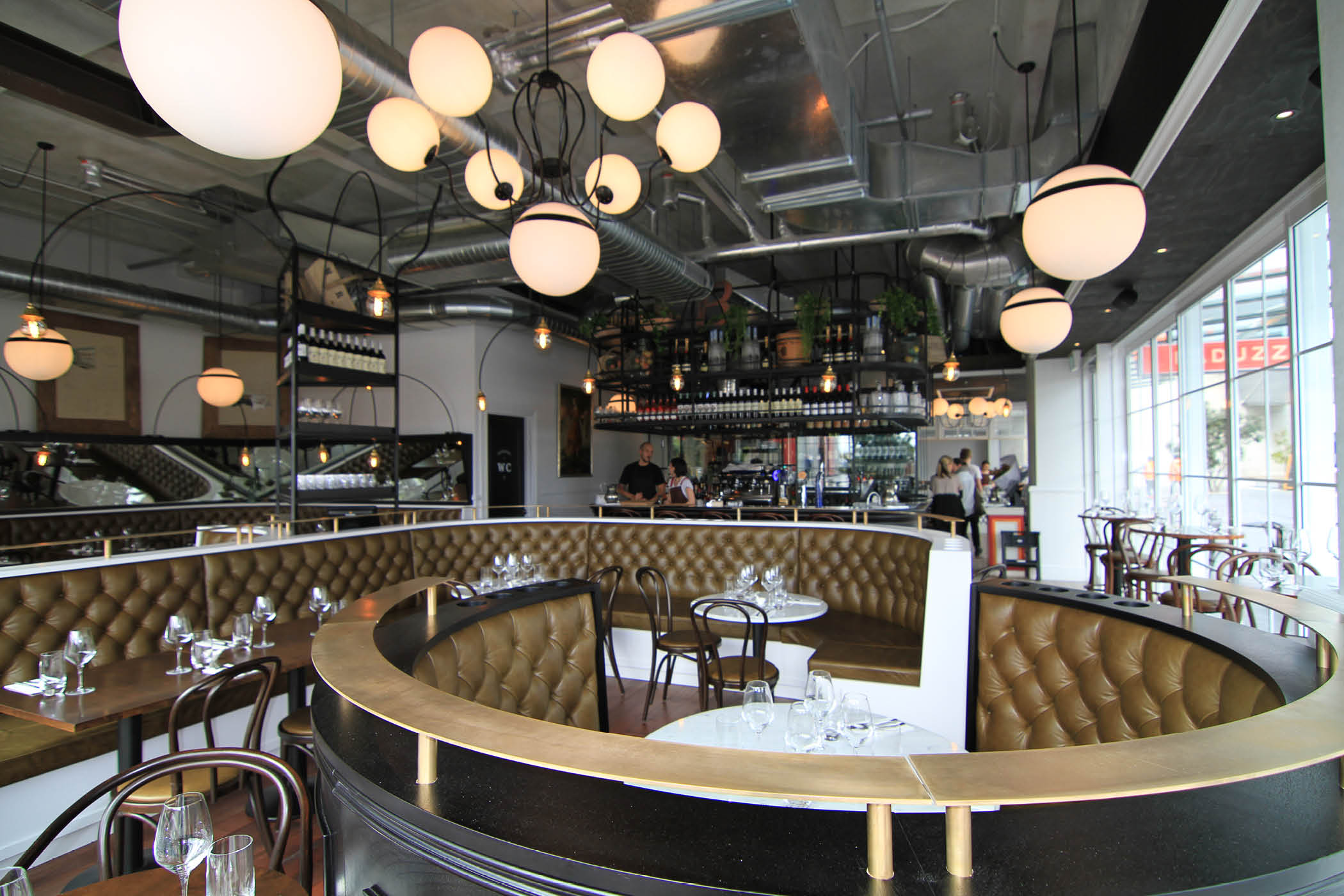 Michael Dearth's initial concept for Baduzzi was a 'hole in the wall' eatery, destined to serve Auckland the best meatballs they've ever tasted. If you've been lucky enough to visit what is now Wynyard Quarter's Baduzzi, you'll know the restaurant itself is a far cry from Dearth's pipedream, "we looked and looked for the right venue, but it never presented itself", says Dearth, "then we found this space, and the site dictated what the dream became." Despite the concept change, Baduzzi still serves the best meatballs in town.
To prove it, Dearth and Baduzzi head chef Juan Balsani have created three bespoke meatball recipes for Remix readers, proving that one of Italy's oldest creations leaves plenty of room for flavoursome flare.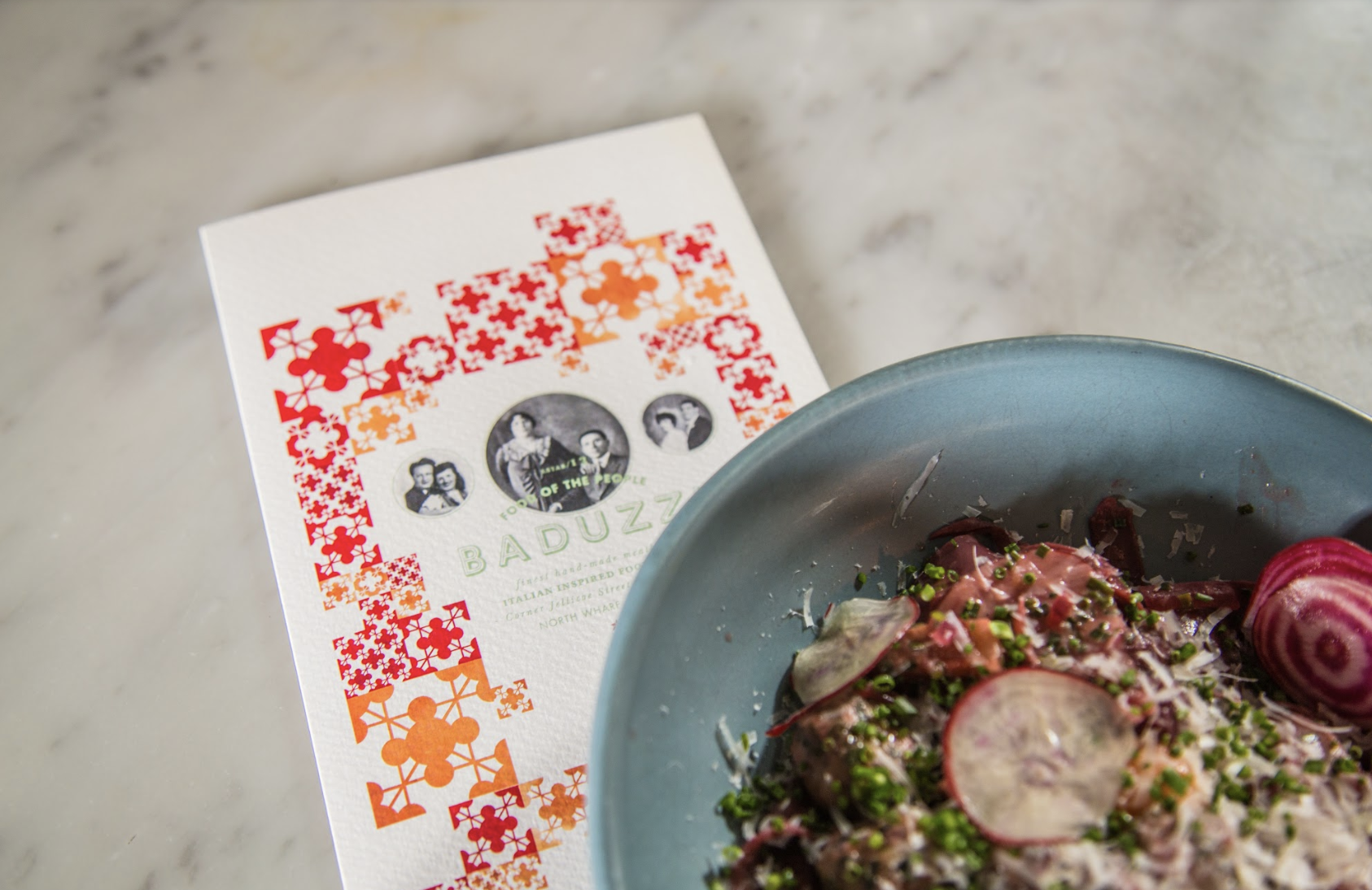 BEETROOT PAPPARDELLE WITH POLPETTE DI PESCE
BEETROOT PASTA
500g Flour
160g Salted yolks
20g Beetroot freeze dried powder
10g Salt
2 Whole eggs
Combine all ingredients until smooth

Rest in fridge for 6 hours

Roll pasta dough onto desired thickness (1.5mm) and cut pappardelle shape (3cm wide)
CRAYFISH MEATBALLS
900g Crayfish meat
520g Kiwi Bacon Streaky Bacon
130g Confit shallots
100g Crème fraiche
100g Cabbage
30g Chives
20g Carrots
20g Parsley
20g Basil
15g Salt
Lemon Zest
Lemon
Lime Zest and Juice
Dice and combine all the ingredients - make sure they are very cold before mincing

Mince them on meat grinder and refrigerate mix overnight

Weigh out 10g mix and shape meatballs

Bake meatballs for 4 minutes at 190C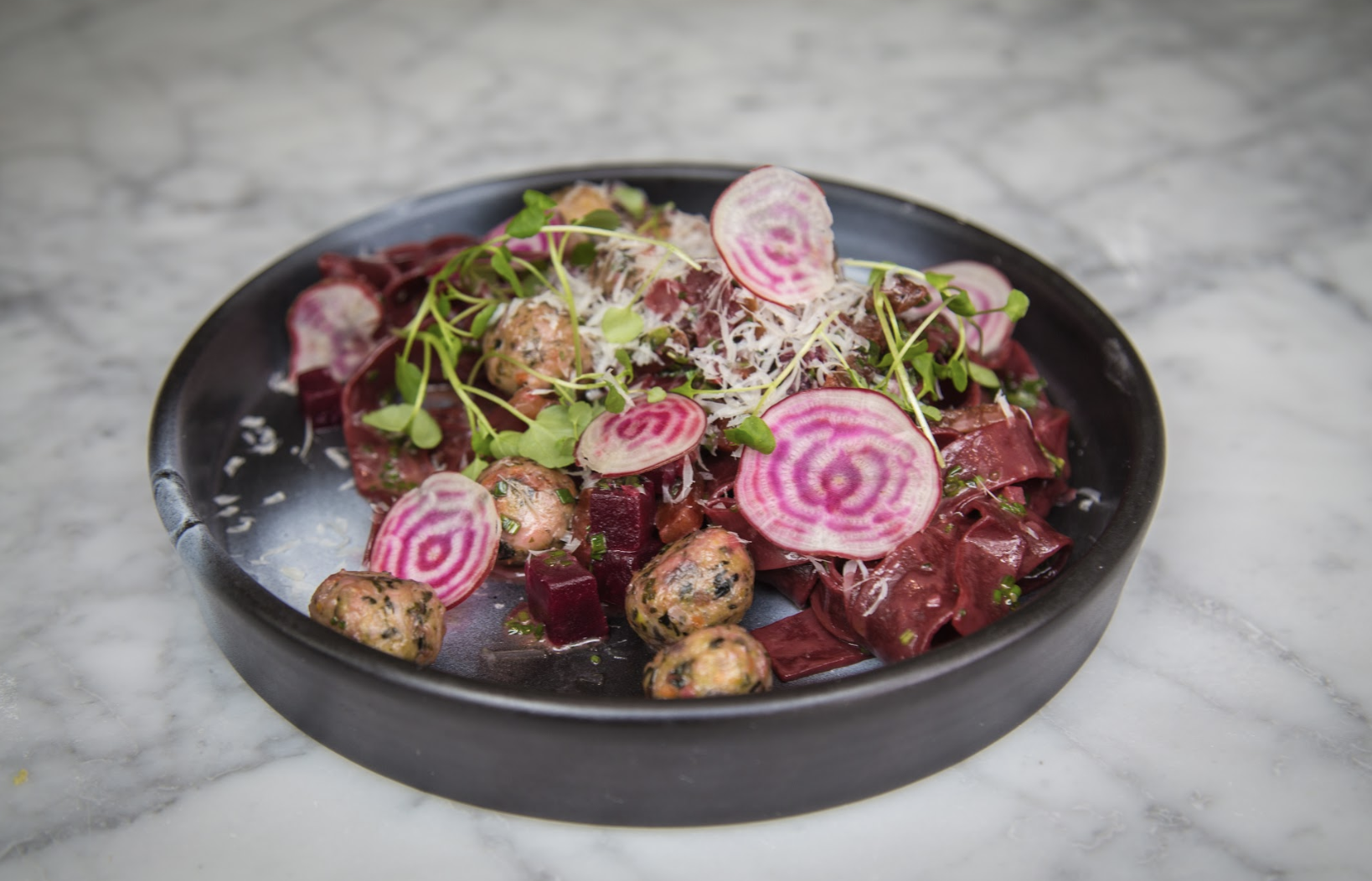 ASSEMBLY
Finely diced shallots
Sliced garlic
Chopped red chillies
Chopped chives
Chopped parsley
Shizo vinegar
White wine
Butter
Olive oil
Lemon juice
Salt
Bacon lardons
Quail eggs
Grated parmesan cheese
On a hot pan add a drizzle of olive oil and fry shallots, garlic and chillies until slightly coloured

Deglaze the pan with white wine and Shizo vinegar. Reduce until almost dry

Start blanching fresh pasta (around 3 minutes in boiling water)

Add bacon lardons, precooked meatballs and cooked beetroot pasta while still hot

Toss on the pan and adjust seasoning, lemon juice and emulsify a spoonful of room temperature butter

Finish with a generous spoonful of chopped herbs

Place pasta in a bowl, serve with a quail egg yolk in the middle and top with grated parmesan cheese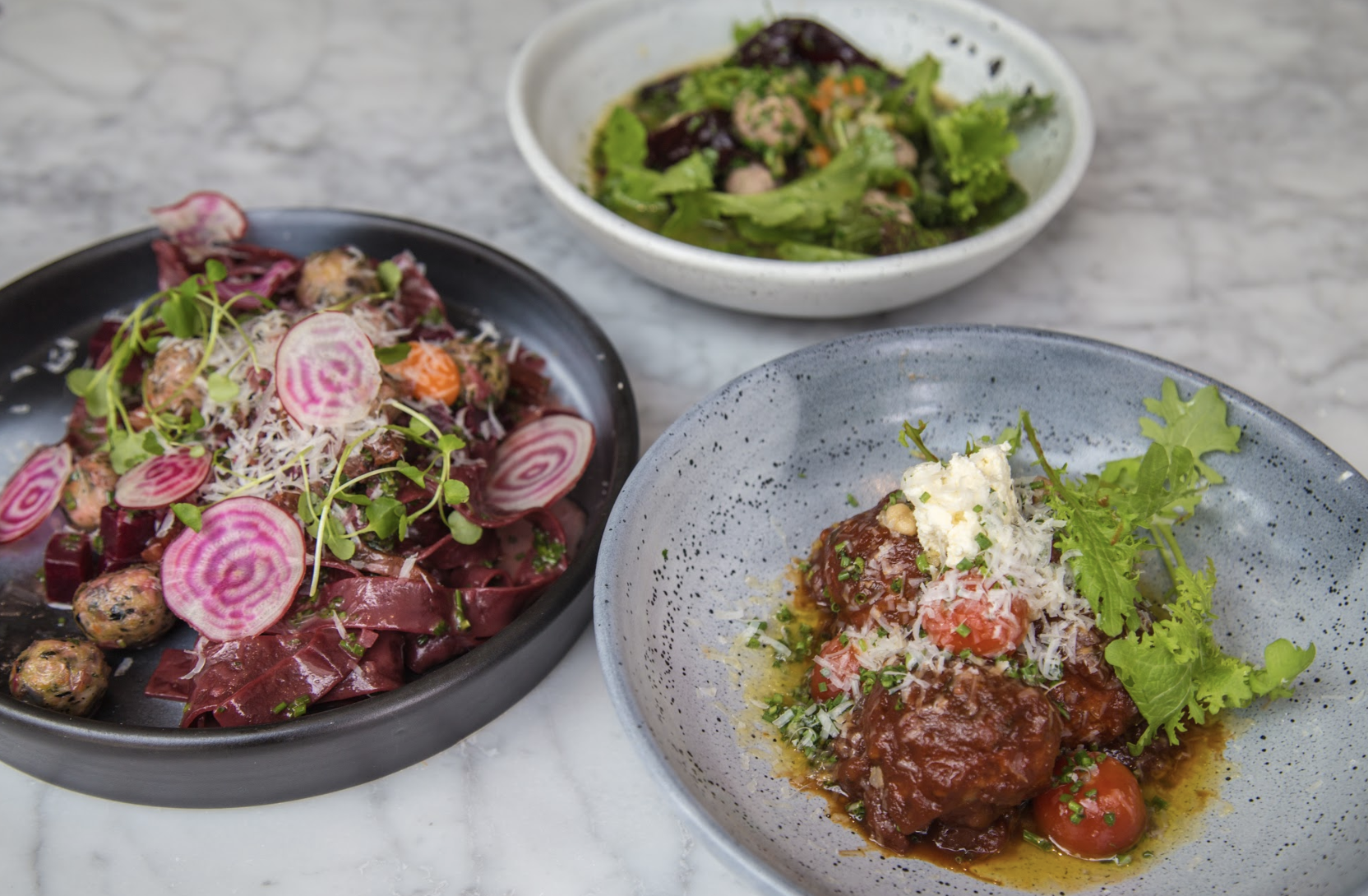 BADUZZI WEDDING SOUP
PORK AND FENNEL MEATBALL RECIPE
150g Kiwi Bacon Streaky Bacon
300g pork shoulder
200g pork cheek
30g grated pecorino
50g white bread crumb fine/soaked in 50ml of milk for five minutes
15g Italian parsley chopped
10g oregano leaves chopped
1 egg
15g toasted fennel seeds
10g salt flaky
Dice and combine all the ingredients, make sure they are very cold before mincing. Mince them on meat grinder and refrigerate mix overnight.
Weigh on 10gr mix and shape meatballs.
Bake meatballs for 6 minutes at 190C.
BEEF AND PORK STOCK
5kg beef bones
5kg pork bones
300 g carrot
300g onion
3 stick celery
15g thyme
15g rosemary
8 clove garlic
20g peppercorn
200 cab sav vinegar
750 port wine
Water to cover
Place all the ingredients in a stock pot and let them simmer at very low temperature for 6 hours

Strain stock and reduce by half in a shallow pot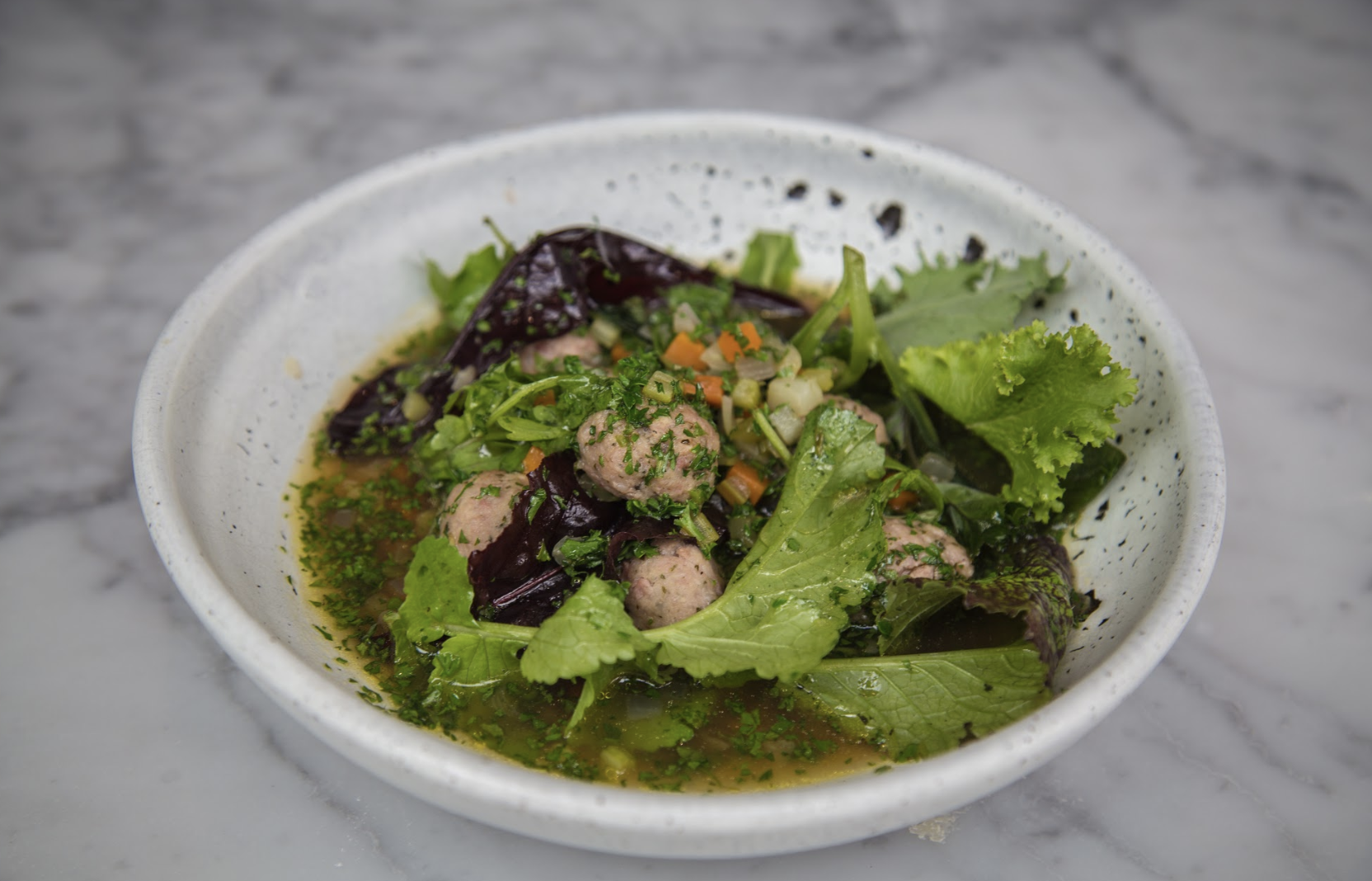 ASSEMBLY
Blanched orecchiette pasta
Baby kale leaves
Baby cavalo nero leaves
Baby beetroot leaves
Diced celery
Diced carrot
Diced fennel bulb
Olive oil
In a pan slightly sauté the diced vegetables without colour until fragrant and tender

Add reduced beef stock, cooked meatballs and blanched past

Boil for 3 minutes on low, add leaves and serve immediately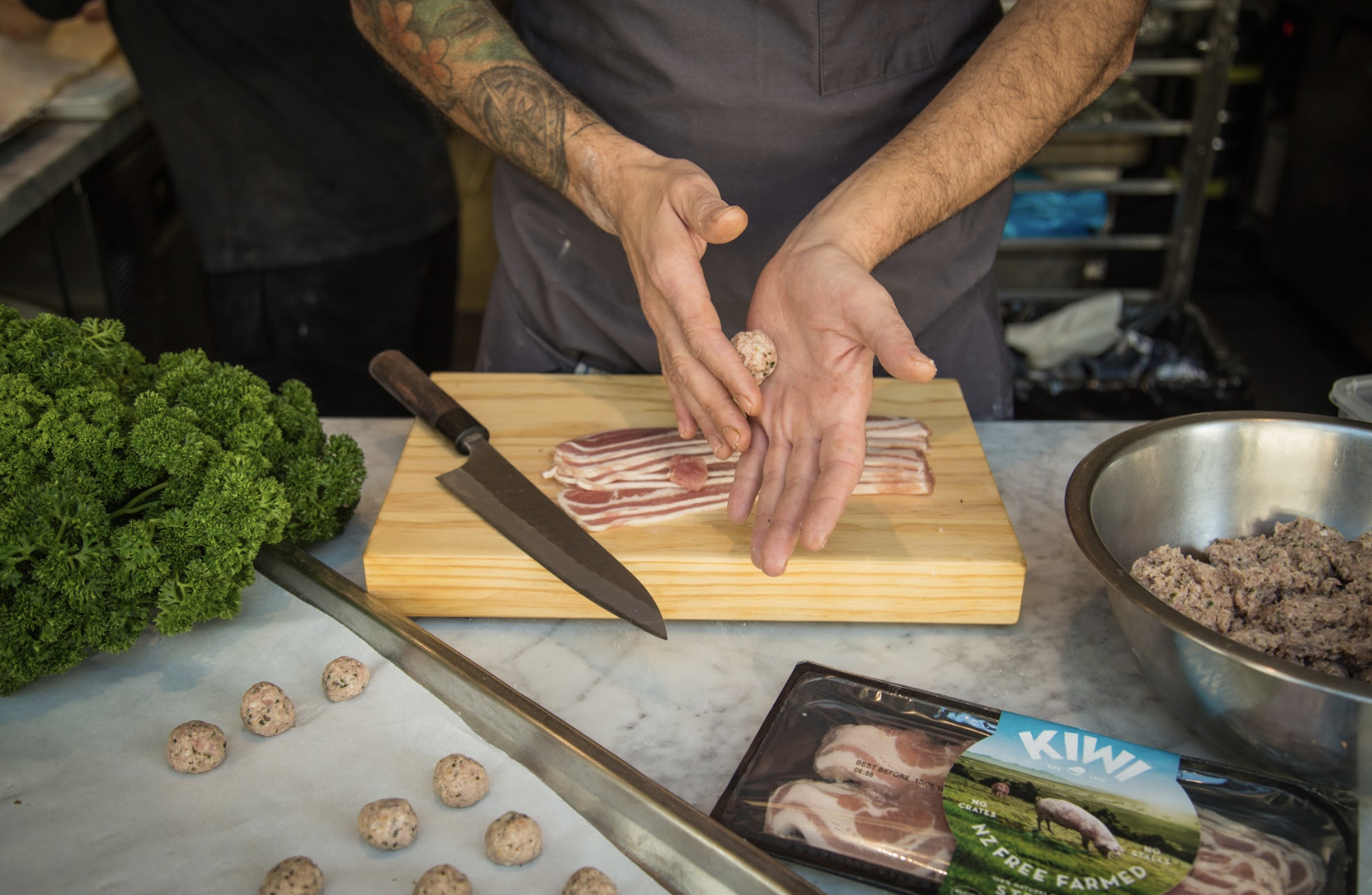 EAST COAST MAMMA D'S MEATBALLS
BEEF MEATBALL RECIPE
4kg Pork shoulder
4kg Beef chuck
1kg Lardo
1kg Pepper pancetta
2.3kg Bread soft crumb mixed threw with fat
500g Italian parsley
300g Mustard whole grain
140g Salt
Dice and combine all the ingredients - make sure they are very cold before mincing.

Mince on meat grinder and refrigerate mix overnight

Weigh on 60g mix and shape meatballs

Bake meatballs for 10 minutes at 190C
MAMMA D'S SAUCE
150g Diced shallots
100g Diced carrots
80gr Diced fennel
50g Sherry vinegar
150g Port wine
400g Marinara tomato sauce
200g Reduced beef sauce
On a pan add a drizzle of olive oil

Sweat out vegetables until lightly coloured

Deglaze with port and sherry vinegar and reduce until almost dry

Add reduced beef sauce and marinara tomato sauce

Place cooked meatballs in a deep oven tray

Cover meatballs with sauce and braise them in the oven at 150C for 30-45min
SMOKED MELANZANE
1tsp Cumin powder
100g Basil
100g Chives or spring onion
100ml Extra virgin olive oil
100g pine nuts (toasted)
4 Eggplants
4 Vine ripened tomatoes
4 Shallots
1 Clove of garlic
Roast the eggplants until black and most of the moisture is gone. Ideally on the barbecue or over a wood fire grill

Let them chill and scoop out all the flesh into a bowl

Blanch tomatoes in salted water for 8 seconds to remove the skin. Quarter them and remove seeds. Dice into small pieces and add to eggplant flesh

Fine dice shallots and garlic, gently sauté them in olive oil with the cumin. Add to eggplant mixture together with oil from the pan.

Add chopped basil, chives, pine nuts and season

Mix well and leave at room temp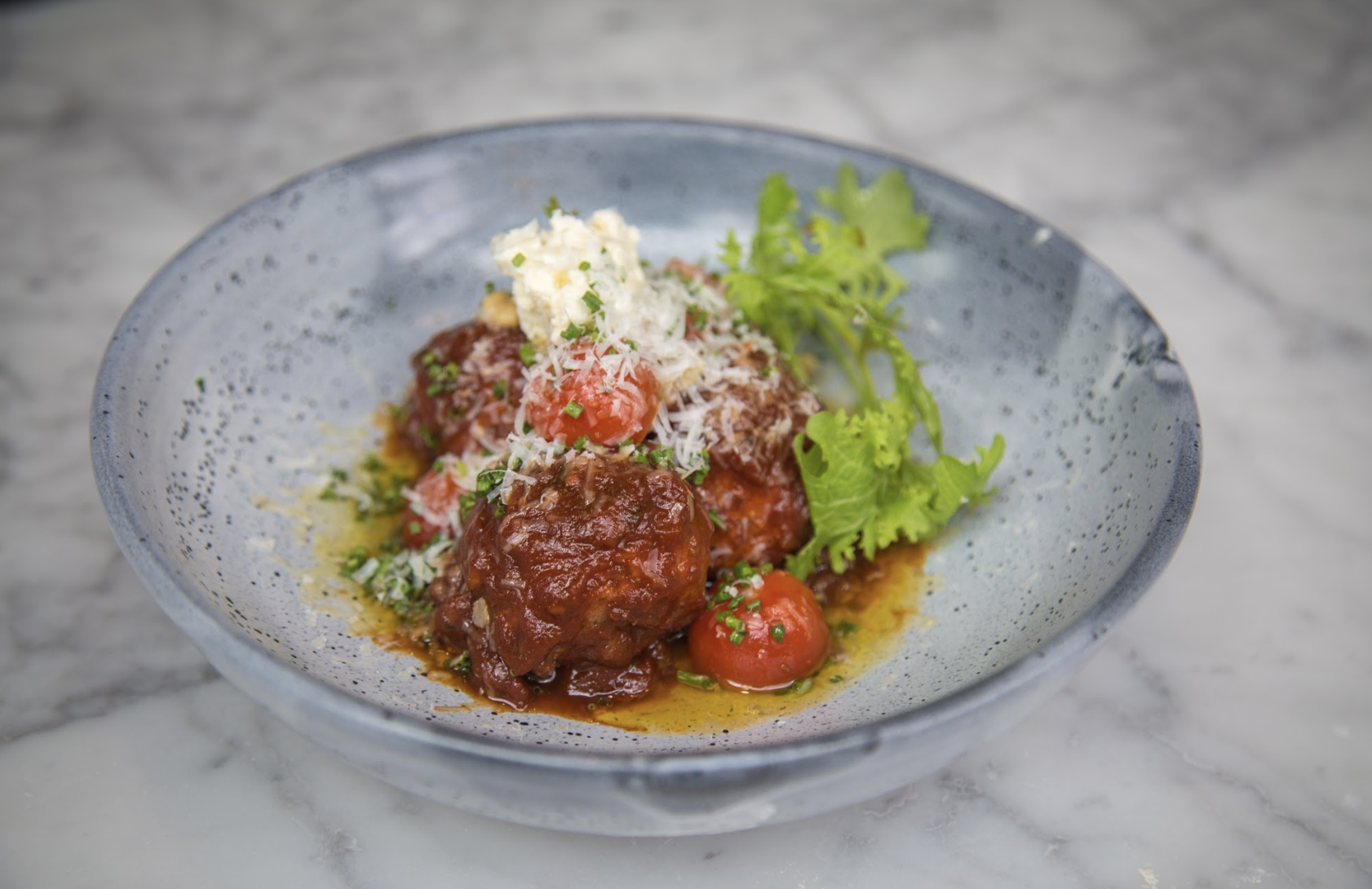 ASSEMBLY
Ricotta
Chopped parsley
Olive oil
Fresh grated parmesan
Place meatballs on the plate and cover them with the braising sauce

Add a spoonful of smoked melanzane and fresh ricotta cheese

Grate parmesan and top with chopped parsley
Five minutes with Michael Dearth:
In what ways does bacon elevates Italian cuisine?
Bacon elevates any cuisine. People always think for meatballs we gravitate toward high-end cuts like eye-fillet, but that's not the case. You want secondary cuts, you want fat because as you braise them, the fat will keep them juicy, and the best kind of fat is pork fat.
What is your earliest meatball memory?
Meatballs are in many ways, the dish of my childhood. I grew up in Connecticut, my dad was Irish and my mum was Italian, I always remember having a pot of hearty tomato sauce with meatballs on the stove. So the kids would be coming and going from various sporting events you know, but there was always meatballs in a reduced flavourful tomato sauce in the kitchen. That was just home for me. This is one of my mum's recipes which are nearly impossible to replicate, although sometimes the chefs here manage to nail that unquantifiable mum ingredient in our meatballs.
How does Baduzzi stay relevant amongst a myriad of new openings?
I believe if you have good food and good people, people will continue to come. Baduzzi is tried and trued, people come to Wynyard Quarter as a destination and they know we will deliver, we're consistent. Baduzzi champions local ingredients like Kiwi Bacon, I love New Zealand, and I love our bounty and I want the food to be a celebration of that.