Meet Esther; The QT Auckland's new restaurant by Sean Connolly
Today, marks the opening of Esther Restaurant, the signature restaurant at QT Hotel Auckland.
Under the direction of internationally renowned Chef Sean Connolly, QT Auckland will introduce Esther to Viaduct Harbour's vibrant dining scene. Remix sat down with Connolly to discuss the launch in more detail…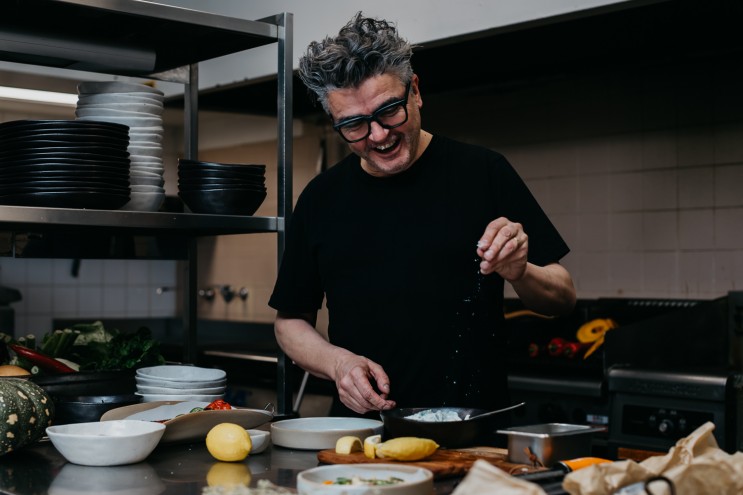 You describe your culinary style as "un-f***up-able" can you expand on what you mean?
Keep it simple, keep consistent, and keep it all about the provenance. While Esther's cuisine is inspired by my travels chasing food of the sun in the Mediterranean, you won't find any fusion-style items on the menu. It features flavours and soft spices from Sicily to Southern France to Morocco, but each dish maintains authenticity. The Rooftop at QT menu is a bit more playful, but still effortless and doesn't try too hard. Less is more. That's how I roll.
What, in your opinion, is QT Auckland's dining options bringing the city that we don't already have?
There's nothing like QT in all of Auckland. I've had my eye on QT for quite some time. They're pioneers in breaking down the stigma of 'hotel restaurants' bringing their signature service, quirk and luxury into the dining experience.
In terms of cuisine, Esther is truly special, mixing humble tradition with modern wanderlust. In a time when international travel is off the cards, we're bringing the tastes of skipping around the Mediterranean to the Viaduct. The menu is my personal travel diary in food form, full of my memories that I want to share with Auckland.
The Esther menu is served in a design-driven space true to the QT style. It's light and airy with a feminine presence, nestled right on the harbour's edge. Working with designer Nic Graham, we combined elements of fashion, art and music to feel as though you're being welcomed into someone's home. That really comes across with the open hearth and country-style kitchen so you get a peek into the preparation. Many of the dishes are served by trolley service, including tableside salt-crusted fish, salads and desserts, for a memorable and theatrical experience.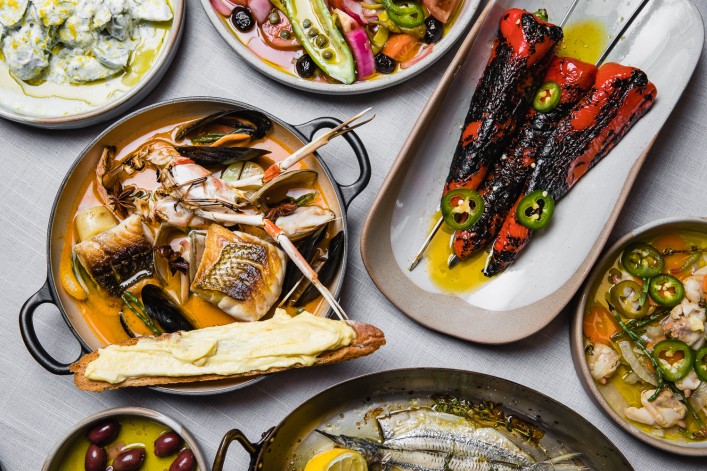 What flavours do you think guide Esther's menu if any, and when were you first introduced to them?
The common thread throughout Esther's menu is the simple flavours of lemon, salt and olive oil – three of my favourite things in the world.
While I've come into my own cooking style throughout my career, I was first guided by my grandmother, Esther. One of the greatest cooks and storytellers I've ever known, she had a great sense of humour with a beautiful loud laugh.
With the restaurant carrying her name, I've never worked harder. My mum's cried in every restaurant I've ever opened. I'll have to have her send over her tears in a jar this time, with her mother lending inspiration to this one.
What's the most incredible thing you've ever eaten?
One of the most vivid food memories of my life was eating white truffle cheese fonduta with Chef Antonio Carluccio. After meeting at the Terra Madre slow food festival in northern Italy, we drove to the Asti province for the white truffle festival to sample the specialties of the region. The bubbling cheese was covered in the largest white truffles I've ever seen. Unforgettable.

Once borders reopen where will you go on your first foodie-orientated trip?
Scandinavia. I want to explore the entire region and unlock the mystery of their cuisine – everything from salting and preserving to the philosophy of eating from the land. I also have my eyes on Beirut, one of the most exciting food cities at the moment.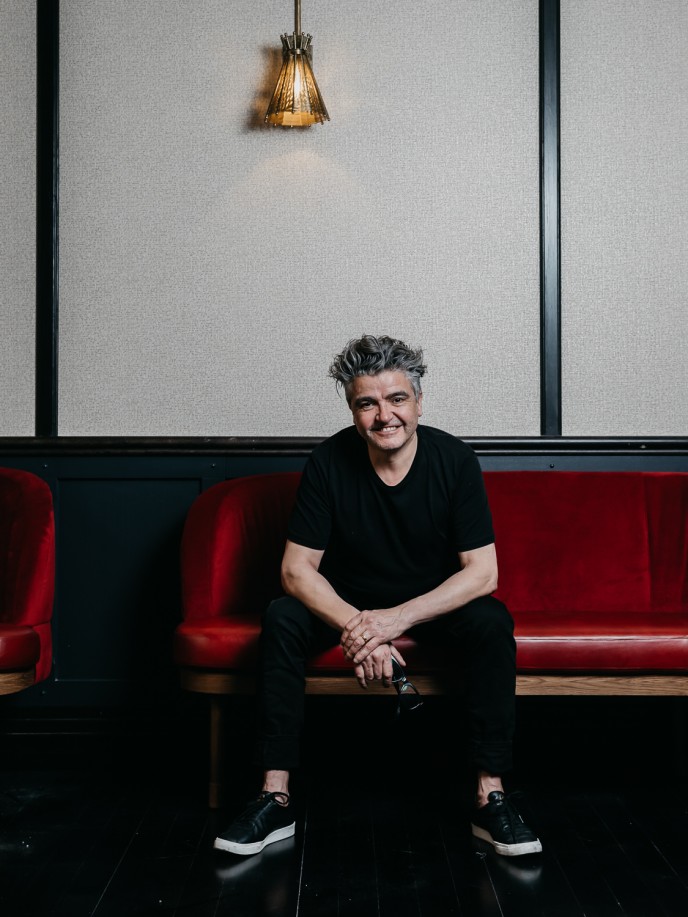 Chefs are often inspired by their surroundings, how do you think this sentiment applies to you, and how will we see this transition onto the plate at Esther?
While I've been inspired by a lifetime of international travel, I've also been in a unique position of planning Esther remotely from Australia before I was able to travel back to my second home here in Auckland. From a test kitchen at QT Sydney, I was able to soak in the QT DNA while collaborating over daily video calls to perfect recipes with the team here in Auckland.
Even though the borders were closed, we didn't stop testing and planning. If 2020 has given us anything, it's the gift of time, and with more time we've really been able to perfect the dining vision for QT Auckland.
Auckland is a city of great eaters, and I can't wait for our guests and harbourside surrounds to continue to influence the menus.

What did Christmas at home look like for you when you were a kid?
Christmas was always celebrated with lots of laughs around a table of 12, with my parents, siblings, and both sets of grandparents. The spread consisted of a big old-fashioned British feast – a turkey and all the traditional dishes, with the wine and sherry flowing freely.

Who cooked?
My mum Margaret and grandmother Esther alternated, taking turns hosting each year.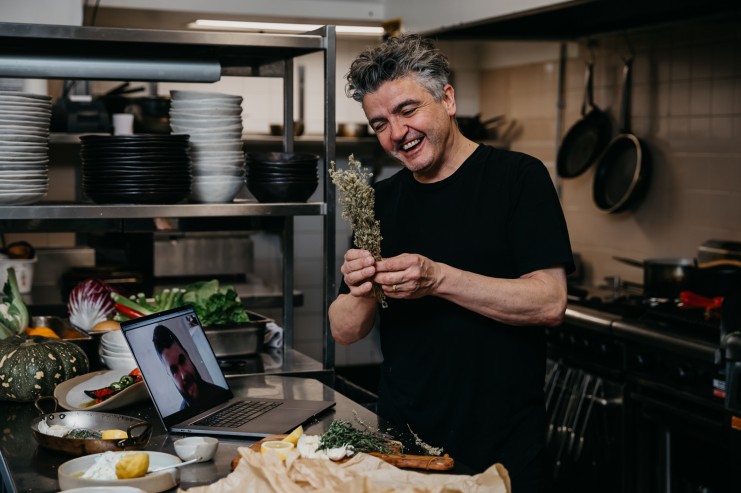 As we're ramping up into the silly season, do you think Sean Connolly knows how to throw a good party? What do you serve guests?
Come for big smiles, bad jokes and lots of bubbles. I don't take parties too seriously, and my go-to is a good barbecue.
Now, I host Christmas, spending it with my immediate family plus any friends missing their own families for an 'Orphans' Christmas'. I haven't left my house for Christmas in twenty years. People come to me, and I cook. That's the way I like it.

What's on your flavour radar at the moment?
Cured salted egg yolks. There's something about the umami flavour that's just fantastic, especially grated like a hard cheese over a dish to really give it a salty-sweet lift.
I'm also loving Garlic Toum – a Lebanese sauce made of garlic and egg white puree that epitomises the Mediterranean summer.

If you could only eat one thing for the rest of your life, what would it be?
Roast chicken. With so many textures and flavours, there's nothing like it. From sandwiches to soups, I can create 20 different dishes, easy. On the Esther menu, you'll find two roast chicken options – a Waitoa Chicken Tagine with preserved lemon, Medjool dates, ginger and almond, as well as a Spatchcook Chicken over coals with harissa and cavolo nero cabbage.