Relaxation Station: Makaia Carr's Secret to Staying Stress-free with Polynesian Spa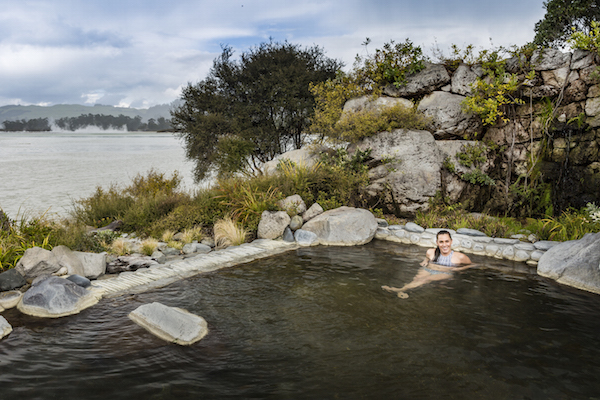 You know it's summer when suddenly every weekend is booked up. Barbecues, weddings, parties, festivals – you name it, it's happening! While the social season is fun, it's important to remember to take some time out of all of the madness. In our latest issue, Summertime Happiness, we had a chat to
Makaia Carr
from Motivate Me about the importance of relaxing to help one's sense of happiness. Makaia talked about her experience at
Polynesian Spa
– its lakeside setting, relaxing hot mineral pools and Skin Deep Manuka Aix therapy. This talk got us wanting to find out more about the Rotarua based haven, although if it works for Makaia, we're already pretty convinced! Here's what we found out… A visit to Polynesian Spa Retreat always starts with bathing in therapeutic mineral waters fed into 27 hot pools from two natural springs, a combination not found anywhere else in New Zealand. Here's why the waters work wonders:
Priest Spring waters (Te Pupunitanga)
The soothing Priest Spring water is slightly acidic and relieves tired muscles, aches and pains, as well as easing effects of arthritis and rheumatism. This spring is named after Father Mahoney, a catholic priest 'cured' of crippling arthritis after bathing in the waters in 1878.
Rachel Spring waters (Te Whangapipiro)
Once said to bless bathers with an ageless beauty, the alkaline waters from the Rachel Spring deeply nourish the skin, while also reducing any swelling. Views of Lake Rotorua set an idyllic backdrop for this geothermal bathing experience. Move between hot pools to combine the effects of the waters and incorporate ancient healing practices such as the reflexology walk or cold plunge pool to encourage recovery, health and wellness. After soaking for an hour to warm up muscles, soften the skin and relax the mind, therapies begin.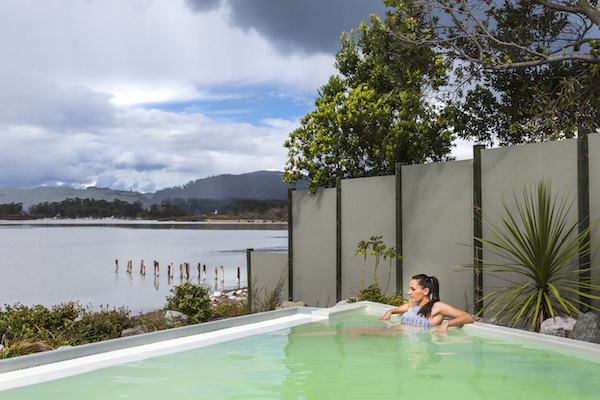 Makaia Carr's therapy experience: Aix Manuka Therapy
The Aix therapy is a soothing mix of water jets and massage all at once with a full body exfoliation, finishing with an oil relaxation massage. The Skin Deep Manuka Honey Walnut Polish is made with New Zealand UMF 12 Manuka Honey and Manuka and Kanuka oils. These oils contain healing and antibacterial properties that create a triple action that firms, refines and nourishes the skin. After a soothing scrub the jets begin and streams of water cover your entire body enveloping you in warm massage. Once the scrub is cleansed off, it's time for the oil relaxation massage. Combining the pressure of the masseuse's hands with the water jets, the massage takes you to a state of deep relaxation. After taking three hours out of your day for this hot soak, therapy and herbal tea, you'll be relaxed, revived and ready to tackle the rest of your hectic schedule for the month.
Aromatherapy Massage
If you'd like to engage all your senses in a therapy, then essential oils are seriously
essential
. These babies are effective as they've been used for thousands of years for their exquisite aromas and natural healing powers. During aromatherapy massage essential oils are absorbed into the bloodstream and can enhance cell renewal, circulation and detoxification, while aromas act on the deepest parts of the brain to enhance the state of one's mental, physical and emotional wellbeing. Polynesian Spa uses the Aromatherapy Associates tried and true blends such as: de-stress, relax, and revive, as well as the first new blend to be added in 20 years – Inner Strength. Head
here
for more.