Try tasty Russian food at these Auckland eateries
Auckland's international culinary offerings are ever diversifying, and this winter there's a particular new set of flavours populating taste-buds across town. Perfect for soul-warming cold-weather nourishment, and involving on-trend gut-health boosting ingredients - this is one cuisine that we're really Russian to sink our teeth into.
What is Russian cuisine, exactly?
The cuisine of Russia ranges from the wholesome beef stroganoff and thick Solyanka soups to more delicate options like ricotta and bliny pancakes, cured meats and caviar. There's flaky knish dumplings and doughy Pelmini dumplings, and pastries creations aplenty. Side dishes include Rye breads and cabbage creations like Sauerkraut. Liquid offerings include fermented beverages like Kvass, Mors and of course, Vodka.
Where you'll find the best Russian food in Auckland
For brunch: Moloko
139 Meadowbank Road, Meadowbank.
Named after the Russian word for milk, this new, airy café has quickly pleased the masses with it's Kiwi-Russian fusion dishes. Satisfy your brunchtime appetite with the hearty bolshoy breakfast, the tortilla omelette or lamb-filled pelmini dumplings.
For take-home goodies: Skazka Delicatessen
16 Kingdon Street, Newmarket.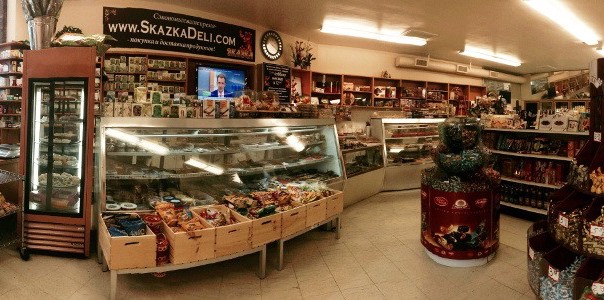 Tucked away in Newmarket is a European delicatessen stocking all the Russian treats to satiate your sweet tooth. Try the soft, fruity Zefir marshmellow chocolates or one of their many creamy candies. They also sell authentic Russian pumpernickel black bread which is dense, healthy and beloved by many.
For dinner: The Vodka Room
5 Rose Rd, Grey Lynn.
True to its name, the recently-opened Vodka room stocks nearly 100 varieties of vodka - but equally magical is the food menu. Two fast favourites for diners have been the Blini rolls made with Russian King Crab and salmon, and the Borsch beet soup.
Image credit: Verve, Skarza, The Fractions.