Boo! Steven's Scary Stint In Sydney With BooHoo.com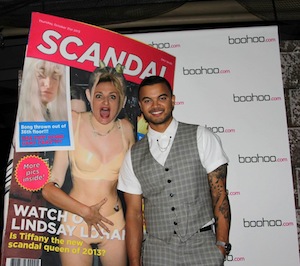 Words by Steven Fernandez What did you do for Halloween? Perhaps because I'm a little too old for trick or treating or perhaps because they're just down for a good time, the crew at
Boohoo.com
flew me over to Sydney for Halloween this year! It was a bit of a whirlwind, the Remix team having just returned from Hollywood and all, but who was I to refuse an invitation to the first ever Boohoo.com Halloween party down under? The theme was 'Fears and Phobias… What are you afraid of?' and these guys, in collaboration with
The Social Diary
, had gone to some serious lengths to deck out the venue The party was held at
Bungalow 8
in the heart of Darling Harbour and started from the moment we entered the venue… through the teeth of a shark's jaws. Suppose people in Australia don't fear anything more than being eaten by a shark, huh? This party was
the
place to be in Sydney for Halloween, with every PR and media-type in the city in attendance… I know, that's the idea of a fear and phobia to some people but you couldn't dress up as yourself.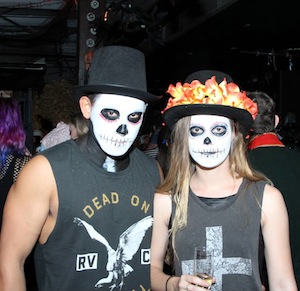 I went as Batman for the record. I'm not scared of him… I just think he's cool. On that note, the costumes were EPIC! As well as an enormous tabloid magazine, a series of mimes, skeletons, zombies, vampires, police, corpse brides and day of the dead characters, Robin Thicke and Miley Cyrus lookalikes were seen twerking in the crowd. Cages, coffins, blood, snakes and spiders were scattered throughout the harbourside bar… no one gets into an occasion like the Australians! Oh and among the crowd was a random array of recognizable faces. Former Australian Idol runner-up
Guy Sebastian
took the stage to smash out his hit single 'Battle Scars'. He wasn't scary… but he was pretty awesome. Having celebs in the crowd made sense for a brand that has so made celebrity inspired pieces. Boohoo.com showcased the latest looks from their current collection at a surprise catwalk show in the middle of the event. We were able to preview the newest styles from a UK based brand that has soared to giddying heights in the seven years since launching. Today Boohoo.com is one of the most successful online retailers for female clothing in the world. Keep up to speed with the Boohoo crew here via the
New Zealand Facebook page
and follow them on Instagram
here
.
www.boohoo.com